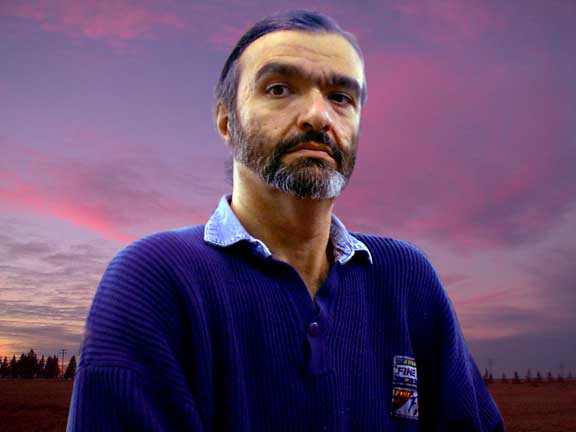 A state of mind
FTLComm - Tisdale - Sunday, December 1, 2002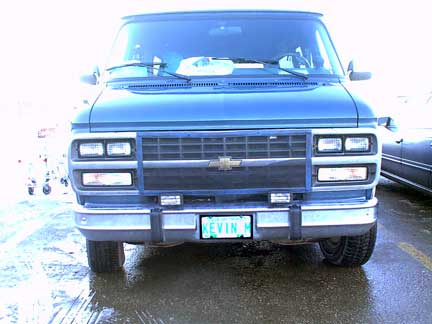 Kevin McIntyre has been a contributor to this web site for several years as he told us about his move to California, farming in the past, shown us around San Jose and gave us all considerable insight into the thinking of Americans during the tense days right after the September 11 attack last year.

Ever since high school Kevin has not had the use of his legs, he is wheel chair bound and qualifies to park his diesel powered van in a wheel chair parking spot but, and this is really important, is he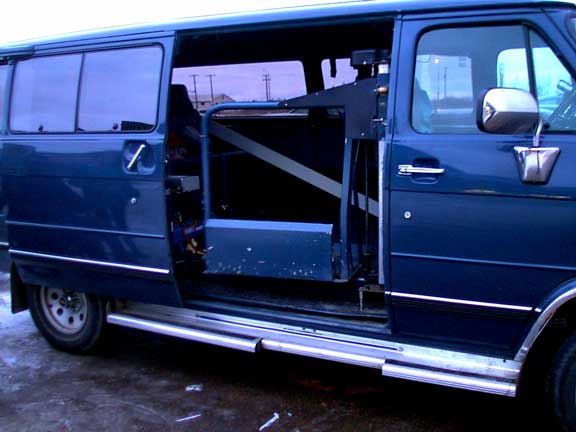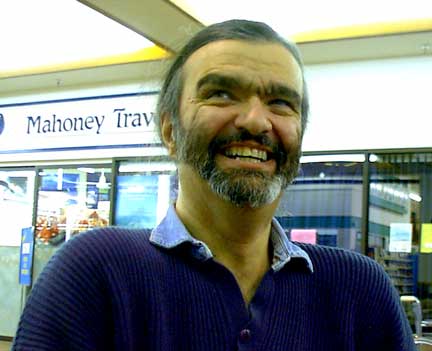 handicapped?

Essentially each and every person you know and meet has to cope with the things that happen to them in life. Some people face physical challenges, others have emotional hurdles and still others are crippled by character traits like shyness or a hair triggered temper. What each of us has to learn is that life goes on and it is our responsibility to make the best of life with what we have.

If you can go through life loving and being loved, contributing to the world in which you live and accepting yourself with your capabilities and limitations, you have found the secret of success. The biggest hurdle to surmount is self awareness and then plot a strategy that will give you the most opportunities.

For Kevin the problem of mobility will not go away, but he sure has made considerable inroads on getting around. He has the wheels under him, properly updated and maintained, and this van that without assistance, he can drive, park, get out of, get around as needed and it picks him up and he is into his driver seat. The technology in the lift and van is remarkable, but just tools that combine to give him the independence that expand his life.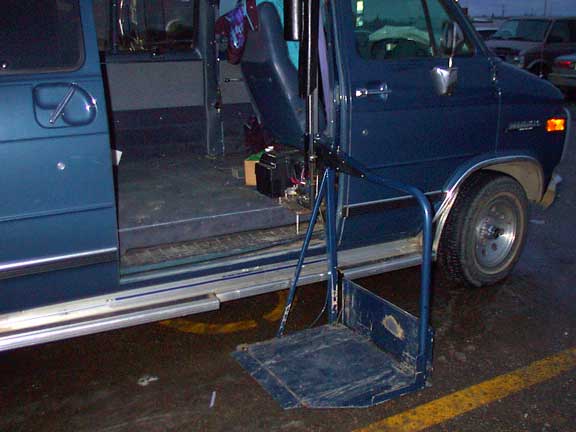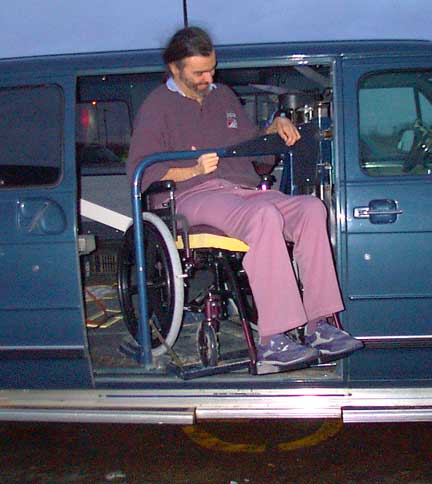 A good deal taller than six feet he needs this full size van to handle his chair and his tall frame. Special slots in the floor allow the chair to slip into place behind the steering wheel but he still sits a bit high in the saddle.

We all notice the lowered curbs at intersections, ramps to public buildings, but it is not until we see what it is like for Kevin and others depending on their wheel chairs to get around, to realise this world still needs a good deal of flattening out. Kevin can not visit my house or office with its five steps up to the door and fifteen down to the basement office.

So imagine the pleasure for me when Kevin's high speed Internet was finally installed in his home in Carrot River. It was great to meet Kevin and his wife in person after communicating with him daily for years and it was as equally important to see how this man is able to face the minor set back to him of being unable to walk. For Kevin, and for all of us, we are all coping as best we can with life. Challenges are just that, things we need to find solutions for and living each day with purpose and a zest for life.
---
Return to Ensign - Return to Saskatchewan News
This page is a story posted on Ensign and/or Saskatchewan News, both of which are daily web sites offering a variety of material from scenic images, political commentary, information and news. These publications are the work of Faster Than Light Communications . If you would like to comment on this story or you wish to contact the editor of these sites please send us email.
Editor : Timothy W. Shire
Faster Than Light Communication
Box 1776, Tisdale, Saskatchewan, Canada, S0E 1T0
306 873 2004