Tisdale's air cadets were out on Main street today scrubbing windows and sweeping sidewalks in an effort to raise money.

Though Ottawa provides a small amount of support for this programme with support for uniforms and instructors the major part of the programme which involves summer camp and glider flight training has to be paid for with money the cadets generate themselves.

The training each cadet receives is extremely important. It gives them an opportunity to sample military life and decide if this is the kind of thing they would like to do as a career. They receive ground school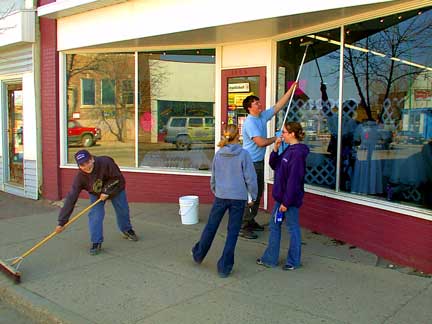 instruction in navigation and basic flight instruments so that what they learn is practical and usable.

The summer glider training is a pay off to give each participant the idea and rigours of flight. Glider flying is by far the most disciplined form of flying there is and gives everyone involved in the activity a true sense of what it means to control a flying machine.

If there is some way you can give Tisdale's Air Cadets a hand you will be contributing much to the lives the young people involved.