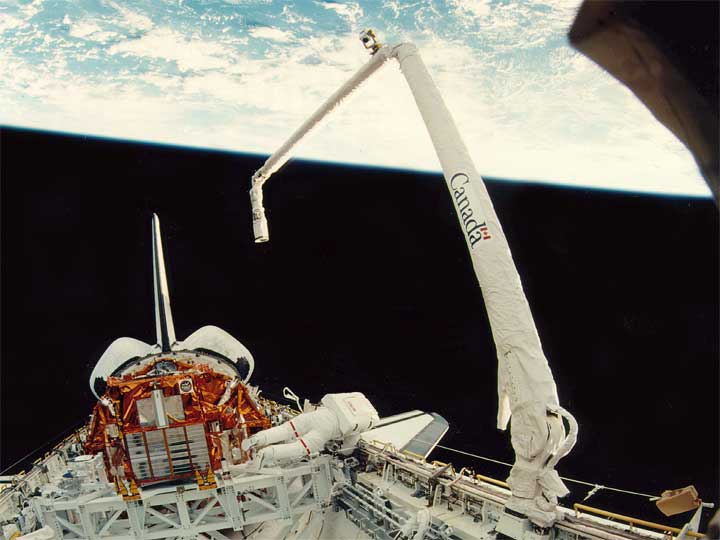 NASA image
Canadian Forces Technical Capability in Danger
Victoria B.C. - Thursday, Marcvh 13, 2008 by: Mike Coleman
The proposed purchase by a U.S. firm of Canada's largest space company, and with it a $524-million high-tech satellite built mainly with taxpayers' money, is being challenged by a growing number of scientists and engineers

I would prefer that the sale not to go through, I do worry about our ability to keep an eye on the North West passage. If Mr. Harper really cares about protecting our rights up north, he would stop the sale. Even though the US is our friend, I do not trust them when it comes to our North West Passage. (United States claims the passage is international waters and not part of Canada)

We need a strong, smart and well equipped army, navy, and air force with the highest level of technical capability.

Should the sale be approved "Under the deal, Alliant would receive ownership of the $524- million Radarsat-2, the Canadarm robot arm technology, and a wide variety of other space systems." Alliant being subject to American law "Canada will lose access to technology that has been developed by Canadians in Canada for the benefit of Canada." (*)

I encourage all to do as I've done: e-mail, write or phone their Member of Parliaments's constituency office and say "Please don?t sell our MDA".
References:
Pugliese, David, DND at risk of losing Canadian spy system to U.S. March 8, 2008, Ottaw Citizen
Byers, Michael, Don't sell of this satellite!, March 7, 2008, The Tyee
---
Return to Ensign
This page is a story posted on Ensign, a daily web site offering a variety of material from scenic images, political commentary, information and news. This publication is the work of Faster Than Light Communications . If you would like to comment on this story or you wish to contact the editor of these sites please send us email.
Editor : Timothy W. Shire
Faster Than Light Communication
Box 1776, Tisdale, Saskatchewan, Canada, S0E 1T0
306 873 2004