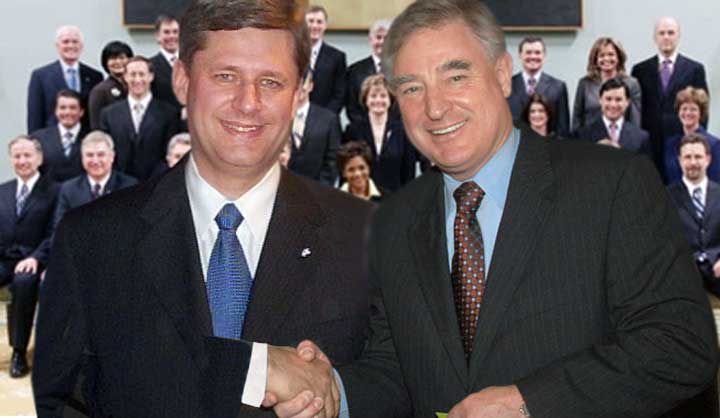 Stephen Harper and David Emerson (created image)
The Honourable choice
Victoria, BC, Wednesday, February 8, 2006, by : Casper Davis
Some argue the distinction between Belinda Stronach's defection and David Emerson's IA that Ms. Stronach was an incompetent bimbo crossing the floor in order to get a cabinet seat, while David Emerson was a well qualified public servant crossing the floor to serve the public better.

Horsefeathers.

The actual distinction is that Belinda Stronach ran and was elected as a Progressive Conservative, barely edging out the Liberal candidate in her riding. She tried for many months to work in the regressive Conservative party and found, when forced to confront the prospect, that she could not stomach the idea of a government composed of her Conservative colleagues. She changed sides on a matter of principle.

Mr. Emerson, on the other hand ran as a Liberal in a historically NDP riding, where less than 20% voted Conservative in the last election. He ran on the promise to provide strong and effective opposition to the socially repugnant Conservatives. Yet he had hardly been sworn in before he jumped to the party that he had been denouncing during the campaign, and even on election night.

The best possible light that can be put on Mr. Emerson's defection is that he considers himself so important that Canada must not be deprived of his wisdom in cabinet.

It is certain that many people who voted for Mr. Emerson did so because they felt he was the best hope for defeating the Conservatives. It is highly unlikely that he would have won had he been running as a Conservative.

If Mr. Emerson really had a conversion on the road to Ottawa, he has no honourable choice other than to resign and run again in a by election.
References:
Schreck, David, Emerson's Switch, February 6, 2006, Stragetic Thoughts.com
CTV news staff, Former Liberal David Emerson defects to Tories, February 6, 2006, CTV News
Canadian Press, Emerson crosses the floor to Tory cabinet, February 6, 2006, canada.com
Canadian Press, Snapshot look at David Emerson, February 6, 2006, The Vancouver Sun
Government of Canada, Honourable David Emerson, as posted on web February 6, 2006, Canada web site
---
Return to Ensign - Return to Saskatchewan News
This page is a story posted on Ensign and/or Saskatchewan News, both of which are daily web sites offering a variety of material from scenic images, political commentary, information and news. These publications are the work of Faster Than Light Communications . If you would like to comment on this story or you wish to contact the editor of these sites please send us email.
Editor : Timothy W. Shire
Faster Than Light Communication
Box 1776, Tisdale, Saskatchewan, Canada, S0E 1T0
306 873 2004