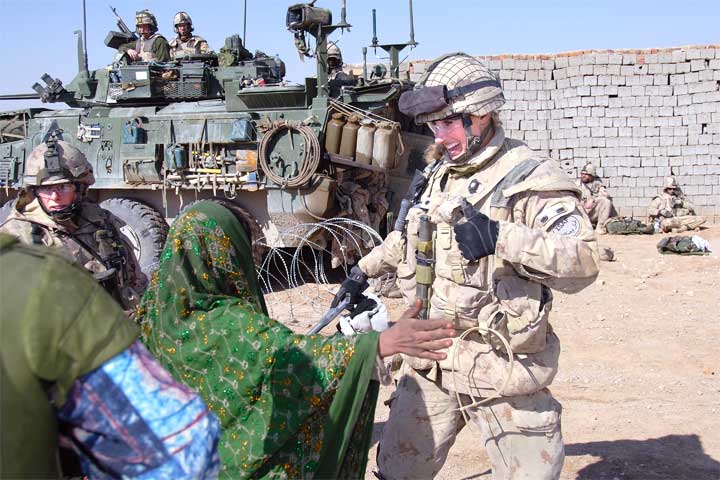 Canadian Armed Forces image
Thank our troops and bring them home
Victoria, B.C., Tuesday, February 12, 2008, by : Eugene Parks
Now is the time to thank our troops, and bring them home.

We sent them to Afghanistan to depose the Taliban government that had supported terrorist Osama Bin Laden. Our troops and allies succeeded. We asked our troops to secure Kabul, the Afghan capital, for a new democratic government. Again, our troops and allies succeeded. They and their families deserve our thanks and honour. Job well done.

Canada?s new Harper government extended a mission that began as one of reconstruction into pacifying a tribal-warlord conflict in Kandahar province where torture and family feuds dominate. His no-longer new government would now have this mission extended indefinitely?

Our military has fought with honour, refused to transfer prisoners to torture, and taken heavy casualties. Our troops deserve honour and respect.

Now is the time to thank our troops, and bring them home.

Physics Graduate, University of Waterloo
Descendant of the Ottawa Valley People
---
Return to Ensign
This page is a story posted on Ensign a daily web site offering a variety of material from scenic images, political commentary, information and news. This publication is the work of Faster Than Light Communications . If you would like to comment on this story or you wish to contact the editor of these sites please send us email.
Editor : Timothy W. Shire
Faster Than Light Communication
Box 1776, Tisdale, Saskatchewan, Canada, S0E 1T0
306 873 2004