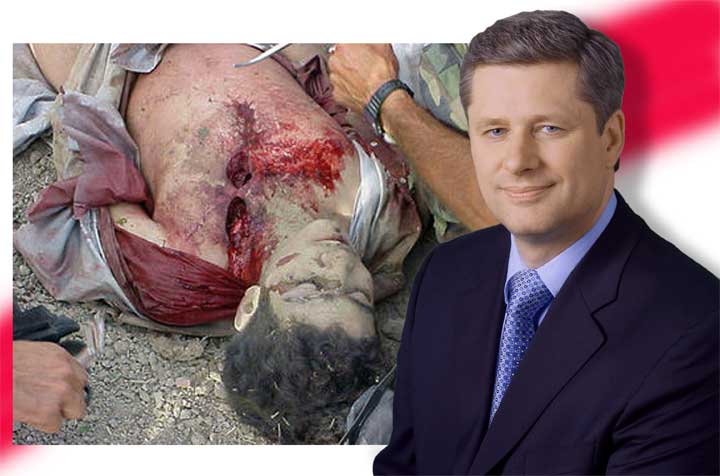 wounded 15 year old Omar Khadr and the Prime Minister of Canada
Abdication of responsibilities as Prime Minister
Victoria, B.C., Tuesday, July 22, 2008, by : Eugene Parks
There are serious reasons why critics of Stephen Harper are aggressively attacking him over his conservative government's position on Omar Khadr, Canada's alleged child Al Qaeda soldier held by the Americans.

Omar Khadar has been in prison for six years, and tortured, without due process. When the American trial of Omar begins, he will face life imprisonment in an American military jail.

In response, Canada must defend the rule of law and its sovereignty over its citizens. Sovereign countries take responsibility for the actions of their own people. They repatriate their own and bare the responsibility of imprisonment when required. In the particular case of Omar Khadr, his torture and imprisonment is a violation of both International and Canadian Domestic law. Sovereign countries also defend their citizens against abuse of process.

Through his inaction, Stephen Harper has abdicated his responsibilities as Prime Minister to defend Canadian sovereignty and the rule of law, signifying that he is unfit to continue to hold the highest office in our country.
Physics Graduate, University of Waterloo
Descendant of the Ottawa Valley People
---
Return to Ensign or Saskatchewan News
This page is a story posted on Ensign a daily web site offering a variety of material from scenic images, political commentary, information and news. This publication is the work of Faster Than Light Communications . If you would like to comment on this story or you wish to contact the editor of these sites please send us email.
Editor : Timothy W. Shire
Faster Than Light Communication
Box 1776, Tisdale, Saskatchewan, Canada, S0E 1T0
306 873 2004