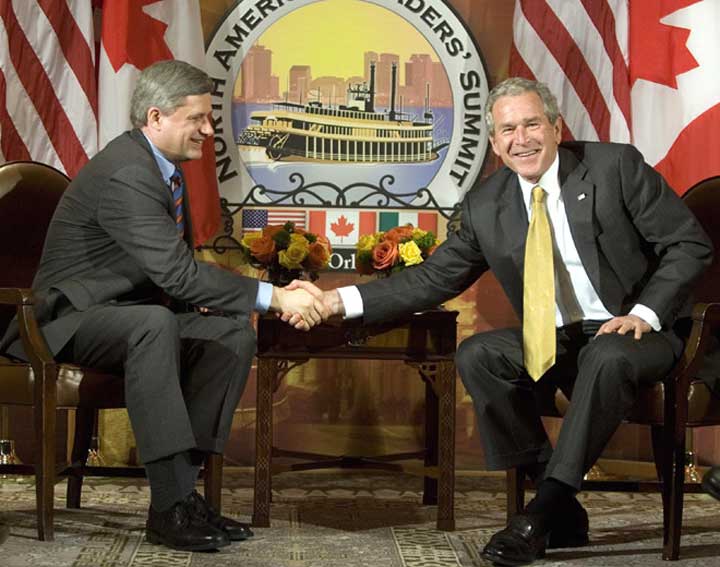 no credit available for this picture
Fortunate Americans - not so us
Victoria, B.C., Monday, November 3, 2008, by : Eugene Parks
I love Americans; I confess that I do - always have. They have been friends to me, business partners, and I've had a lot of fun with them. For the last eight years, they have been tragic victims of what happens when democracy is cheated.

In 2000 if you lived in Florida and your voter card said "African-American", the "-" meant you could not vote. With your vote suppressed George Bush became president. The result was trillions spent on a war in the wrong place, the worst world-wide financial crises since the Great Depression and the routine demonization of citizens, free-speech, and the public trashing of cultural icons such as the Dixie Chicks.

The lesson: those that mess with democracy will mess up your country, if not the world.

In Canada, we have the same issue. Mr. Harper is in Federal Court after violating election law. By cheating he became Prime Minister; the result has been billions spent and escalated deaths in a war directed by George Bush, $10 billion in new federal debt, the nationalization of home mortgages, and attacks on culture and music. Now recently, in my neighbouring riding, an auto-dialer fraudulently phoning thousands to tell them to vote for a candidate that did not exist so that conservative cabinet minister Gary Lunn could hold his seat in parliament.

Bush's power to misuse the democratic process is now over - Americans will be soon free of him. In contrast, Harper's team intends to continue to keep our Parliament dysfunctional by ruling as though they had the majority mandate that democracy denied him.
Physics Graduate, University of Waterloo
Descendant of the Ottawa Valley People
---
Return to Ensign or Saskatchewan News
This page is a story posted on Ensign a daily web site offering a variety of material from scenic images, political commentary, information and news. This publication is the work of Faster Than Light Communications . If you would like to comment on this story or you wish to contact the editor of these sites please send us email.
Editor : Timothy W. Shire
Faster Than Light Communication
Box 1776, Tisdale, Saskatchewan, Canada, S0E 1T0
306 873 2004