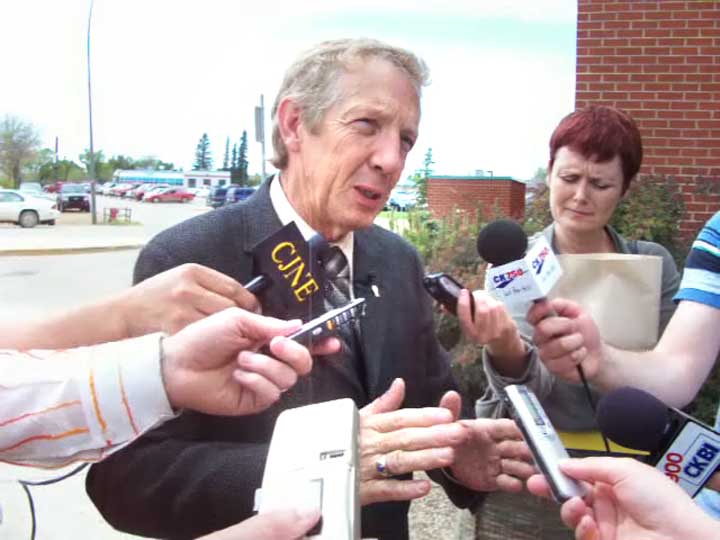 Premier Calvert announces provincial bio-fuel innitiative worth $80,000,000
FTLComm - Tisdale - Wednesday, June 13, 2007
It was a year ago the Premier was in town and dropped off a cheque to help with the downtown Legacy project. Once again he came to Tisdale bearing a gift.

The Sask-Bio project is $80,000,000 over the next four years to promote and assist similar projects to the new Tisdale ENSASK Biofuel project that prompted yesterday's day long forum on ethanol development. Under the plan the local communities have to put up investment capital but the province will back project with up to $10,000,000 a piece. In his speech he explained the goal of the province to become the renewable resource source for the country with both ethanol and bio-deisel production facilties, many already underway.

to view video your computer needs QuickTime
Not only was the premier's announcement the icing on the cake for the Tisdale project but it signalled the industry that the province sees this as a huge potential for Saskatchewan's economy and the primary industry which is agriculture.
Reference:
Kyle, Cassandra, Program to fuel Sask.biofuel industry growth (pdf) June 13, 2007, The Saskatoon Star Phoenix
---
Return to Ensign
This page is a story posted on Ensign is a daily web site offering a variety of material from scenic images, political commentary, information and news. This publication is the work of Faster Than Light Communications . If you would like to comment on this story or you wish to contact the editor of these sites please send us email.
Editor : Timothy W. Shire
Faster Than Light Communication
Box 1776, Tisdale, Saskatchewan, Canada, S0E 1T0
306 873 2004