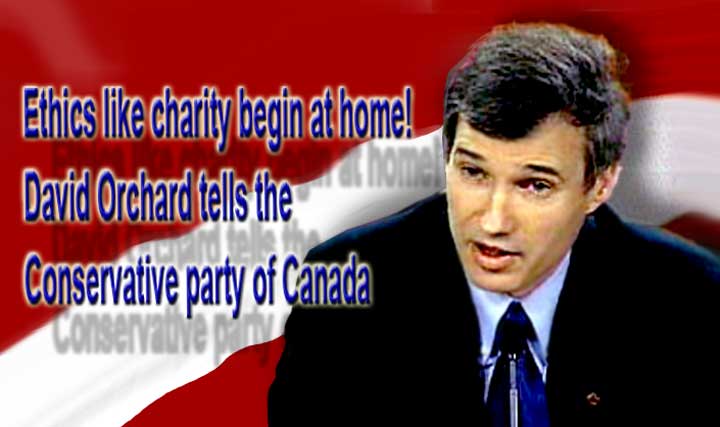 Ethics like charity begin at home! David Orchard tells the Conservative party of Canada
Ottawa - Thursday, February 26, 2004 by: Rose-Marie Larsson
Much is made by the new entity, the Conservative Party, of the lack of ethics and trustworthiness of the Liberal government. Not a day goes by without a Conservative Party representative, sometimes Peter MacKay himself, pronouncing on the dishonesty of the Liberals and demanding accountability. "Where is the money?" they call out, and "Give back the money!" they demand.
David Orchard is the Progressive Conservative Party's leadership candidate who only last May delivered the leadership to Mr. MacKay, based on their signed agreement, which included no merger of the Progressive Conservative Party with the Canadian Alliance. (The ink was barely dry when Mr. MacKay breached the agreement by vigorously pursuing a merger with the Canadian Alliance, which ended in the extinguishment of the Progressive Conservative Party of Canada under his short leadership.)
Now there are more breaches, this time of the agreement all Progressive Conservative leadership candidates signed, which guaranteed that they would receive from the head office within 48 hours the funds that supporters have donated toward their campaigns. The new Conservative Party is holding for over 10 weeks now, without explanation and without due process, over $70,000 of David Orchard's funds, in direct violation of the signed contract.
After weeks of phone calls and letters requesting his funds, Mr. Orchard has been forced to launch a lawsuit against the Conservative Party, for the return of his money and its unethical and unlawful behaviour toward him. The withholding of legitimate campaign funds donated to him in good faith by hundreds of supporters causes no end of hardship, as campaign debts cannot be paid and credit cards gather high daily interest. David Orchard will ask the Conservative Party: "Where is my money?" and request that it be returned to him without delay.
Mr. Orchard held a press conference in Ottawa Wednesday announcing the lawsuit and suggesting that the country may be witnessing a case of the pot calling the kettle black.
For more information, contact: Rose-Marie Larsson, Media coordinator for David Orchard, at (604)215-5580 rlarsson @telus.net
---
References:
For legal documents, see http://www.davidorchard.com
CBC, Orchard sues Conservative Party, February 25, 2004, CBC News
Return to Ensign - Return to Saskatchewan News
This page is a story posted on Ensign and/or Saskatchewan News, both of which are daily web sites offering a variety of material from scenic images, political commentary, information and news. These publications are the work of Faster Than Light Communications . If you would like to comment on this story or you wish to contact the editor of these sites please send us email.
Editor : Timothy W. Shire
Faster Than Light Communication
Box 1776, Tisdale, Saskatchewan, Canada, S0E 1T0
306 873 2004