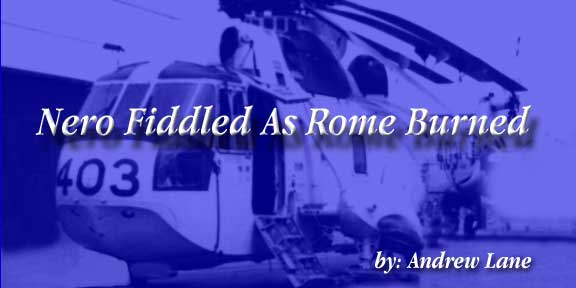 Brandon MB - Friday, September 28, 2001 by: Andrew Lane
59 Neepawa Drive
Brandon, MB
R7B 3B1
205 727 2516
Letter to the Editor
Dear Editor,
The Federal Liberals are in denial. Lax domestic security, disregard for America's reaction to our lax security, and preparations for a return to deficit financing all highlight the failure of an aging politician and his power hungry cohorts.
Mr. Chrétien accomplishments in three very short terms as Prime Minister have been to muzzle our elected representatives; torpedo our military readiness; and encourage the Canadian government to play in business picking winners and losers with subsidies and handouts.
Now OUR old war horse stares steadily ahead with blinders on: There is no problem --- everything is OK --- perhaps we will run a deficit to help the Air Canada oligopoly --- but all is fine.
The accomplishments of this government are now Canada's weaknesses and OUR old war horse bleats lamely and tunes up his fiddle.
When the USA acts to control our border and ultimately slows the transit of goods and transaction of commerce the Liberals will say, "You see we have stemmed the brain drain and found a way to reduce our reliance on trade with those Americans!"
Clearly we are in a time that calls for ACTION! Perhaps the first act should be for cabinet to remove Mr. Chrétien as Prime Minister!
Yours truly,
Andrew Lane