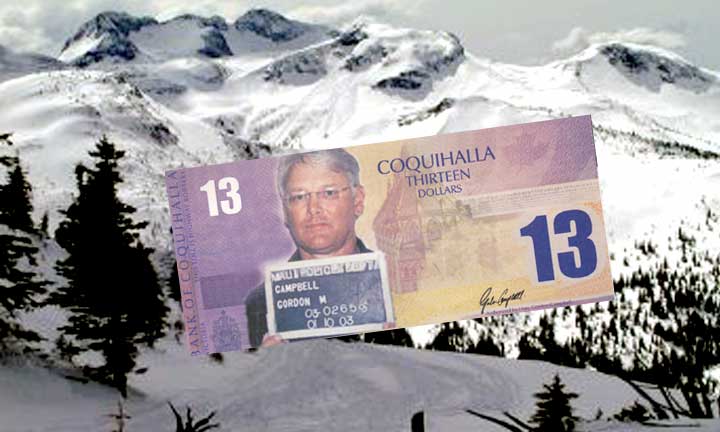 British Columbia privatizes the Coquihalla Highway
Kamloops - Saturday, June 7, 2003 by: Michael Townsend
The people of B.C. have minted some new currency to be used in our fearsome province.
The Liberals, in their ever desperate search for new money, have decided to privatize the 'Coquihalla Highway'.
From what I can gather, the toll was first introduced to pay for the rush to complete the road by the opening of Expo '86. All subsequent governments have at least not raised the initial $10.00 fee. (Hey, the WW I has been over for some time but we still pay federal income tax.) That is before our 'Mai Tai' drunk premier decided that the 'heartland', with its small voting block, small 'Liberal' voting bloc, could finance the new Whistler highway needed for the as yet none existent 2010 Olympic Winter games. Another mega event in the lower mainland, another sucking away of the life blood of the interior. Victoria sees us, much as Ottawa sees BC, like the USA sees Canada.
This new 55 year lease would see an increase to $13 right way and then raised to whatever the new owners could gouge.
References:
Coquihalla Rates and Information web site
Canada Press, Plans to privatize B.C. highway fuels protest (PDF) June 7, 2003, CTV News
Canadian Press Premier defends taxpayer-funded ads promoting Coquihalla privatization (PDF) May 27, 2003, CanWest Global
Keating, Jack, Coquihalla scheme sparks opposition (PDF) June 6, 2003 The Province
Palmer, Vaughn, A Coquihalla moment to savour (PDF) May 27, 2003, Vancouver Sun
Allen, Bonnie, Business group opposes Coquihalla sale, May 28, 2003, CBC TV News
---
Return to Ensign - Return to Saskatchewan News
This page is a story posted on Ensign and/or Saskatchewan News, both of which are daily web sites offering a variety of material from scenic images, political commentary, information and news. These publications are the work of Faster Than Light Communications . If you would like to comment on this story or you wish to contact the editor of these sites please send us email.
Editor : Timothy W. Shire
Faster Than Light Communication
Box 1776, Tisdale, Saskatchewan, Canada, S0E 1T0
306 873 2004