With warm temperatures that hover right around the freezing mark the Department of Highways considers safety as their number one priority and a clean car does not enter into the picture. This car was photographed yesterday, late afternoon at the Tisdale mall and it is completely coated in salt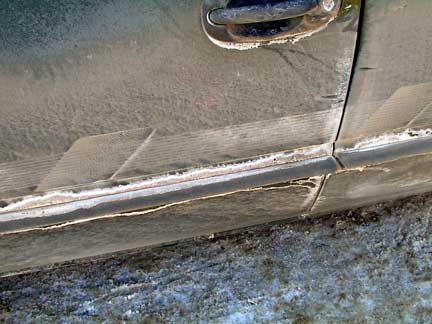 deposits.

It was impossible to tell the colour of the vehicle and the sides actually had the stuff crusted on the protective door bumpers.

Time for the car wash. No matter how well a manufacturer paints and finishes a car it can not resist this level of attack and the only defense is washing the vehicle.

Fo the large trucks this is not only a problem of damage to finish of the truck and trailer but it also can affect safety. I checked to see how much it costs to clean up a "B" train and to have someone do the job for you its $139 and for the driver owner to do the task himself it is $39 an hour and the average time to clean a rig is three hours.