Barenaked ladies
FTLComm -Tisdale - Saturday, September 28, 2002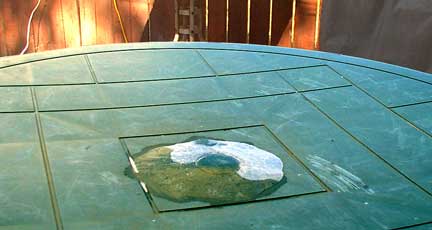 One day they were standing in our back yard adorned in their fine yellow garment with just a touch of green, the next morning the garments were falling away and the next day they stood their cold and completely naked.

This story begins on Wednesday, September 25 when after three nights of below freezing weather and even though the temperature was above 0º C Wednesday morning the little puddle on the deck table remained a disk of ice.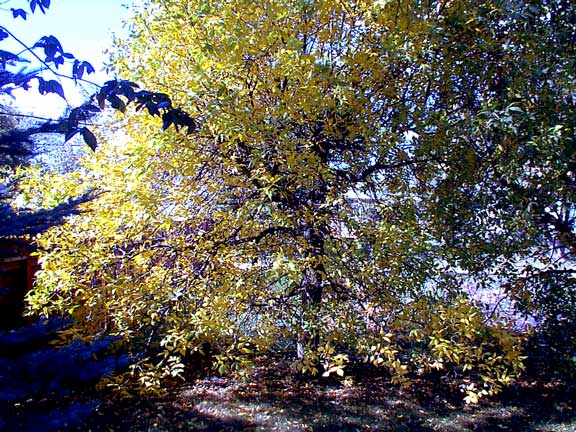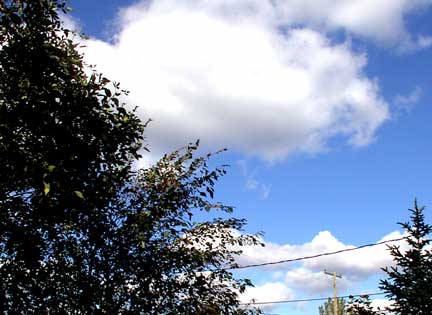 The two trees that report for duty each spring to divide the garden from the little nook of green lawn had slipped into their fall colours. These trees always do things in a hurry, while other trees bud out in the spring these two ladies will stand inert, nothing but a bunch of sticks then in a twenty-four hour period they spring to life and put on their green leaves.

This year, with its cold spring they never really got their full set of leaves and looked a little tired all summer long along side the ornamental cherry.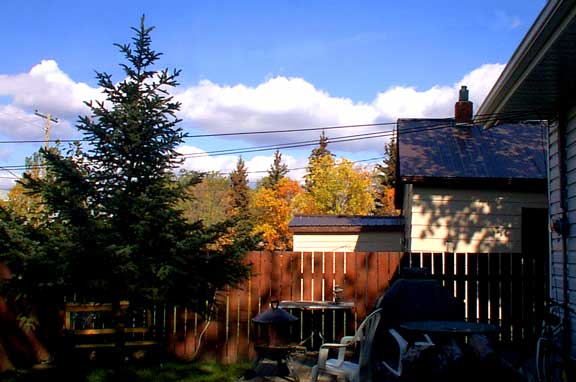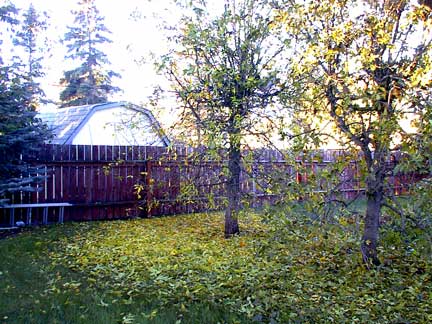 Thursday I was shocked to see them standing there, their leaves fluttering from their branches both yellow and green tumbling into a heap forming at their feet. I took this picture and the one below a few minutes after 8:00.

They were hardly alone in their quick change routine all over town similar species of trees had dropped everything. Although it may have happened this was a first for me to see piles of green leaves falling from their trees. However, the poplars all seemed to be out of step, completely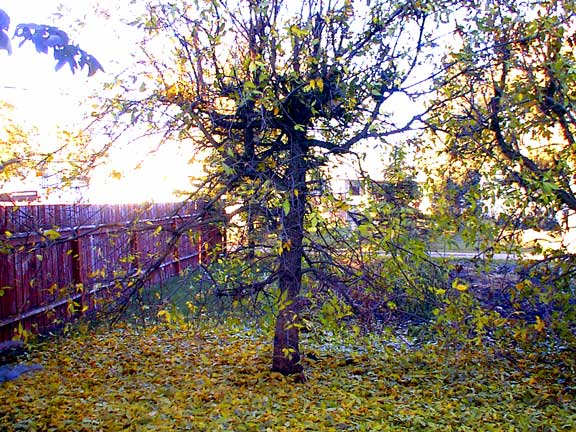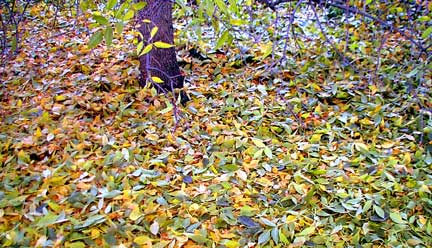 green.

For a year of extreme extremes perhaps this seems completely appropriate. For the most part the trees were in a sort of budding process most of the warm winter, then when spring was suppose to come it was so cold that the trees were very late turning green now after a hostile dry summer the poplars are ignoring the freezing night time temperatures.
Click here to listen to a portion of Neil Young's Harvest Moon.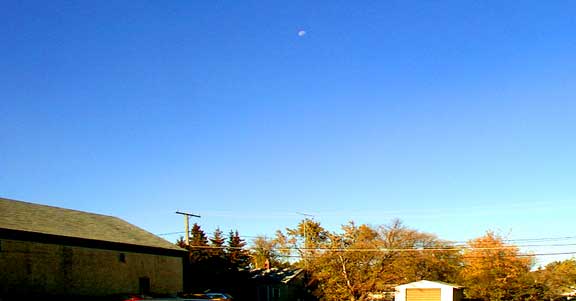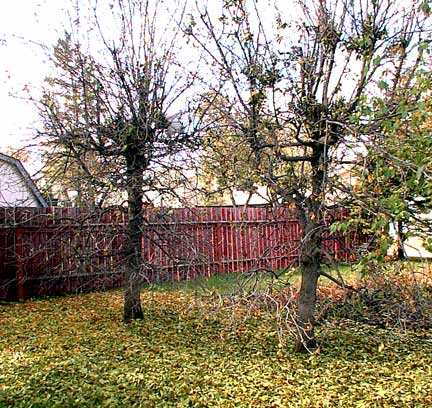 Above the harvest moon sits high above looking down on a chilly Thursday morning.

Friday morning: The two ladies of our back yard the devine rulers of this tiny kingdom are naked, a plastic bag flapping in one and nothing but a layer of leaves on the grass, grass which this year has been cut only four times and will get one more clipping before the snow of winter covers the yard for its stint as the reflector of sky and air.

Our potato plants have finished their season and it is time to dig them up and clean up the garden, but that will wait til next weekend.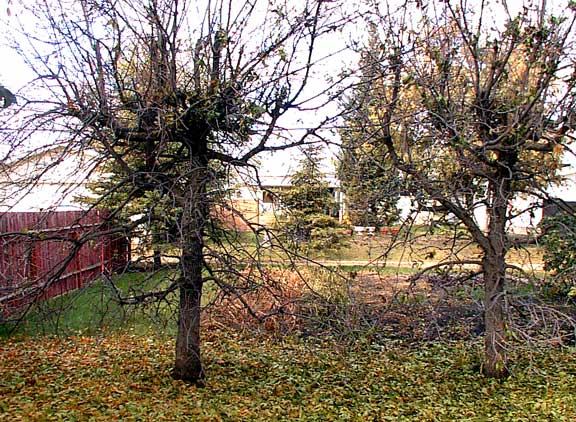 ---
Return to Ensign - Return to Saskatchewan News
This page is a story posted on Ensign and/or Saskatchewan News, both of which are daily web sites offering a variety of material from scenic images, political commentary, information and news. These publications are the work of Faster Than Light Communications . If you would like to comment on this story or you wish to contact the editor of these sites please send us email.
Editor : Timothy W. Shire
Faster Than Light Communication
Box 1776, Tisdale, Saskatchewan, Canada, S0E 1T0
306 873 2004