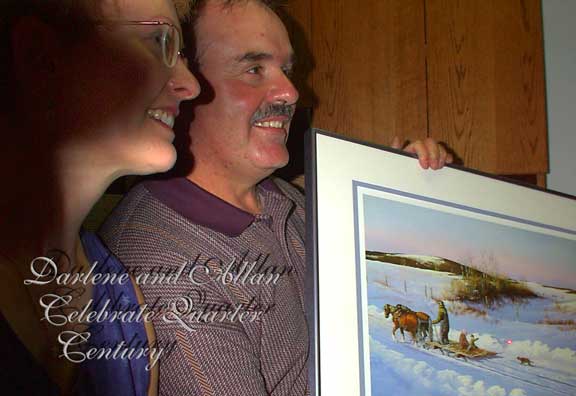 FTLComm - Kelliher - July 23, 2000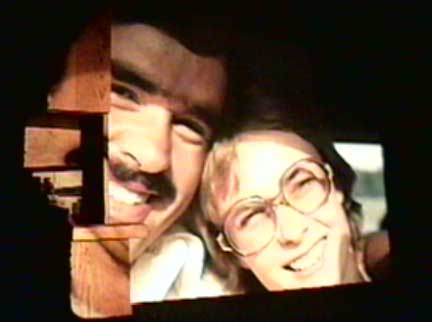 I really don't think one can over do or make to big a deal of weddings and anniversaries. What our lives are about has to be sharing and forming life long relationships that make it possible for each of us to have full and complete lives. Not everyone shares that opinion, but there is considerable evidence that marriage is good for those involved and even those people who have misfortune with their marriage will inevitable return to another relationship because they have learned a lesson that will last them a lifetime.

Allan and Darlene married twenty-five years ago. Both worked in the same school when they met, they still work and live in the very same community so that their lives and their relationship is one not only of family but of a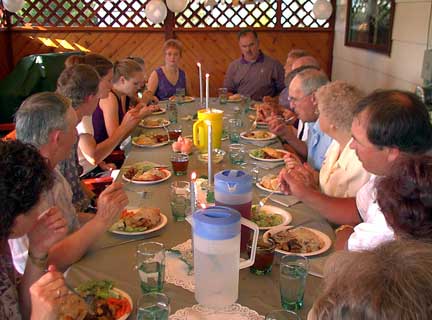 small rural Saskatchewan
community and what stable sharing partnerships can do year after year.

But commemorating a wedding anniversary is also a family event so here on the deck of their home, his family on the right, and her family on the left, came together to spend this special day recognising this successful union.

During this supper there were discussions about that hot marriage day twenty-five years ago and the adventures since like the building of the house, the finishing of the yard and deck, the wonders of a life together.

After the supper the family went to the basement and in the cool surroundings the two daughters presented a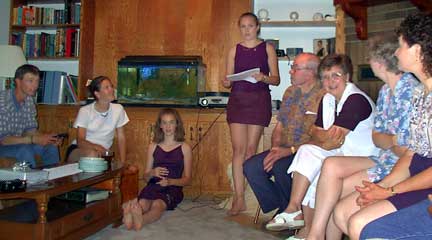 collection of slides that told
the story of Allan and Darlene and what their lives have become and continue to be.

Candace (seated on the floor) and Jennifer (standing) had searched through picture collections to find those images that best told the story of their mom and dad.

Darlene came from the ranch lands of Saskatchewan's South West and joined the staff in Kelliher. Allan from the South East part of the province was the school's physical education guy. A courtship, a committment, then marriage. It was the seventies, the time of

fortrell, leisure suites, side burns and optimism The positive outlook was a direct result of coming from families who were to set the standard for them.

Darlene's father, a rancher and fiddler who played for dances all of his life, sharing his joy for living with Vi, her mother, who keeps her own singular positive outlook now that Frank (extreme right below) is no longer with us. Allan's mother and father stood there beside them for their wedding pictures, on Darlene's parents family farm, just as they had always worked together through their lives, supporting their sons and daughter, while revelling in their mutual successful lives together. Unfortunately , like Darlene's father, Allan's mother is no long with us.

Sharing is what is all about, putting a life together while developing one's own life. Allan, an outgoing community leader, who each year heads up the community Lion's club projects, sometimes as Kenny Rogers and some times as Garth Brooks, while Darlene players her part in the community life. Both work steadily at the jobs that they love with a passion, the world of educating the community's children and from the turn out, to share in the anniversary, it was clear that this community deeply appreciates the years of dedication this couple have given. All those years launched after a wedding and trip to Niagara Falls.

Two daughters came along to reward their parent's lives. Jennifer now in third year college and Candace entering high school.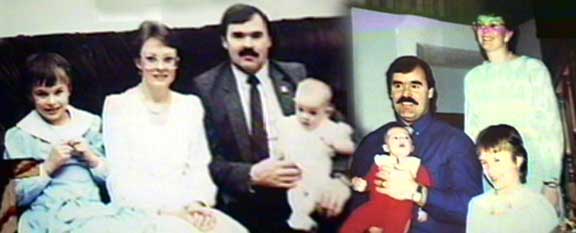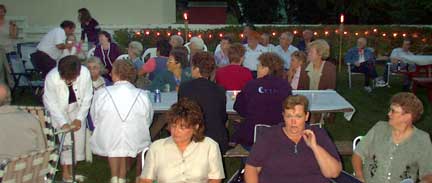 As evening arrived the back yard began to fill with the people of Allan and Darlene's town. The yard was decorated in a practical manner to discourage the mosquitoes and jokes were made about Survivor and who would be voted off the back yard at the tribal council around the fire later in the evening.

The QuickTime VR panorama gives you a 160 degree view of the cheerful scene.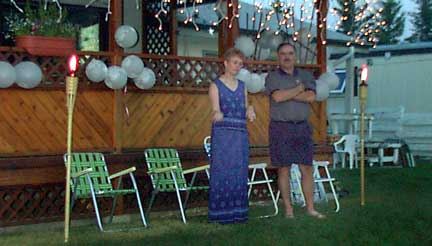 Allan and Darlene spoke to their friends and family and thanked them for joining with them in the celebration of their twenty-five years together. There were gifts and flowers and two fellow teaching staff members rendered a song to commemorate the occasion

But there was a spirit in the evening air, a sense of comfortable considerate and abiding life long friendships as Allan and his hockey team below and Darlene and her coconspirators in curling, community events, community building and mutual support chatted and laughed the night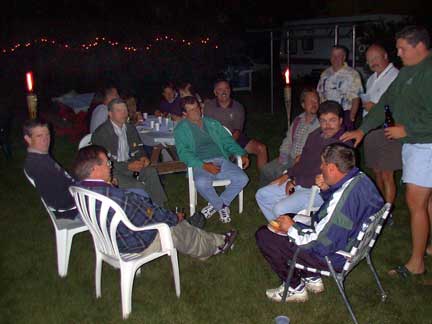 away.

These men in this picture are not just a bunch of hockey players, but they build skating rinks together, construct golf courses, hold rodeos, undertake sports days, play ball with one another, go on fishing adventures and with their hands and backs build a community that their children will continue to enjoy as will their children.

Teachers, farmers, tradesman, a lawyer, merchants, all life long friends.

The awareness that Darlene and Allan have reached a milestone is the same one that these woman have already reached or will do soon as they, like Darlene, have committed themselves, not only to their marriages, but to the place they live and the sort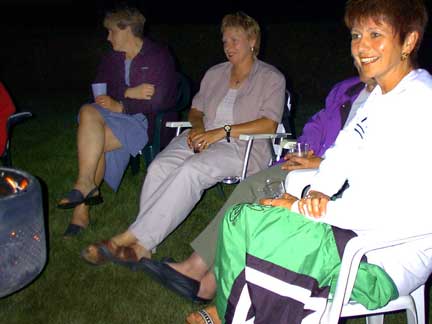 of life it offers them. These
are the people that know about
sharing and working together. No one can move a mountain, but working together with hands and ingenuity and acceptance of one another, can achieve miracle after miracle.

Kelliher recently retooled their school home economics lab so that it can provide a community kitchen able to handle major events with its walk-in freezer and ample storage. Working together isn't easy, and it takes years to develop the trust and integrated reliance that can generate results. Darlene and Allan's success together is mirrored by their success with the friends who joined them Saturday night to tick off twenty-five years as husband and wife.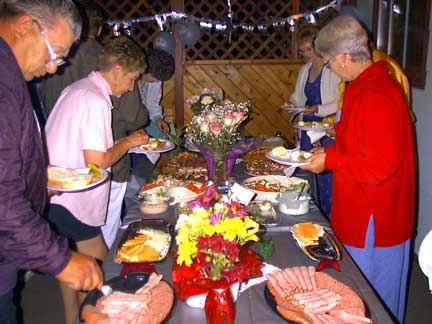 The food was splendid as
Allan and Darlene's sister-in-laws engineered the
meal that everyone shared around ten.

Former students, parents and former parents of students, grandparents of students and former students, all were on hand to spend the evening together.

As Darlene's mother had said earlier in the evening, speaking from a lifetime of joy with her partner, that she wished her daughter and son-in-law many more decades together. In many ways, a twenty-fifth anniversary is not just the marking of a time spent together, it is for this couple and so many others, just the beginning of a new phase of their shared lives, as they seek out new challenges and with their assured strength and reliance on one another they are capable of formidable accomplishments.

Congratulations Darlene, and Allan, the best is yet to come.