Swift Current's New Year's baby
FTLComm - Swift Current - Wednesday, January 5, 2005

This is Tenille Jasmin Willows she was less than a day old in the picture at the top of the page but on the right she is just about twenty minutes since she was born at 7:30 Monday, January 3rd evening.

Tenile is beginning life at seven pounds, five and half ounces and is a full twenty inches long.

My wife and I were visiting with her Great Grandfather, Grandmother and Grandfather Monday afternoon about 4:00 when Tenille's dad, mechanic Brian Willows of Swift Current called to tell his parents that it was time and his father drove over to take Brian and his wife Lisa over to the Swift Current hospital.

Labour is not something that one can plan and for most births it can take from three to thirty hours but we finish dinner and drove over to the hospital to see how things were going. Tenille's grandfather, Stan Willows of Tompkins and I waited in the main lobby while my wife and the expectant grandmother went up to the maternity ward. Only a few minutes after they arrived Tenille announced her arrival on the scene with a clear cry at 7:30.

She is Swift Current's New Year's baby and before lunch the following afternoon three more babies had joined her in the nursery.

By this time next year this little person will be getting around on her own and in two years time she will have learned the most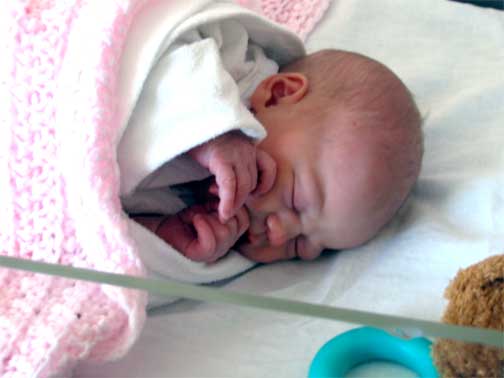 important word of all, "no." She will qualify for a drivers license in 2021 and graduate from high school in 2024.

Tenille and her mom left the hospital Wednesday and both are doing just fine.

Nicole is her proud and excited sister (below) is five and half and explained that they won't need any toys as Tenille can share her toys. Little does Nicole realise that for the next few months there is a new boss at home. Nicole told us at supper Monday night that she was expected a baby brother but a baby sister would be just fine and by these smiles you can see it didn't matter.

Welcome to the world Tenille.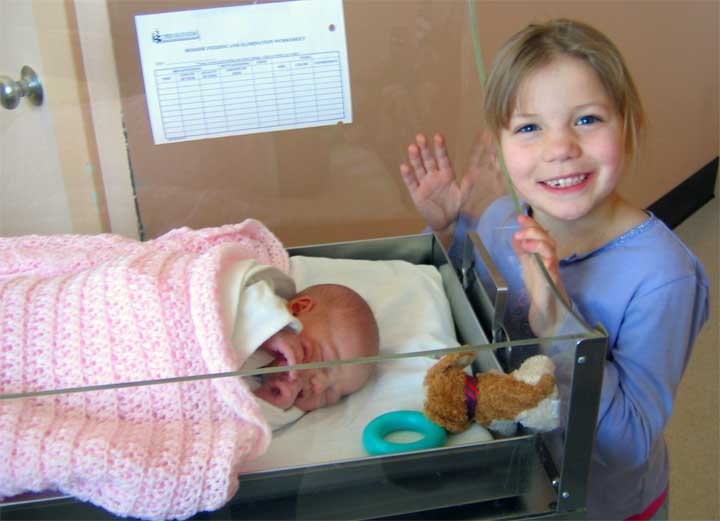 ---
Return to Ensign - Return to Saskatchewan News
This page is a story posted on Ensign and/or Saskatchewan News, both of which are daily web sites offering a variety of material from scenic images, political commentary, information and news. These publications are the work of Faster Than Light Communications . If you would like to comment on this story or you wish to contact the editor of these sites please send us e-mail.
Editor : Timothy W. Shire
Faster Than Light Communication
Box 1776, Tisdale, Saskatchewan, Canada, S0E 1T0
306 873 2004