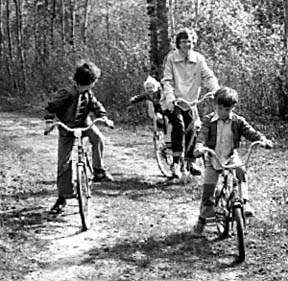 Last Sunday was mother's day and I happened upon these pictures taken on Mother's day May 11, 1980, that's right, these are nineteen year old mother's day pictures. That was a dangerous seat Matthew, now in second year college, is riding in, but at the time it was state of the art. Mother is mounted on the common bicycle of the time, a five speed which was sold in a yard sale in the early 90s.

The trail is the Beaver Creek cross country ski trail that we had used a lot the past winter and as you can see in these black and white images, it looked pretty good for that time of the year.

A mother and her three little boys, all of them now grown men and yet in her mind and in theirs, these moments are as alive now as they were almost two decades ago. Andrew on the right was in kindergarten and looking forward to going to school that fall. At the time this picture was taken we did not know where he would be starting grade one, as it was almost a month later that we had the chance to move to the Yukon and Andrew began school in earnest, in Watson Lake.

The picture below was taken almost a month earlier but it portraits Andrew so well that it seems to fit in with these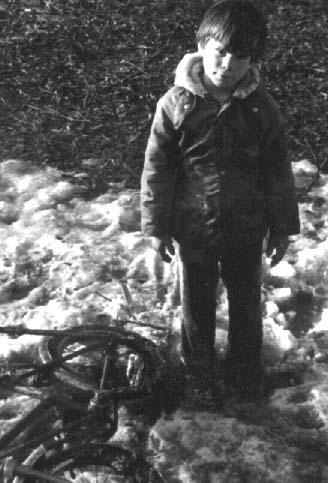 other images as it was part of that time. Andrew was a very active individual and would go through several bikes in his childhood. Without a doubt this one was a good one but it was replaced two years later with a dandy of a chrome one that I bought in Whitehorse and brought home for him.
Andrew had just finished his first winter as a hockey player, and both he and I both remember his greatest achievement that winter when as a defense man playing his first real game in Wawota he made the absolute perfect pass. Now for those of you who watch hockey, a pass does not seem all that important, but when you are a five year old defense man and you have practiced and practiced getting your body, skates and stick to play for you, making any kind of a pass is outstanding, but a perfect stick to stick pass, ah that is at a far higher level. Andrew's exuberance and pride with his accomplishment at the moment definitely showed as he immediately skated from where the pass had originated to the area directly in front of where his proud father sat in the stands and loudly proclaimed "Did you see that pass!" I assured him I had after all it was a perfect pass. The best one ever. No goal can match the elation a dedicated defense man can have in accomplishing the perfect pass.
His older brother was a grade three boy with more curiousity then the mower could cope with. He took a special interest in the mower, not mowing grass but in the mower. He discovered that there were interesting adjustments on the carburetor and was forever in the yard mowing. Well he wasn't really mowing, he would mow for a minute or two but would then spend a lot of time tweaking the various adjustments. When we moved at the end of June, I gave that mower to a neighbour, his adjustments had made the thing impossible for me to start, or keep running, and yet it gave him enormous pleasure , mowing was not the function of the lawn mower, making it run was.