About 10:45 it is believed a ruptured gas main exploded killing a back hoe operator and injuring at least six others as the explosion and resulting fire erased a meat shop, small dinner and some vehicles on the street.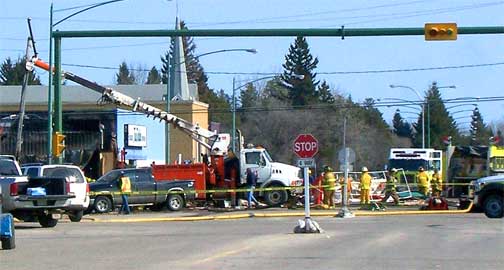 Nipawin's downtown was closed down, its stores and businesses closed and a tight security perimeter established by the time I arrived in Nipawin this afternoon at 3:30 to try to get you a picture or two of the scene.
Apparently, a construction project was in progress this morning when it is believed a digging machine ruptured a gas main and witness reported smelling the strong odour of natural gas just before a massive explosion took place in downtown Nipawin. It is believed that the operator of the digging equipment was the only fatality, but there were as many as six others seriously injured, two flown into Saskatoon and one transported to Prince Albert. I was even told that some injured were brought down to Tisdale for treatment.
The resulting fire destroyed the Meat Shop just east of the Royal Bank at the very centre of the community. A small diner just east of it was also destroyed and fire fighters contained the blaze though the TrueValue hardware was damaged. There were reports of windows blown out but I can not confirm this as the area was completely closed off.
A surprising number of SaskPower trucks, fire engines, ambulances and police were on hand. Clearly, the emergency plan for the community had kicked in and was working efficiently providing Nipawin with support from its neighbouring communities.