The Last Month Begins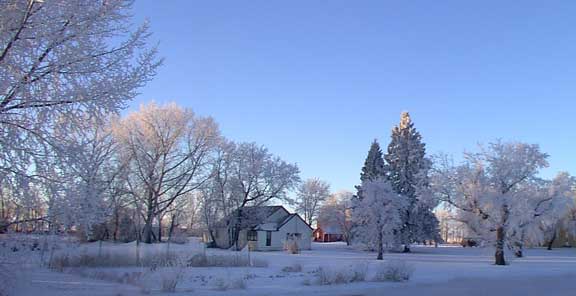 FTLComm - Tisdale - December 1, 2000
All of last year as we approached the end of 1999 I would mention that end of a century, the end of a millennium and we all counted that as the time to roll over the historical clocks but indeed the year 2000 is the end of the Twentieth Century and the end of the second millennium In thirty-one short days we will have crossed the line over into the historical first century of the new century and of the third millennium

December the first and after a week of cloud, fog and hints of snow we have a glorious, utter marvellous morning with clear skies, a moderate cold North wind and things are as they should be. The hoar frost will soon disappear, in fact as I was out taking these images this morning it was already vanishing before my very eyes as the wind swept the crystals away and the bright sun lit them as the sparkled into the air.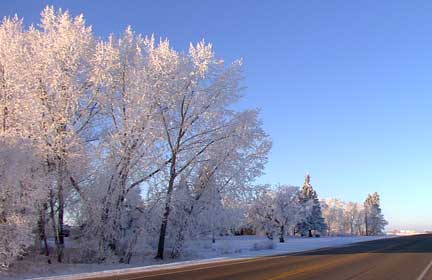 The yard on the South side of the highway a mile West of town was especially spectacular this morning because of the angle of the morning light and the morning shadows.

The two pictures above were blended together to give you a wider view and this one on the right could have joined them but you would have lost some of the intricate details of the frost and the tree's shadows.

Almost all of Saskatchewan is so decorated this morning to greater and lessor degrees and it is a kind of celebration of winter the way water vapour can touch and form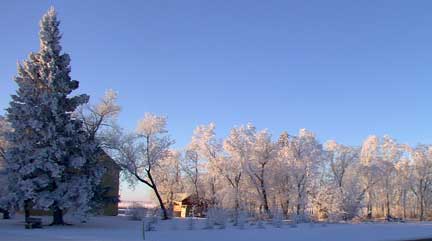 upon everything it touches
when the temperatures are just right and the humidity ready to create these masterpieces.

Last night as we drove South along highway 35 the scene outside was that of white on white on white with the gray shadows of the premature evening. Today however with the brilliant sky and the brilliant sunlight the shadows are the infinite shades of blue that we all know and love only this morning the tops of the trees are touched with the gold of the morning sun.

I went over to the fair grounds to see the back stops, those functional ball catchers that keep a ball game in play and contain errant pitches and fowl balls. This structure and all the fences carry the crusty of frost to the point of being almost being solid.