Silver Crust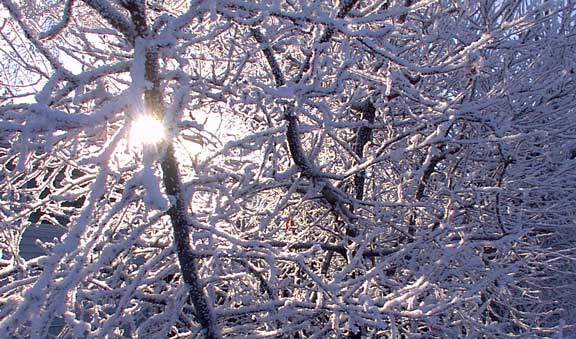 FTLComm - Tisdale - January 13, 2001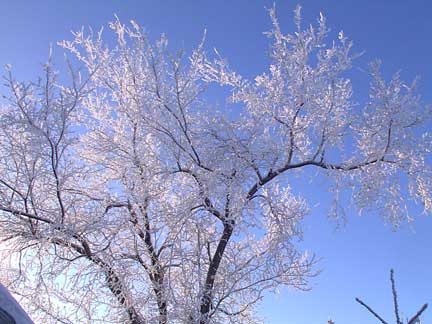 Hoar frost is a gift of winter it comes and goes without ceremony but its fragile and silver beauty is a blessing.

The fog that spread across the province with warm damp air began in the early morning hours of Friday with almost total visibility problems in the Regina area and resulting in a 4:00 AM pair of fatalities in a collision on highway six North of the city.

There was fog around Saskatoon in the morning and here in Tisdale it was not until afternoon that the ceiling descended engulfing the world. A lady from North of Carrot river told me that they had light rain around six in the evening making walking and driving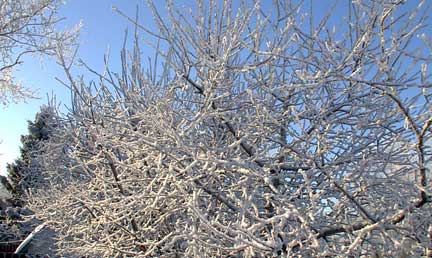 pretty tense in their area.

One lady discovered that the heater in her car would not work as the air controlled valve system in her Ford had frozen condensation in the system and had shut down the fan. Allowing the car to idol and warm up was the simple cure.

These pictures were taken at around 11:00 this morning and show the extent of the hoar frost in our neighbourhood. This small group of trees with their bramble limbs is particularly impressive as we see them in this picture with the sun and in the picture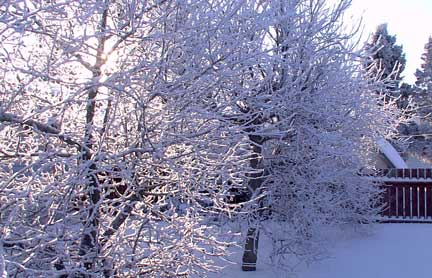 on the right we see them as the sun shines through them changing the golden white to blue white.

The nature of ice crystals is essential to making these scenes as the water condenses from the surrounding air it develops its fragmented structures in thin flat light reflecting and refracting elements. This can be seen in the image below that has been shown here full size (8 inch size) which could be used as a back ground or wallpaper screen. If you ever want an image from Ensign for your screen at a larger resolution just e-mail us and we can send you the picture.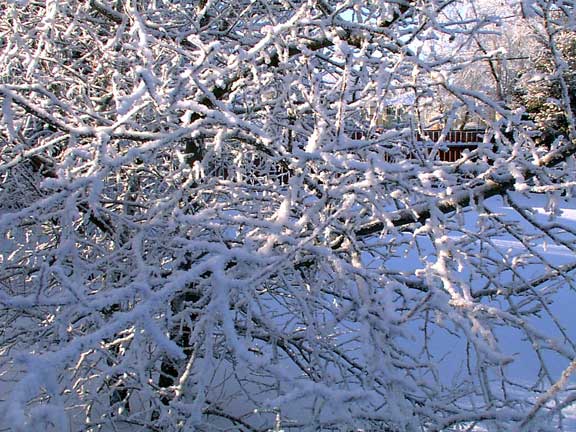 I like to change my background screens as often as possible and both the picture above and the one below grace this computers screens now.
The picture above is of a small tree on a neighbour's front lawn and captures the light in its own special way while the image below is a back alley with the door to the elementary school at the end.