Just A Touch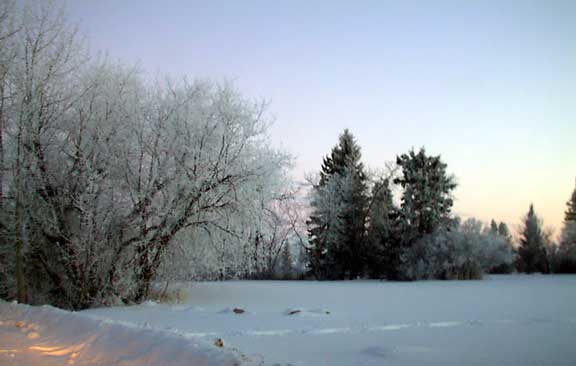 FTLComm - Tisdale - January 21, 2001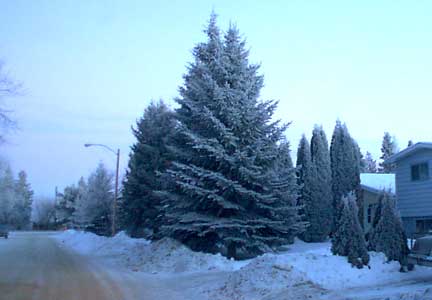 The fog that engulfed us Saturday morning and cleared after lunch time left behind almost and gossemer film of frost on the trees and fences. Hoar frost is the frozen condensation that occurs when fog forms at below freezing temperatures and it can take many forms. Most often we see it brilliantly white or silver refracting the light, almost glowing. But this desposit today was much more subtle giving everything a hint rather then a bold look of frost.

When the sun began to set this light dusting of frost took on a more ghostly appearance, the classic example of "less is more."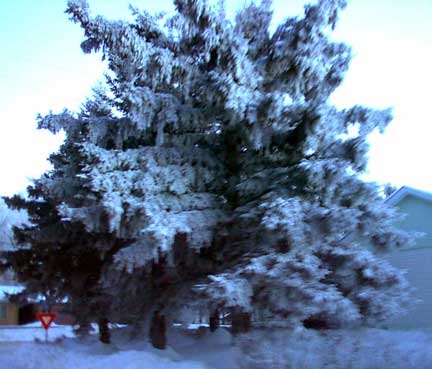 This tree seemed to have just the shading that best told the story of this frosting but the low light of late day tricked the photographer who did not bring the van to a complete halt to capture the image and produced this unusal partly out of focus image as distance, motion and low light combine to produce almost a zoom effect.

Last night CBC Winnipeg was streaming live the concert from the Winnipeg Concert Hall the evening performance of the Winnipeg Symphony Orchestra as they performed at the "NewMusic Festival" What many listeners who tuned into this concern on the Internet heard was very much like this tree, sounds that were confusing, with no melody, little cadence and definitely no harmony. It was impossible to tell the difference between the sounds made as the orchestra tuned their instruments and the actual performance. If you want to hear this stuff it will be rebroadcast on CBC2 tonight at 7:00 but since we in Tisdale do not get CBC's FM signal we will not be missing anything.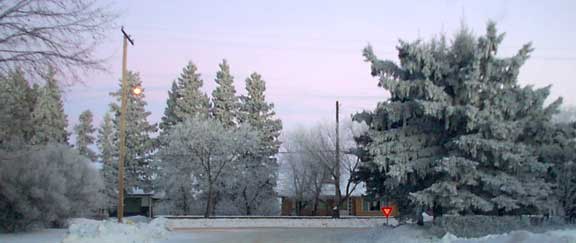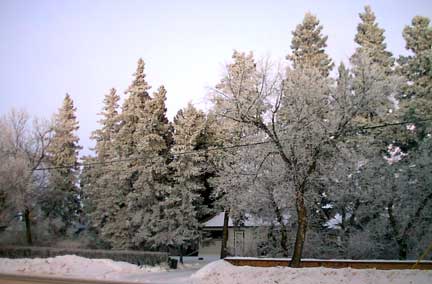 The image above shows the same tree that is featured in the picture above it and even at a distance it has that tempest-like impression.

This picture offers more tranquility as we see a mix of Elm and conifers with what is left of daylight behind us.

The picture that began this series was taken on the way toward the North end of the golf course and seemed to have a special secret caught in the branches of the trees.

The picture below of a street light and the trees around it is taken on our street and seems a fitting way to finish off this collection.