FTLComm - Tisdale - December 3, 1998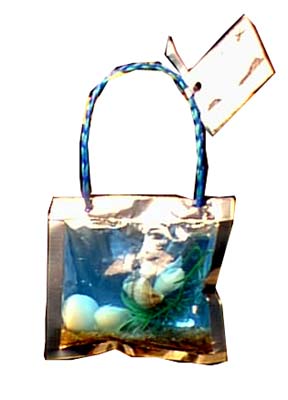 Yesterday's mail brought me my first Christmas gift of this year. I didn't even realise that it was a Christmas gift and opened this puzzling parcel to see what it was and was enormously surprised to discover a Christmas gift. Now in our family we have very strict rules about Christmas gifts, they are never to be opened until Christmas day so this one, having being opened by mistake was a special bonus. You can see the gift on the right it is a plastic bag with a little handle that would make possible to hang on our tree and in the bag is some sea water, four sea shells, a bit of seaweed and some sand. The tag on it reads "Beach in a Bag, Product of The Cape Peninsula, South Africa".

Marvelous, Jean, Angie and Sheldon Knagg of CapeTown have sent me a tiny bit of their favourite place. What better gift could one receive?

What is the criteria for a great Christmas gift?
1. It should be of the giver. Not just something, but the gift should relate to the person giving the gift.
2. It should be of a universal nature. A good gift is nonspecific in nature, it is something that you the receiver will associate with the giver and its function is irrelevant.
3. It should be memorable. A good gift is the one you will remember years from now because it seemed to fit your time and the feelings of that time of giving.
4. It should only have value as it relates to the bond between the giver and the receiver. A good gift's only value is what it means and placing a dollar value on it or limiting it to some price degrades the concept of giving.

Matthew is without a doubt the best Christmas shopper in our family, he aims each year to make presents that fit just right and is enormously successful. As a little boy with his first own money to spend on Christmas gifts he gave me the gift below which I still use every day and think of him every time I pick up "the horse".