The Grad Car Tradition Continues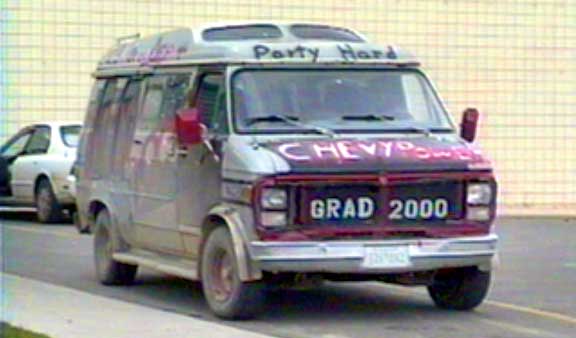 FTLComm - Tisdale - May 30, 2000
The tradition of dedicated graduation vehicles continues this year with two licensed and on the street. Each year there is an attempt to outdo last year's class with outrageous vehicles and last years crop of convertibles and a crew cab truck are hard to beat. But this year's customised Chevy van is outstanding.

This huge machine with its raised roof and radical paint job which includes Molson's "I am a Canadian" slogan and the inscrutable "Honey I'm home" is pretty wild.

The other vehicle that made its appearance on the streets yesterday was a modest Ford Tempo. These trusty little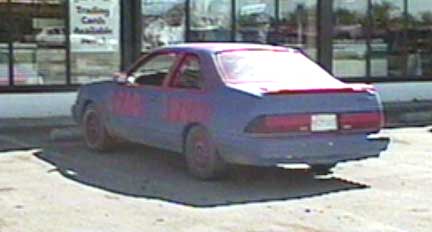 cars are outstanding cheap
transportation first appearing in 1984 with their front wheel drive and rust able bodies. This grad version appears with a whale tail and fluorescent paint.

Graduation is one of the major milestones in a person's life and each year students commemorate their passage through this time, each in their own special way. Many choose to party but just as many savour the time and the recognition of their accomplishment as they view their future in the light of this changing present.
We will keep you posted as we follow the rituals of this year's graduation in Tisdale. Faster Than Light Communications will be once again doing the video of the graduation and if you would like to reserve a copy of this year's graduation contact the office at TMSS. Videos are the same price as they have been for the past two years, $29.00.