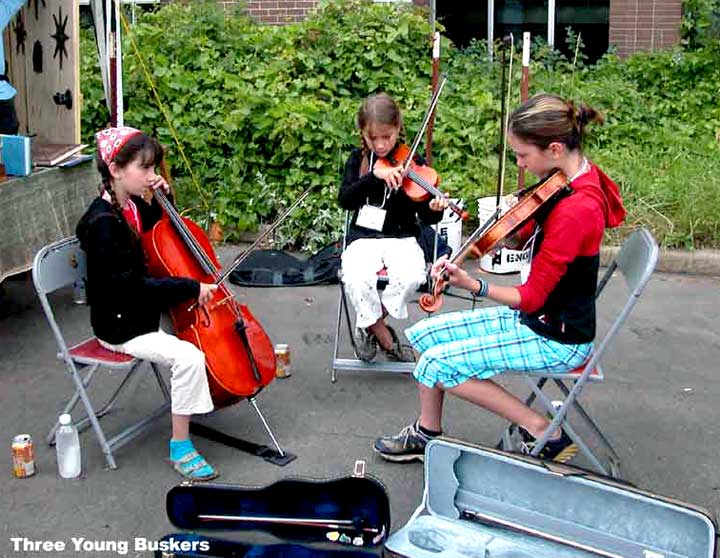 The Greenwater Report for August 24, 2004
August 22nd 2004: We went to Saskatoon for the weekend, to see Ron, Patty and Jenny Malyk, (Ron is Doreenís only nephew) who were visiting from Prince George.

On Saturday, we went to the Craft Fair at the Mendel Art Gallery. Lots of pottery, ceramics, stained glass, etc, and Larry Trask of Nipawin had a display of some marvellous soapstone carvings of wildlife. I got him to stand still for a picture.

Some buskers caught my attention ó three young girls, from eight to maybe twelve years old, playing classical music on violins and a cello. They were good, too! Shy little things, they rarely looked up, but I got a picture of them. One girl had a headscarf that made me think they might be Mennonite.

A photographer caught my attention, and Iím ashamed to say I canít remember his name. Some of his photos were taken in exotic locations like Mexico, but they were of mundane, every-day subjects like house doorways, license plates, etc, done in a way that turned them into works of art. What a wonderful eye, to be able to see beauty in a junkyard!
We went to the Air Show on Saturday; Lloyd gave us some VIP tickets, and they would have been terrific except that the air show was cancelled due to high winds and low ceiling. We browsed around the airplanes on display for awhile then headed back to town. To go to the air show, we caught the bus at Lawson Heights ó no worry about parking, and it took us right to the gate!
The ceiling was a little higher this morning, but conditions got worse toward afternoon. We didnít hear any planes at all, though we were in Saskatoon until almost 4:00, so assume the Sunday show was cancelled as well. The Snowbirds planes were there, as well as several huge military planes of the US services, so there was an awful lot of cost involved. Tough luck!
There was a US transport plane there that people were inspecting (in fact, there were likely a couple of hundred people hiding from the wind on Saturday!) that I estimated could handle about nine semis - three abreast and three head to tail. How do they ever get that thing off the ground?!
We got some frost last Wednesday night ó just one degree at our place, but someone else said five to seven degrees. I asked Bryan Grimson how badly he got hit, but it wasnít too severe there. He said the alfalfa was down, but came up again before noon. My uneducated eye couldnít see anything that I would call frost damage on our trip to and from Saskatoon.
As I said earlier, our berry crop was a flop - except for gooseberries! We have one little bush and I got a couple of ice-cream pails off it in half an hour. Not too many scars, either! I learned something about gooseberries - those sharp thorns point towards the outside of the branch. You can grab a little branch close to its base and ďmilkĒ it out to the end without pain, except when you get too close to the neighboring branch. The bush becomes very dense towards its center, and there are lots of gooseberries growing there, but I didnít even bother with them. We got all we need for some jelly off what I did pick.
The geese are back at the beach, and I see geese congregating on sloughs all over; other birds, to so maybe they are getting ready to head south. It seems early, but maybe they know something we donít!
Doreen & Jerry Crawford
Box 1000, Porcupine Plain, SK, S0E 1H0
telephone (306) 278-2249
fax (306) 278-3423
http://www.greenwaterreport.com/
---
Retrun to Ensign - Return to Saskatchewan News
This page is a story posted on Ensign and/or Saskatchewan News, both of which are daily web sites offering a variety of material from scenic images, political commentary, information and news. These publications are the work of Faster Than Light Communications . If you would like to comment on this story or you wish to contact the editor of these sites please send us email.
Editor : Timothy W. Shire
Faster Than Light Communication
Box 1776, Tisdale, Saskatchewan, Canada, S0E 1T0
306 873 2004