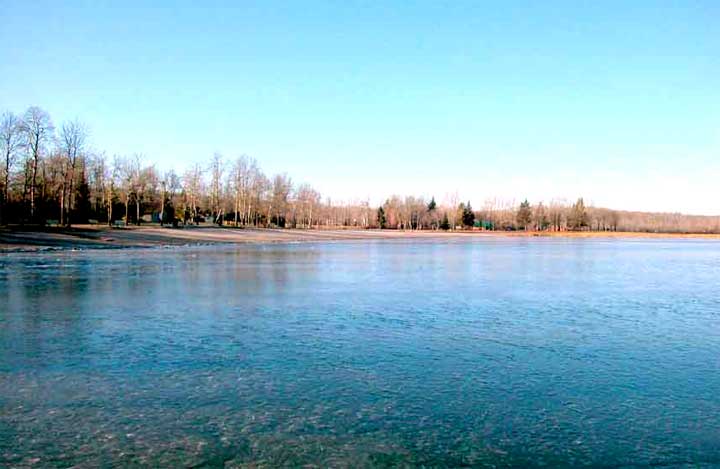 The Greenwater Report for November 17, 2004
November 14th, 2004: A pretty nice day, though cool. The temperature never did get up as high as +3° but the sun shone and there was very little, if any, wind.
We just got home from a successful bus tour to Deadwood. We left last Sunday and caught the bus in Saskatoon. We spent the first night in Regina, also the last, so had three cracks at the Regina Casino. Gambling to me is the same as having nothing to do, except noisier, so I like to find a corner where I can sit and read. The casinos are wise to me, so wherever they put a chair, they make sure not to put a light.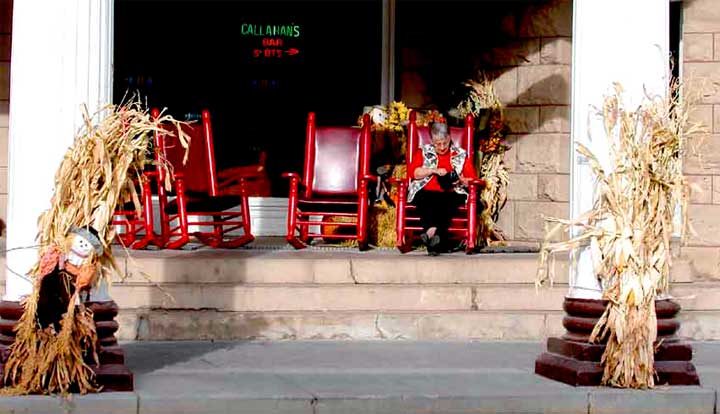 Doreen counting her money in front of the Franklin Hotel

We traveled with Jenode Tours out of Edmonton; our tour director and bus driver were both excellent, and the bus was new and comfortable (at least, as comfortable as a sardine tin can be!) In Deadwood, we stayed at the historic Franklin Hotel, a hundred-year-old building that has been restored to much of its original glory. In our room, a bath had been built into the room so there was little living space left. The doors (except for the entry door) were so coated with paint that they wouldn't latch, the ceiling was fourteen feet away, and the three lights were at least 25 watts each. I don't think they planned for us to spend any time in the room reading. The light switches were the old push-button type - remember them? The one elevator was small, slow, and run by a man who must have been as old as the hotel. Every nook and cranny on the main floor, except for the dining room, was filled with slots, but they weren't noisy. And we enjoyed it! Right down in the middle of the town, within walking distance of most of the action.

I didn't see a single policeman or police car all the time we were there. Years ago, on our first tour just after gambling was made legal, a taxi driver told me Deadwood was the safest town in America. Drunks, panhandlers or hookers wouldn't last five minutes on the street before they were quietly whisked away. I don't know if that is still the case, but it had the feel of a nice, safe town, unlike Las Vegas.

We took a side trip to the Crazy Horse monument, which will be the world's largest sculpture if it is ever finished. We were able to witness a blast from the side of the mountain, then take a little bus ride close to the bottom. We also stopped at Mount Rushmore and were amazed at the construction that has been completed since we were last there, parking, tourist facilities and such. Then, of course, we had to go to Spearfish to visit Wal-Mart, a total waste of time as far as I was concerned.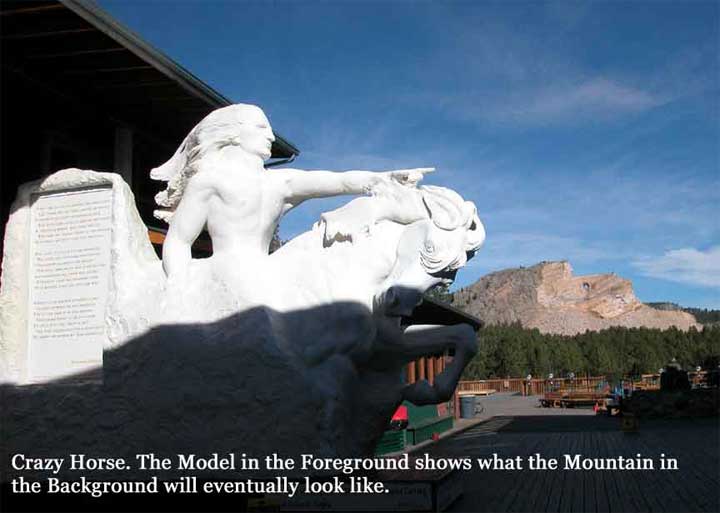 There were three couples on the bus from Ituna, including a man who is the older brother of an old chum of mine who now lives in New Zealand. I had a great visit with John and Stella Stachyshyn, Bill and Rosie Uchacz, and Gail and Will Ewald.
The lake was frozen over when we got home. (top of page) Burl thought it froze last Thursday when it got down to about —8°, so I am assuming the official date is November 11th. I went down to look at the ice; there was a bit pushed up on shore, so we must have had a north wind, but further out it was crystal clear. I thought it was only an inch or less thick, but it felt firm so I walked out farther. Then I saw some bubbles frozen in the ice, showing that it was three or more inches thick! I walked out a hundred feet or so before I lost my nerve, and it still felt firm — no rubberiness at all.
Doreen and I walked down to the Marina on the ice this morning; the ice was groaning and crashing, and a pressure ridge was forming off the main beach. There was the odd time we heard a cracking underfoot and beat it back to the shore, but basically it was solid. I wouldn't recommend walking on it beyond about two feet of depth, though.
We saw several combines working on our way home yesterday, two of them just east of Saskatoon, and a couple more east of Naicam. I was surprised at how much crop was still out, then noticed that in our back yard, where the house shades the grass, there is a skiff of frost almost like snow. I imagine the swaths would be the same, so it will take some warm weather before they can thaw and dry out. Either that, or good cold weather, so they freeze-dry, but then they may be frozen down. A lot of the swaths look fluffy, so suspect they have been lifted. They should pick up okay.
There was a rabbit (varying hare is, I believe, the proper name) in our yard last night. It was all white except for its ears, which were black. It sat there still as could be, not six feet from me, thinking it was invisible, but it stood out like a sore thumb. Down by the Marina, we watched a little weasel running around on the rocks. It was snow white too, except for the tip of its tail.
Doreen & Jerry Crawford
Box 1000, Porcupine Plain, SK, S0E 1H0
telephone (306) 278-2249
fax (306) 278-3423
http://www.greenwaterreport.com/
---
Retrun to Ensign - Return to Saskatchewan News
This page is a story posted on Ensign and/or Saskatchewan News, both of which are daily web sites offering a variety of material from scenic images, political commentary, information and news. These publications are the work of Faster Than Light Communications . If you would like to comment on this story or you wish to contact the editor of these sites please send us email.
Editor : Timothy W. Shire
Faster Than Light Communication
Box 1776, Tisdale, Saskatchewan, Canada, S0E 1T0
306 873 2004