April 10th, 2005: Itís cooler than it has been with a heavy overcast, and no wind. Must be the coolest day we have had for awhile, but still above freezing. There was a heavy mist at times, enough to make the road shine, but not enough to wash things down.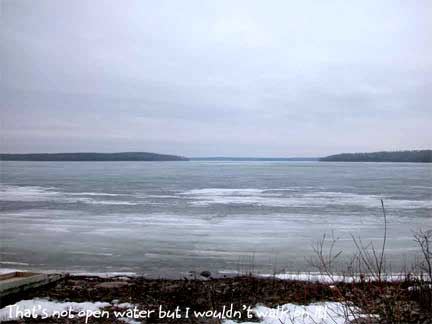 What a difference a week makes! We came home from Alberta on Tuesday and Wednesday. There was very little snow visible from Rosetown west, not surprising since there hadnít been much when we went out a week earlier. We were surprised to see there wasnít much east of Rosetown, either, including in Saskatoon. It wasnít until we came south from Crooked River that we saw much in the flat fields. There was still a lot in the drifts and shaded places here in the Park but our driveway was bare. That was a quick melt!

On Thursday, the lake ice looked very wet, and the creek was running like crazy into the Marina. A better flow than we have seen for years. This warm weather will put an end to the snowbanks very quickly! Iím afraid it wonít do much for the lake level, though; judging by the level of the floating docks at the Tackle Box, we are still a good five feet below maximum.

Thursday night, there was a strong wind and warm temperatures; that really took down the snowbanks on the north side of buildings and bluffs. On Friday, the Red Deer River was running deep and fast with no sign of ice except the odd bit floating down. Today, the snowbanks on the north side of our house are just about completely gone, and they usually linger for weeks.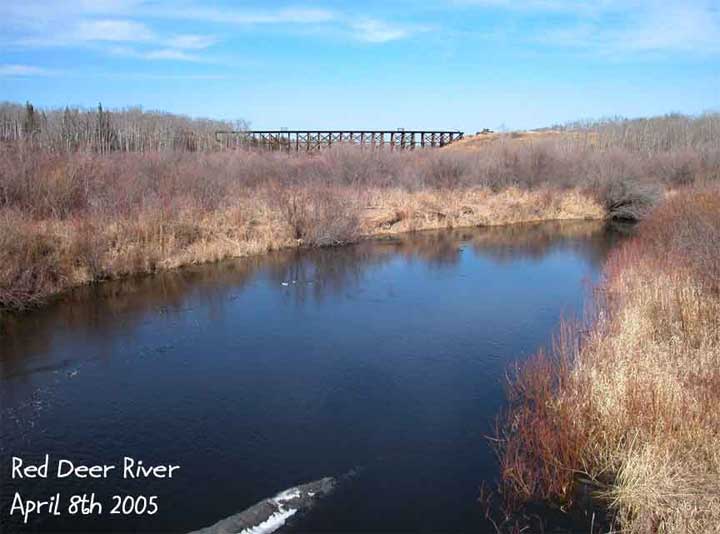 With the end of fishing season, the fish in the lake are regrouping, licking their wounds, and mourning lost friends and relations. At the same time, they are rejoicing in not having to dodge those ugly fishhooks, not getting tangled up in fishing lines, and not having their sleep interrupted by snowmobiles and other vehicles roaring around on the ice.

The ice fishing huts are all gone from the lake. One of our coffee row buddies built a new one last year, but I donít know if he ever got it out onto the ice. Last time I saw it, the wiring, lining and wallpapering was complete, the Jacuzzi installed and he was just waiting for the wall-to-wall carpeting. Iím not sure what he planned to haul it out onto the ice with.


The juncos, purple finches, and Harris sparrows are back, and no doubt a lot more of our spring birds that we havenít seen. We have been feeding on our south deck and the winter birds got used to our big windows and rarely hit them. These newcomers, though, have been slamming into them at an alarming rate. One poor little purple finch wound up on the windowsill and sat there with its mouth open - we didnít think it was going to make it. After awhile, though, when I went out onto the deck, it flew off, right through a lattice, up through the trees and across the road. I hope it makes it.

I mentioned in a couple of columns that the new TV tower sat there all winter without a marker light. Well, that has been corrected - it now has a high-powered strobe light that flashes every second or so. One couple complained that it flashes right into their bedroom window; another couple, driving east along Highway 349, said it was like trying to drive in a lightning storm. We drove by the tower tonight; there was a low level cloud that masked the lights of the SaskTel and police towers completely, yet the strobe shone through. I can picture it being very annoying on a clear night. CBC should expect a lot of complaints!
Retrun to Ensign - Return to Saskatchewan News
This page is a story posted on Ensign and/or Saskatchewan News, both of which are daily web sites offering a variety of material from scenic images, political commentary, information and news. These publications are the work of Faster Than Light Communications . If you would like to comment on this story or you wish to contact the editor of these sites please send us email.
Editor : Timothy W. Shire
Faster Than Light Communication
Box 1776, Tisdale, Saskatchewan, Canada, S0E 1T0
306 873 2004