July 31st, 2005: Hot! Sunny, light wind, pushing awful hard against +30°. That's two days in a row, after a pretty cool week. I picked today to paint our south deck and it was not pleasant. The deck was so hot that kneeling in shorts wasn't comfortable. The job is done, now, but we have to start thinking about the north deck. I have a little repair work to do there first.

This is not a berry good year. No saskatoons, no chokes, no crabapples. Just a few gooseberries, but at least what is there looks healthy. Should be lots of cranberries and a few pincherries, but we already have lots of jellies. Maybe we'll forget about berry picking for this year.

On Thursday, there was a wreck of a hornet's nest on our deck. It looked as if it had been thrown, as there were marks where it hit and skidded, but it would have had to be thrown from our lower deck. We ruled out a people prank, so that only leaves a bear or a raccoon. Coffee row suspected a bear.

The hornets had disappeared in a couple of days so I swept the remains off the deck. Doreen went out today to move some furniture around on the deck, and got zapped by a hornet, which seemed to be from a swarm under the table. After she treated her sting, she went out again and dropped a plant onto the table, to see what would happen. She stood well back this time, and a good thing as a whole swarm came out. I guess tonight, when it gets cool, I have to go out with a can of Raid and do my dirty deed.

Yesterday, we went to Wynyard for a celebration of Joe and Doris Sawchen's sixtieth wedding anniversary, and what a wonderful day it was! Joe and I worked together in Crawford's Foods for over twenty years, and we did lots of partying in the same years. Of course, we were re-introduced to dozens of people we knew in the old days, including many who worked for us. What a great bunch!

Driving down to Wynyard, we hit the parade in Wadena, so the highway was blocked. We snuck around by some side streets to Highway #5, but it was blocked too. We sat there for about twenty minutes waiting for the parade to clear. Too far away to be able to appreciate it, though it looked like a good one, and Jenny confirms that.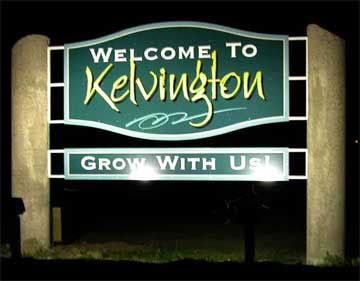 Kelvington had their fair this weekend, as well as Wadena Homecoming and Rose Valley Homecoming. There seemed to be family reunions all over the place, too, so it was a busy weekend. On our way home last night, we were impressed with the new Kelvington sign, all lit up, so I had to stop and take a picture. You have seen the pictures taken in the daytime, now you can see one taken at night.

We have been home almost a week! At least, we weren't on a tour for the past week, but did fit in a trip to Tisdale, several to Porcupine Plain, one to Kelvington and yesterday's trip to Wynyard.

My sister, Cathy, just got back from a two-month, fifteen thousand kilometer motor home tour down to the Maritimes, so stayed with us a couple of days on her way back to Prince Albert. She had a wonderful time, just seeing the sights. She loves museums, parks and old houses. Rarely more than one night in a place. She took her young dog, Freckles, with her so had to stop frequently for walks. She said having the dog along made it very easy to meet people, though Cathy doesn't have a problem on that score. Folks who wouldn't dream of speaking to a stranger will come over to see a dog, and that leads to conversation. What a way to spend the summer!

We see a poster advertising fireworks on the beach next Saturday, August 6th. It will take place on the beach, after ten PM. I know that Gary Schmidt has been getting donations towards it but have no idea what kind of a budget they have. Expect a good show!

I phoned the Tackle Box and asked how fishing had been. They said it was slow during the week but picked up on the weekend, with some walleye being caught. That seems kind of backwards - when it was cool, fishing was poor; when it turned hot, fishing picked up!