November 27th, 2005: I thought winter had finally arrived when I got up this morning - great big flakes of snow were slowly drifting down. It didn't last long, though. It was heavily overcast, but by noon the clouds seemed to be breaking up a bit.


Yesterday was nice and sunny - a real break after the heavy overcast we have had most of the week. When I took a picture of the short cut to the Cove, in the middle of the afternoon, the camera wanted to use the flash!


Warm weather continued for the first part of the week, though Thursday it took a drop. The ice didn't melt, but it did crack in the wind. The plates of ice rubbed together making the most eerie, spooky moaning sound. I really should try to capture it with a recorder.


Kelvington was a busy place this weekend. Friday night was Moonlight Madness; Doreen helped in Jenny's store and I tried to keep out of the way. For the first time that I can remember, there wasn't a parking place to be had in the block where Jenny's store is. There was also a volleyball tournament, and a school reunion going on, so the place was really jumping.


Saturday, we went back to Kelvington, this time to take in the Lionelle's Craft Bazaar and to partake of their chilli lunch, which was great. The reunion and the volleyball tournament were still going on, so of course the town was packed. These events must be good for business - all those people have to have something to do!


I conducted a class in digital photography at the Porcupine Plain Library on Wednesday. I started out trying to impress people with discussions of resolution, megapixels, dots per inch, and so on but that is pretty dry stuff and people's eyes tend to glaze over. Most of the two hours was spent trying to answer questions, occasionally throwing in a tip or two. I am conducting another class next Wednesday, the 30th, this time on downloading and scanning. Those classes can be fun, and I find I learn as much as the rest!


I had a phone call from a man wanting some advice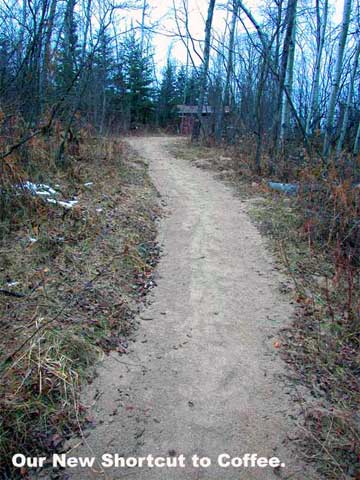 on buying a camera. I had to tell him I think digital is the way to go. The advantages to film go away back to the days of manual focussing and so on, when you could whip out a camera and really grab a "snapshot". Nowadays, you have to whip out the camera, turn it on and wait for it to boot up, then wait while it tries to find something to focus on. By then, that beautiful six-point buck got tired of posing and wandered off. It's true!

We went to Melfort on Thursday. It was cold and windy, but once we got north of the Park we didn't see a sign of snow anywhere. It looks as if most of the swaths have been picked up, though it's hard to tell in places. Ken Folstad spoke of seeing combines working in the Archerwill area last weekend.

A few weeks ago, I mentioned the improvement to one of the paths from Old Greenwater Sub to the Cove - steps had been installed and a good sand base laid down. I also whined a bit about the path we generally use being muddy and root-bound. Well, the other day we took the short cut back from the Cove and found the trail had been widened a bit and a good depth of sand or crusher dust laid. No roots to trip over! No mud! And no little branches to rip our glasses off. Thanks, Brian!

I vigorously resist getting all Christmasy before December. If I had my way, lights would be turned on Christmas Eve and turned off on Boxing Day. I do, however, believe in getting the lights up before freezing weather sets in and that's what we did this year. No frozen fingers! Despite hearing Christmas music in all the stores ever since Hallowe'en, I definitely have not got the Christmas spirit, and our lights will stay off until sometime after the end of this month. Santa Claus Parade in November - bah!