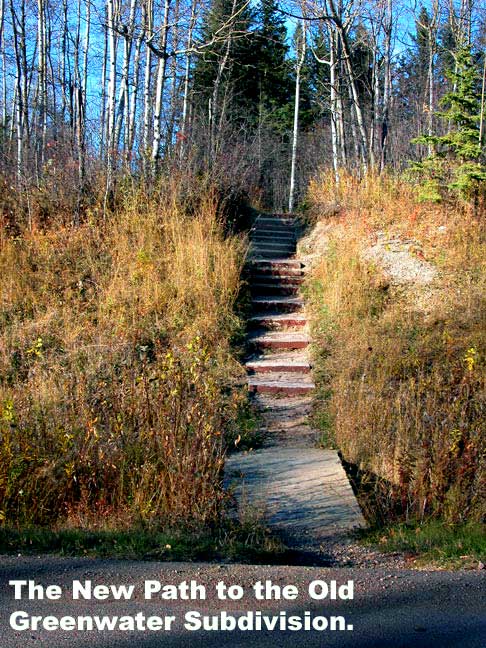 October 16th, 2005: This morning started out with a glorious sunrise, but then it clouded over and there was even a drop or two of rain. The wind was high all night - we have a roof vent that has a noisy bearing so it makes a good indicator of the force of the wind. It woke us a couple of times during the night, died briefly before noon, then came back up again. Another little shower in the afternoon ó enough to wet the deck, but not likely enough to stop a combine.

Something new has been added - there are two footpaths that lead from the Greenwater Subdivision down onto the road that goes by the old Fishermanís Cove location. One was a fairly level mud hole, the other was a very steep and slippery mud hole. Well, something has been done about the latter. A set of steps has been installed, plus lots of gravel or crusher dust so it is quite a civilized path now. It should discourage bikers too - there is a sign at the top of the path prohibiting bicycles. Now, if we could only talk them into improving the other path, which is the one we use. A few loads of crusher dust would do it - no steps required.

If you have been to the Park lately, you may have heard a cat working over by the Cove. Francis Kehrig bought the land where the old motel used to sit; he hauled away those old cabins and is now in the process of cutting down the hill and levelling the whole tract. We assume he is going to extend Almi Campground onto that land, but that is just our guess.

There was a flock of ravens and one bald eagle feasting on a deer carcass toward the north end of the Park the other day. Funny - we donít like to think of the majestic bald eagle as a carrion-eater yet road kill was likely instrumental in eagles making a comeback from the endangered list.

The Hospital Auxiliaryís Fall Fair was on in Porcupine Plain Thursday, so we went in. Had a wonderful stew luncheon (Lunch, coffee and pie for six bucks!). Then we prowled the booths and visited with friends. There was an excellent turnout - at one point the tables must have been full.
.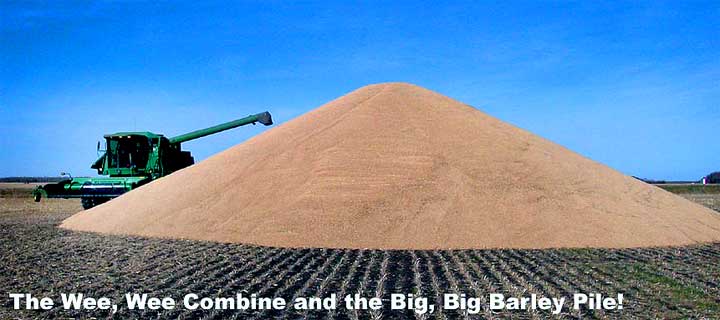 .
I spent a couple more days at Grimsonís - went down on Friday and combined patches of oats hither and yon, then on Saturday finished up the last two bits of wheat. I put the last hopper into the semi at 1:30 yesterday. Thatís the first time I can remember being there for the windup, so took a picture of it. Then, since I had the camera along, I took a picture of the combine beside a huge pile of barley.

That evening, Bryan and Dan took us all out for supper at the Shanty Inn - wow! What a steak! When we went in, everyone was asking Bryan ďAre you all finished?Ē I guess they realised it was a celebration.

We came home afterwards. It was a warm and windy evening, and we saw a lot of combines running. This good weather will see most of the grain if not in the bin, at least in piles on the ground. Though prices are weak, it was a far better harvest than most people expected, and itís not unusual for it to drag on a lot later in the fall. Last year, it was October 14th when we were stopped by a snowstorm. That was the end of harvest for me, but for Bryan, Dan and Ed it carried on for the rest of the month, grabbing off a bit whenever the weather permitted.

The whites and smaller geese were just starting to show up last week. We had seen great flocks north of Wadena a month ago, but they didnít seem to go as far south as Elfros and Mozart, something unusual. I did combine some wheat swaths over by Nupp Lake that looked trampled and didnít have much grain in them. I think there were more hunters than geese.
Retrun to Ensign - Return to Saskatchewan News
This page is a story posted on Ensign and/or Saskatchewan News, both of which are daily web sites offering a variety of material from scenic images, political commentary, information and news. These publications are the work of Faster Than Light Communications . If you would like to comment on this story or you wish to contact the editor of these sites please send us email.
Editor : Timothy W. Shire
Faster Than Light Communication
Box 1776, Tisdale, Saskatchewan, Canada, S0E 1T0
306 873 2004