September 18th, 2005: We had quite a bit of clear sky all day, and is there ever heat in that sun! Even though the thermometer reads 12° or so, when the sun is out the jacket comes off.

It is several days since we had our last rain, yet the creek is running into the marina at a good clip. I looked at the marina docks to try to get a sense of how much the water has come up; it looks as if another 30Ē rise would put the floating dock about level with the fixed boardwalk; when that happens we could say the lake is back up to normal. It doesnít have to do it all this fall, though!

They have removed one step completely and the first step is only about three inches, so the level must have come up about a foot this summer.

I was surprised to see some paddle boats, canoes, and fishing boats still out at the marina, though I didnít see any attendants around. Seems to me they usually have them all stowed away by this time.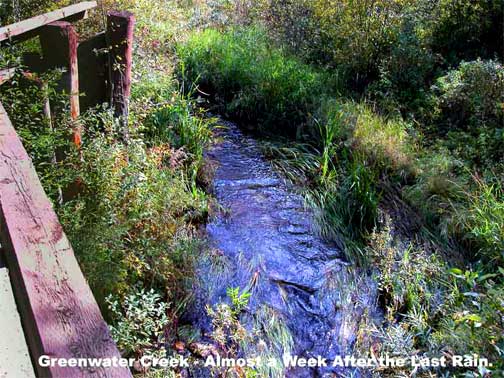 We drove home from Saskatoon on Friday. It drizzled off and on all day, and there was plenty of excess moisture, particularly from Tisdale east to Porcupine Plain. The Red Deer River is running fast, as is the creek west of Porcupine Plain. The water in the lake is a few inches higher - I dragged my dock sections up onto high ground when I took it out a couple of weeks ago; I may have to drag them up higher if it keeps raining.

We made a short but expensive holiday of it last week. First, we went to Foam Lake on Tuesday so Doreen could visit Mary Anne (that wasnít expensive.) Then we stopped at the Co-op store in Mozart and visited with Corrie and friends and had coffee. We spent the night at the lovely campground at Lanigan, which we hadnít visited before.

Wednesday wasnít too expensive. We did some shopping around, sticking to the malls as the motor home isnít too useful downtown, but didnít spend much money.

Thursday was the bad day. We had to replace the fridge in the motor home ó a third the size of our household fridge and twice the price. We added a roof air conditioner and that ate up another thousand bucks. Then we got the tires rotated and the front end aligned but that only cost a couple of hundred. By then it was getting on for suppertime so we went back out to the campground for another night.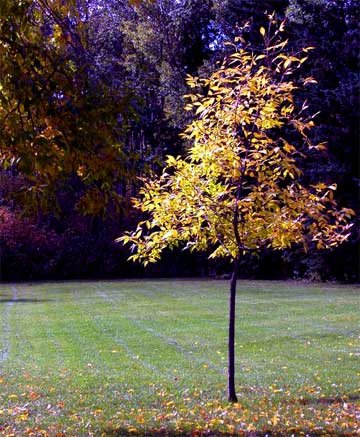 Thatís the part we really enjoy about the motor home - settling in about five in a decent camping spot, eating Doreenís cooking, then spending the evening just reading. We usually go to bed about 10:30 and sleep far better than we do at home. We rarely ever have appointments we have to hurry for; we wake at six or seven but lay around for another hour or more. By the time we have breakfast and give the motor home a quick cleanup it could be ten oíclock before we get mobile. It doesnít leave much time for travelling, so we donít travel very far. We carry cell phones but they rarely ring. I am beginning to think I could cheerfully do this full time!

It is really starting to look like fall; in fact farther west, it looks like going into winter. Black Poplars are bare of leaves and dead-looking, and a lot of remaining leaves look brown and dead. There may not be a lot of colour this fall, though we should be alright here in the Park.

Jenny came up today to give us a hand with some furniture re-locating - you men will know what I mean. We were standing by the front door, resting and enjoying a cool libation, when a deer walked up and started browsing in the little berry plantation in front of our house. It wasnít more than fifteen feet from us. For awhile, we were quiet; then we got restless, I got my camera and started taking pictures, and we talked in normal voices. It totally ignored us, in fact I wondered if it was stone deaf. Finally it worked its way to the south end of the planter and ambled off.

When Jenny drove into the Cove parking lot a bit later, there was a deer by the entrance; she stopped and talked to it and it was completely unafraid. Maybe it was the same one?

I talked to a lady at supper tonight and asked where her husband was - she said he was in the field, combining barley. He wasnít taking any chances on getting the truck stuck, but was hauling each hopper load out of the field. That was over near Rose Valley - maybe they didnít get as much rain as other areas.
Retrun to Ensign - Return to Saskatchewan News
This page is a story posted on Ensign and/or Saskatchewan News, both of which are daily web sites offering a variety of material from scenic images, political commentary, information and news. These publications are the work of Faster Than Light Communications . If you would like to comment on this story or you wish to contact the editor of these sites please send us email.
Editor : Timothy W. Shire
Faster Than Light Communication
Box 1776, Tisdale, Saskatchewan, Canada, S0E 1T0
306 873 2004