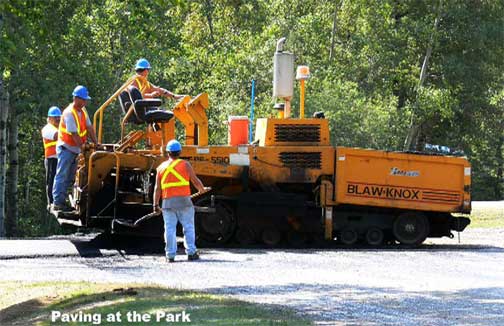 August 13th, 2006: The day started out cool but sunny; as the day wore on it got quite warm. Then about mid-afternoon we got a bit of a thunderstorm and it cooled off again, but was quite nice by suppertime. Too bad it didn't snow, then we could say we got everything in one day.

A paving crew moved in Tuesday morning and started working by the Park Store. They sweep the surface, then spray it with a light coating of oil, then lay down a couple of inches of asphalt. The foreman said the contract for supply of oil was won by a firm from Grande Prairie, Alberta; that's a long haul, so they are using their inventory for this job and will use the Grande Prairie oil for another job they are doing near Turtleford. He also said he wished they were doing this in September when there was less traffic to worry about! They were only here for about three days, working in the core area. Apparently there are plans for doing something about the rest of the roads this fall.
.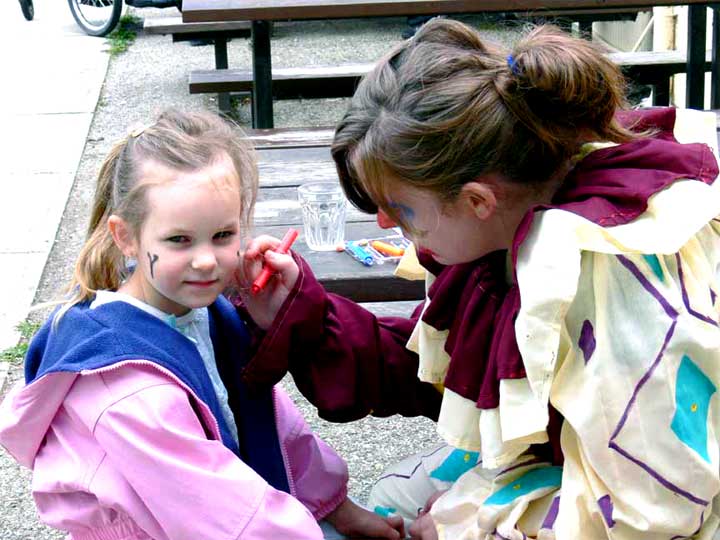 .
Connie tells me the Beach Café will be resuming Sunday Smorgs. Today was the first one, then there will be smorgs on August 20th, 27th, and September 3rd. I didn't get the word until last Tuesday, too late for last week's column.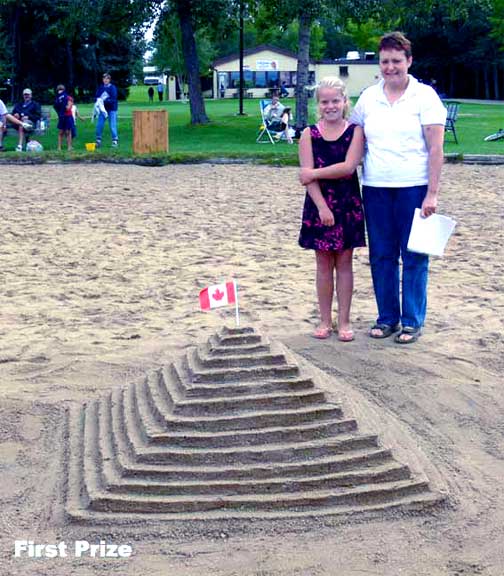 Yesterday, the Beach Café sponsored a sand castle competition. Despite cool and, occasionally, rainy weather, they had twenty teams entered and some really great constructions to judge. To make judging easy, first, second and third were obvious winners. Less easy was deciding which would be first of the three. Congratulations to all the winners, and to those who didn't win a prize: Well done! Try again next year!

Greenwater sand is a bit coarse and not the best for building sand castles. However, the geese made sure there was lots of binding material available.

While the kids were building their sand castles, I set up my projector in the café and played Greenwater slide shows all afternoon. The place was packed when I started, and stayed busy all afternoon.

There was to be a jam session outside the café, but only one group entered, the Andersons from Kelvington. They played outside for awhile, but it was too miserable for spectators so they moved inside and serenaded the group with some good, old-fashioned music.
.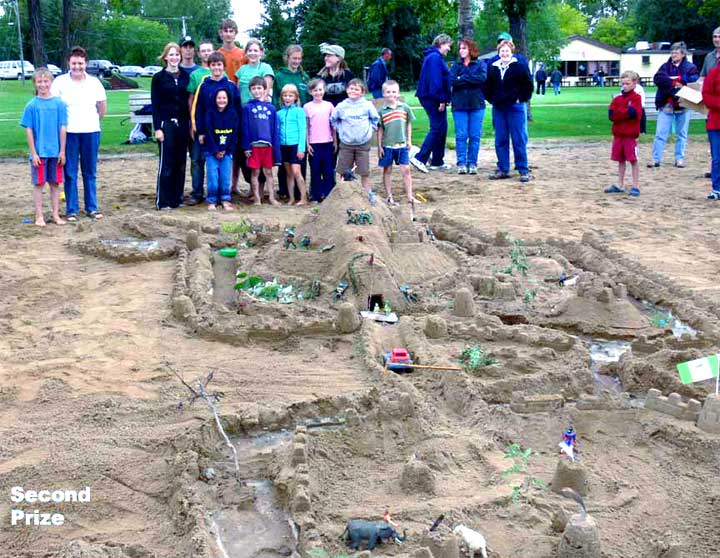 .
There were fireworks at night, but we had to miss it - our dear friends, Connie and Maurice Marquette, are celebrating their fiftieth anniversary, and the family put on a big party for them at the Perigord Hall. What a wonderful party! A terrific meal followed by entertainment by the Marquette's very talented children, grandchildren, and in-laws. A dance followed, but we were played out from laughing and clapping, so we came home like good little old folks.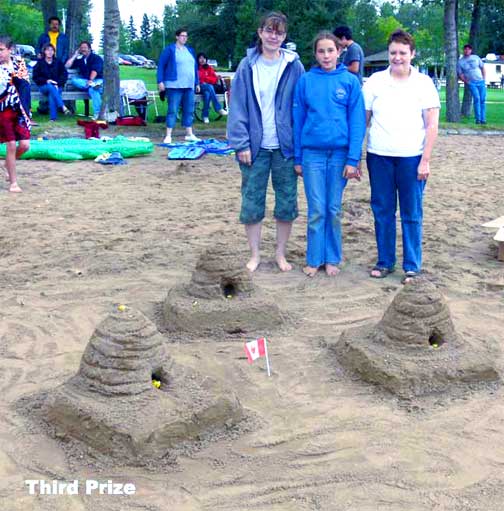 We could tell the fireworks had been successful because of the number of cars we met when we went home from Perigord. I talked to Gary this morning, and he estimated over 3,000 people came to see the show. All in all, the Beach Café had a very successful day.

We were just commenting on the fact that PWC (personal water craft) have been conspicuous by their absence this summer. Oh, joy! The fad has run its course and the horrid little noisemakers are gone for good! But alas, it was not to be. I walked past the beach one hot day and there were three of them, brand new by the looks of them, pulled up on shore. Maybe what are missing are the cretins that like to go "Rowr! Rowr! Rowr!" hour after hour, spinning around in circles and showing off. The craft, when used as a power source for travelling or pulling tubes, etc., are no worse than any other power boats.

Early yesterday morning there were five very large ducks sitting on the end of our dock. Turned out to be Common Mergansers, this year's young. I can't remember seeing them at this end of the lake before, though I have seen adults with newly hatched chicks. I remember seeing fourteen of them, just out of the shell. Not a parent in sight and the babes were going somewhere farther north in a terrible hurry. There was a seagull hazing them, but every time it made a pass at them the little ones would dive. We watched them for a couple hundred yards, paddling as hard as they could go right close to the shore, stumbling over sticks and rocks until they finally found some adults that seemed to recognize them. Where on earth did they get all the energy?

The Alstads came to call! There was Gordon, Emery, Elda, Orma and Vern, but Vern only stayed a day or two. I met them at the Cove, where they were staying, last Thursday, then again today out at Miller's place. They appear to have had a very good time visiting around the area. Today we showed them our Greenwater Historical Slide Show, which includes the picture of them in 1931, arriving in a covered wagon. They knew a lot of the people in the slide show. They are only going to be here another day or two, but they leave a lot of people with sore sides from laughing!