August 6th, 2006: It started out cool and windy but the sky cleared by midday and it turned into a pretty nice day. When I took the mutts for a walk, I could see lots of people at the beach.

The practical jokesters are alive and well at Greenwater Park - the Spiffy Crew went past me in their van, making a terrible racket. I looked underneath the van and there was a tin can tied to the back axle! I wonder how long it will take for the girls to figure it out?

Our sympathies to the people of Foam Lake on their second disastrous fire this summer, something our small towns cannot afford.

I got the following message from Gordon Alstad:
"I'm an old time resident of the Greenwater area. I went to school at Bellshill, for not quite seven years and grade one got easier every year!!! (Actually I stole that saying from Victor Gleeson)

" My wife Sherry, my two sisters, Orma and Elda and my brother Emery, plan to take a trip back there around the second week in Aug. (9,10,11,12.???) If possible, we want to rent a cabin at the lake as kind of a home base and of course have lots of visitors. (Only the coffee is free!! my brother said)"

Remember those Greenwater historical pictures I used to have on display at the Cove? The one of a lady in a covered wagon driving a team of horses was the Alstad family, when they first moved here in 1931. Gordon wasn't even born yet.

Shirley Miller told me an interesting story the other day. Seems a certain young granddaughter had never been in a canoe, so prevailed upon her parents to take her for a canoe ride. They borrowed a canoe and paddles, and away they went, with the mother in the front, the father in the rear, and Richelle the young girl in the middle. The father thought it would be fun to splash the girl; she flinched violently, and both mother and father wound up in the lake! They were both good swimmers and not far from shore, so they towed the canoe in with the girl still sitting calmly in the middle.

Tara Choquette has a new pup - a 16-week-old basset, and is it ever a beauty! All ears and feet, lovely colors, and a personality to match. I love other peoples' dogs - they are like grandkids, you can enjoy them then send them home with their parents when they need looking after.

I went to the chariot and chuckwagon races in Kelvington on Friday. That has to be the most exciting sport of them all! A man I talked to said he used to drive chuckwagon years ago; I said I thought it was tremendously exciting, and he said, "You ought to be on the seat, then! Once you've ridden a chuckwagon, you'll never go back to wimmen!" I got some good pictures, too, and posted them to my website gallery. Check them out at www.greenwaterreport.com. (click on the image below to see full size picture)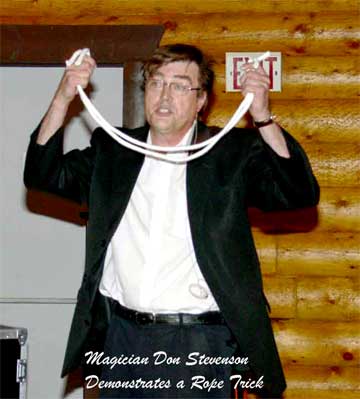 We had a table at the Cove's Flea Market yesterday. The weather was cold and threatening, so the Flea Market was set up in the lounge. Was it ever successful! People started coming before we were actually open, and it was busy the whole time. Everyone I talked to felt that sales were good, too. Then they had a magician, Don Stevenson of Regina, and the place was jam-packed! Best estimate is that there were about 250 people in the lounge.

I couldn't see how many people came out for the Greenwater Cove's Symphony of Fire last night. Alex said fifty thousand, but I think he was guessing. There were hundreds all around the open area where the old motel was. Doreen and Lucille watched it from our front deck. It was a terrific display of fireworks. I tried out my new camera, but didn't get a single useable picture.
(click on the image below to see the picture full size)
This weekend was the Cove's; next weekend is the Beach Café's, most of it on Saturday, the 12th. The jam session goes on from two to eight and if you want to participate, call the Beach Café to book your time. Then there is a sand castle contest - you register, then
construction starts at two PM and judging is at four. Sounds like fun, and great photo opportunities! There will be clowns around keeping an eye on things, too.

I noticed something new at The Tackle Box - a sailboat! I presume it's for rent as it's tied up with the pedal boats. If anyone always wanted to try sailing but didn't want to make the investment, now is your chance.

The floating dock and the fixed dock (bottom of page) are pretty much at the same level now. That must be close to ideal.

On the fishing scene: fishing has been less than spectacular in Greenwater, but Lloyd went with Mel Tkachuk to Round Lake this afternoon. Each caught his limit, and they must have let sixty or more go. Nice, meal-sized walleyes. There were lots of boats out, so the word is getting around. That lake froze out a few years ago but there must have been a few walleye that survived; every once in awhile we hear of a big one being caught. Mel claims fishing for rainbows is good in Steiestol Lake, too.