December 17th, 2006: Today started out cool, overcast and calm, but by noon the sky cleared and the rest of the afternoon was lovely. The fresh snow made everything white and sparkling. Consensus at the coffee table was that we got about three inches of fresh snow.
It snowed most of Friday, Friday night and Saturday, but never very heavily. However, the wind really came up on Saturday and made it look like a good old-fashioned blizzard. We had to go to
Kelvington
; the road was snow-covered pretty well all the way, and some of it looked like ice under the snow. By mid-afternoon, when we came home, the highway was definitely heavy, visibility was limited, and the yellow line was nowhere in sight. Luckily there wasn't much traffic, because it was hard to tell where the edge of the highway was. We sure didn't linger in
Kelvington
.
Irene Crane-Genaille
is manager of the
Cove
. She decided to put on a
Christmas
supper for the staff tonight; then expanded it to include the coffee regulars, then to include everyone in the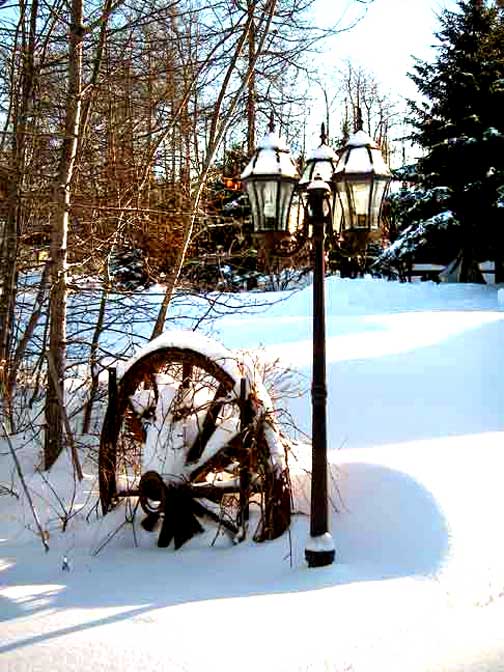 area. The result was another community pot-luck supper with almost fifty people attending.
Irene
personally supplied all the meat, and people brought salads, casseroles, desserts, etc. It was a fantastic meal, and a great visiting time.
Perigord
was well represented, and almost the entire population of
Marean Lake
was there. Thanks to
Irene
for a great evening!
The
Cove
will close at 4 PM on
Christmas Eve
and re-open
Boxing Day
. They plan to keep it open for
New Year's Eve
and
New Year's Day
too, so snowmobilers don't have to worry about a supply of gas.
Many of the coffee row regulars are snowmobilers, in fact the farmers and outfitters use them in their businesses. One of them asked
Alex
if he wasn't a snowmobiler, and
Alex
said no, he had one once when the boys were at home but never since. I think the enthusiasts wonder what is wrong with those of us that don't partake of the sport, but if they could hear themselves at the coffee table, they might twig. They are constantly in search of parts, or moaning about machines not running properly, or gulping fuel like a semi trailer. The rest of us thank our lucky stars we never got hooked!
I noticed a sign on the front of
Slobodian's Pharmacy
in
Porcupine Plain
advertising prints from digital sources, so went in to check it out. The machine looks like a computer; it has slots for all the various camera cards plus CDs, and when you plug in your card instructions come up on a touch-sensitive screen. Follow the instructions and it will display all the images on your card. Tell it what you want it to do (you can print out any or all of the images) and it prints out an invoice. Take it to the cashier and pay for it, the cashier will enter a password and the machine will print your pictures. I thought it did a very good job, for 29¢ a 4 X 6 print. That's cheaper than you could do it yourself with your own printer. I didn't play with it enough to find out if prints could be cropped or otherwise edited before printing. I believe it will write your pictures to CD if you want, as well.
Since many papers don't publish over
Christmas
and
New Year
, we are going to take the next couple of weeks off.
Doreen
and I would like to wish all of you a very
Merry Christmas
and a
Happy New Year
!