February 26th, 2006: The temperature got down to –28° last night, as it has the past few days, but it warms up respectably during the day. Likely about normal, and with the sunshine and lack of wind it is quite acceptable.

It's been nothing but Olympics all week. The big TV at the Cove is always going, and people at the coffee table strain their eyes trying to follow the action on a screen that is forty feet away. Hockey is pretty hard to follow, but curling is great. Despair at the failure of the Canada Men's Hockey Team, but joy at the numbers of medals being won by Canadians, especially by Canadian women. Now, that's hockey!

There have been a lot of snowmobiles running around all week. I keep hearing we are the only place around with any snow. Mid-winter school breaks are finished with now, so things will be a lot quieter next week, though I did hear of a group of ten snowmobilers coming from the Kindersley area to put in a week of snowmobiling.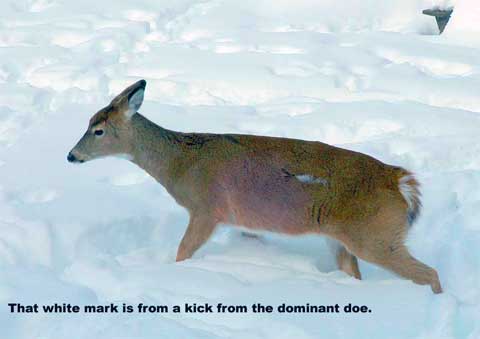 I mentioned previously a young buck that sometimes comes to scrounge bird seeds. Well, Mel Tkachuk came to coffee the other day carrying a single freshly-shed antler. It was a single spike with just the beginnings of a fork.

There were three deer at the sunflower seeds today - looked like a doe and fawn, and another adult. The extra adult had a white patch on its side that made me think it got a kick; while the others were at the seeds, it was pruning a dogwood bush. When the fawn wandered off, the adult tried to get at the seeds but was driven off by the doe. It then went after the fawn and gave it a couple of kicks, just to soothe its pride.

I believe the trails within the Park are in excellent shape - there's a lot of snow and they groom them regularly - but some of the trails maintained by the private clubs aren't faring as well. Because of floodwater on the trails, there are miles of trails that the maintainers just can't get to. Both Kelvington and Porcupine Plain have had their machines go through, and got them out with difficulty. The cooler weather should have improved things, but hasn't. So be prepared for some rough trails, watch for the warning signs about thin ice, and don't blame the clubs - they are doing their best.

I talked to Jim Hendren this evening, and he said the Kelvington trails at the south end are very smooth and well-groomed.
Retrun to Ensign - Return to Saskatchewan News
This page is a story posted on Ensign and/or Saskatchewan News, both of which are daily web sites offering a variety of material from scenic images, political commentary, information and news. These publications are the work of Faster Than Light Communications . If you would like to comment on this story or you wish to contact the editor of these sites please send us email.
Editor : Timothy W. Shire
Faster Than Light Communication
Box 1776, Tisdale, Saskatchewan, Canada, S0E 1T0
306 873 2004