January 8th, 2006: Happy New Year! Again, we powered out before midnight on New Year's Eve and went to bed about eleven. I don't think we have seen the New Year come in for about twenty years.
Warm weather continues, but we would gladly swap it for some sunshine! I hear more and more grumblings about the heavy gray overcast. The sun came out for awhile Friday morning and it felt wonderful. By noon it was clouded over again. It seems there has to be a trade-off - we can have warm weather but gray skies come with it. If we want sunshine, we have to accept cold weather. To us, it's a no-brainer - we can dress against the cold!
I
went down to the Marina on December 23rd because Jim and Rose told me the creek was running. And was it ever! There have been lots of springs when it didn't run as much. The Park Staff had cleared a circle around Norgrove Island for skating but now it's all flooded; also, some quads have been running around and rutted up the surface. The water is dark brown, likely from beaver dams that have been breached upstream. Obviously, there wouldn't be a skating rink for Christmas.
Gary Schmidt told me that day that a slough had been cleared down near Perigord. Some broomball tournaments were planned for the holidays, and in between tournaments the ice was available for public skating. They had even cleared a parking space.
What a Christmas we had! There are 28 in our family of four generations, and only three were not here. Lucille was here, though, so there were 26 people all at once on Christmas Day. They started coming Christmas Eve, and by mid-afternoon of Boxing Day were all gone. What a ball we had! The families get along exceptionally well and not a discouraging word was heard. Our little one-year-old great-granddaughter, Taryn, was here for about eight hours, was active the whole time except for a brief nap, and not a whimper out of her!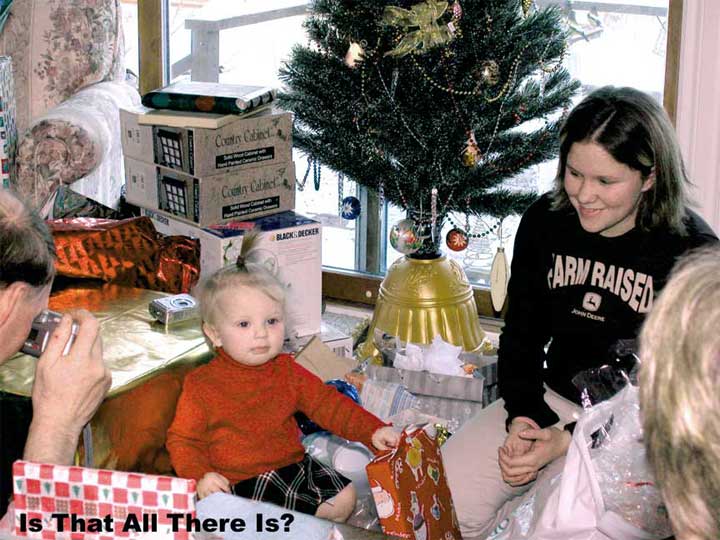 We had six dogs in total. Big old Max, the black lab, had to cohabit with three yappy little fuzzballs, but he just ignored them and all survived. We kept the two miniature schnauzers apart from the rest. Doreen has a very strict rule that all dogs stay in the old part, and are not allowed in our house. The rule didn't survive.
Burl Adams had plowed the boulevard to give us some parking space and it was a good thing; the parking space was full plus both driveways most of the time.
Temperatures went up to around the freezing point Christmas Eve, and stayed there. Sometimes a couple of degrees above, usually right around zero. Snowmobiles in the hundreds! They pulverized the snow that was on top of the ice on the roads and made walking nearly impossible. The Park had groomed their trails just before Christmas and they were reported pretty good. There was a lot of open water, though, likely a result of leaky beaver dams. The Porcupine Plain and Kelvington trails weren't groomed, but Francis Dubé groomed a trail from his place near Perigord to the Bell's Hill road, mostly in the highway ditch and in fields. Judging by the traffic past our place, all the trails got a good workout.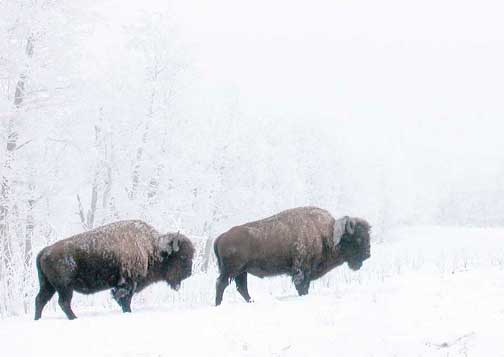 There was heavy hoar frost on the trees on the Big Hill for days; we finally got some here about last Wednesday. There has been a lot of light fog and mist. We have had so much gray sky and dreary conditions that we are hoping for colder weather with a little sunshine. We are already bushed!

We went to Tisdale on Wednesday, to have some blood tests done. In the past, it was a matter of going directly to the lab, and we would be in an out in ten minutes or less. Now the hospital has instituted a new registration system, likely intended to streamline the whole process. Everyone, whether going to outpatient, lab or X-ray, has to register at the front desk. There was a line-up when we got there, and it took 35 minutes to register. I can't fault the ladies at the desk, as most of that time was waiting for the computer to do something, or answering the phone. Growing pains with a new system. At the lab, it was as smooth and quick as usual, except they didn't have to run our health card through again. By the way, at registration, they took our yellow Tisdale Hospital cards and shredded them. All we need now is our Provincial health card.
Another irritant is a glass front at the registration desk, with just a couple of little holes through which to talk. A sign pasted to the glass suggests if you have trouble hearing, you can make a donation toward a 2-way sound system. I can't remember that glass being there before, but then we never had to interact with the front desk before.