January 15th, 2006: A little cooler today; it got down to –10° last night and –13° Thursday night. How can we call that cool? It's at least 10° warmer than normal! There's no wind, either, which makes it nice.

It's been snowing quite hard all day, must be four or five inches of it now, just what we need. I know what I am going to be doing tomorrow!

At coffee yesterday morning, there was a couple having breakfast near us. I heard Jack ask them how the skiing was, and they replied: "Fantastic!" so assume the trails are in good shape. The ski trails, of course, don't get chopped up like the snowmobile trails, nor does the sun get at them to melt the snow. Still, this fresh snow will make them that much better.

I just watched a family of three plus a black lab (or is it reddish? Hard to tell in this light.) with a green vest walk down the road and into Ewen's cottage. The dog was very playful, chasing what looks like a snowball into the deep snow and throwing up quite a wake.

Our faith in our health care system has been dealt another blow. Doreen's sister, Lucille, after a long wait, was scheduled for knee replacement surgery last Tuesday. We moved into the city for a few days so we could take her to the hospital and visit her after her surgery. Her daughter-in-law booked time off from her job and bought a flight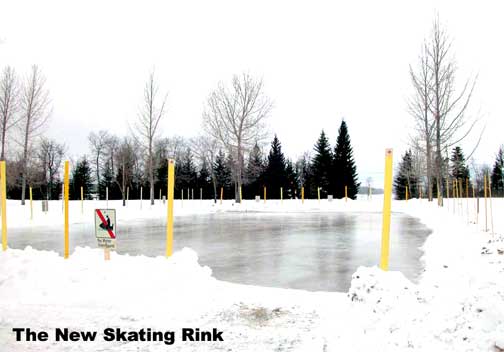 from Prince George, so she could be there when Lucille went home after surgery. Lucille let her groceries run down, anticipating at least a week in hospital. We took her to the hospital the morning of her surgery; they booked her in, dressed her in a hospital gown, took blood tests, etc. She was just waiting to go into surgery when the doctor came in and said there were no beds available - she would have to go home. No idea when she will get in again.

Since the Marina is not suitable for skating, the Park made a small skating rink across the road from the horseshoe pitch. There was a little fresh snow Wednesday night, and Thursday morning Brian was sweeping it off with a rotary sweeper attached to one of their lawn mowers. He has been flooding it every day and it is looking good. Brian wants to give it another flood or two before he feels it is really ready; then they will move the change house into place.


Jenny organized a One Day Run – a Day in the Life of Prairie Women on Snowmobiles (ODRADITLOPWOS for short) to raise money for cancer research. A group of snowmobilers left Kelvington this morning. They stopped at Rose Valley for coffee, and got an excellent reception there, then carried on to Bjorkdale, picking up mores snowmobilers at Archerwill. At Bjorkdale, Gwen Betthel put on a fantastic spread for them. When they got to Greenwater, there were twenty-four sleds plus a support truck (which wasn't needed, as it turned out) and they had already raised about eight thousand dollars! They stopped here for coffee, then went on to Kelvington where there is a roast beef supper planned. A happy bunch!

They report snowmobiling conditions close to ideal, though the overcast and snow made visibility a little tough.

Retrun to Ensign - Return to Saskatchewan News
This page is a story posted on Ensign and/or Saskatchewan News, both of which are daily web sites offering a variety of material from scenic images, political commentary, information and news. These publications are the work of Faster Than Light Communications . If you would like to comment on this story or you wish to contact the editor of these sites please send us email.
Editor : Timothy W. Shire
Faster Than Light Communication
Box 1776, Tisdale, Saskatchewan, Canada, S0E 1T0
306 873 2004