November 5th, 2006: Today started out warmer than for the past week, but a stiff wind made it seem colder. There was a beautiful sunrise about 7 AM, but by eight it was heavily overcast. The temperature rose to +5° in the afternoon and the ice and snow melted off the roads.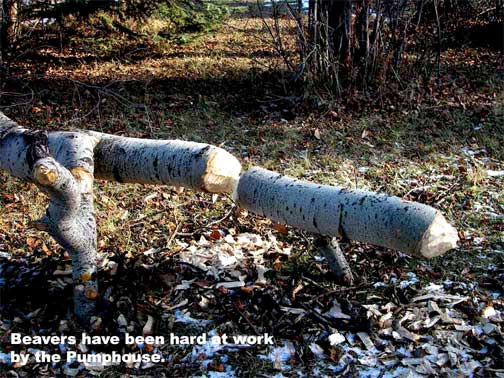 Friday morning, our thermometer said -15° and it was dead calm. The lake appeared to be frozen over but possibly there was a bit of open water at the north end. The grass and bushes to the east of us were encrusted with a lovely diamond hoar frost; of course, I didn't have my camera with me.
Saturday, the temperature had dropped to -15° without much wind. I drove out to the dam to see if there was any open water on the east end of the lake, but it appeared solid. I am going to say that freeze-up occurred on November 3rd. With some warmer temperatures in the forecast it may break up again, but for now, it was the 3rd, That's about the same as 1996, 2002 and 2003.
I think it would have frozen several days earlier if it weren't for the high winds. Tuesday and Wednesday, a lot of slush had formed on this end so the water was ready to freeze once the agitation stopped.
The wolves apparently aren't afraid of going through the ice – at the boat launch by the church camp, there were wolf tracks coming off the lake and onto the road.
.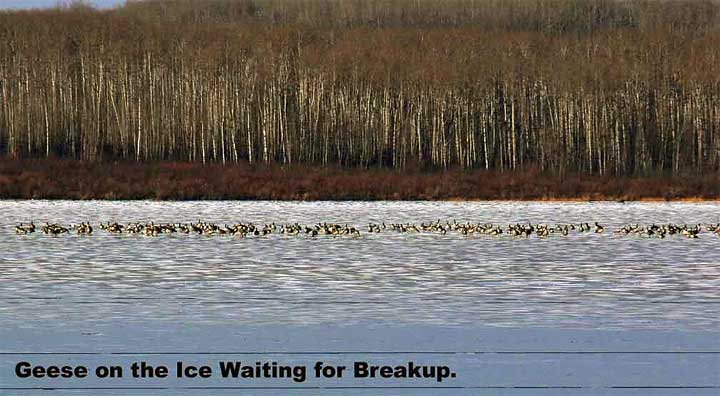 .
SaskPower
has been at work on that property
Mary Kehrig
owns north of the
Cove
. It has been subdivided into building lots and the crew was installing power to each lot.
Mary
told me one time that most of the lots had been spoken for, so watch for a little building boom over there.
Ronnie
and
Gwyn Hirtle
, and
Bernard Dease
, went to
Tisdale
on Friday. By #35 Highway near the
Barrier River
, they saw a young black bear, likely two years old or so, looking fit and glossy as could be. Shouldn't they be holed up by now? Pickings must be pretty slim in the bush.
Archerwill First Responders
had their
Christmas Craft Fair
yesterday, so we went over and had lunch. It didn't seem as busy as other years – usually it is a little hard to find a place at the table – but there were as many craft tables as other years. We got in some nice visiting and bought a few goodies that we really didn't need!