November 19th, 2006: A lovely day! It started out about -14° but there was no wind and the sun shone almost all day, making it very pleasant.
It snowed Monday night and almost all day Tuesday. The grader went by Tuesday afternoon and left a ridge in front of the driveways – nothing we couldn't drive through, but once it freezes it gets very hard. So, I dug the snowblower out from under its tarp, gave one pull on the rope, and away it went. Now the driveway is blown out, all ready to blow in again.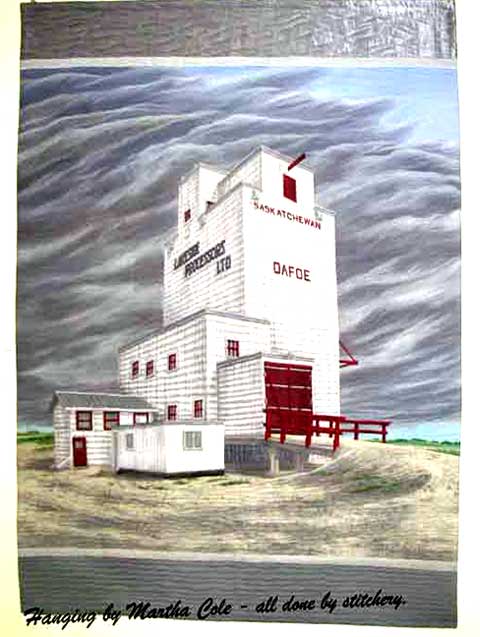 Thursday morning, the temperature was up to 0°, with a very strong wind. It had rained the night before, and bare roads were like a curling rink. The Highways crew was out sanding on the highway so it was fine, but walking in the park was treacherous. No more walking until conditions improve!
We went to
Hudson Bay
yesterday, and visited with
Mike
,
Marg
and
Danny
and took in their trade show. Besides the trade show, the
Saskatchewan Arts Council
had a display of works by
Martha Cole
, wall hangings the size of quilts and put together in quilting style. Each was a picture of an elevator in a different town, superbly done, with exquisite detail. I took pictures of the one of
Lakeside Processors
in
Dafoe
because it is owned by
Louise Crawford's
brothers, and one of the elevator at
Stony Beach
, because I worked there for two weeks in 1953 (Not in the elevator – I was in the
CNR
station.) That display was well worth the trip! I believe it may be up for awhile yet, so if you want to see it, call the Administration Office to see when it is open.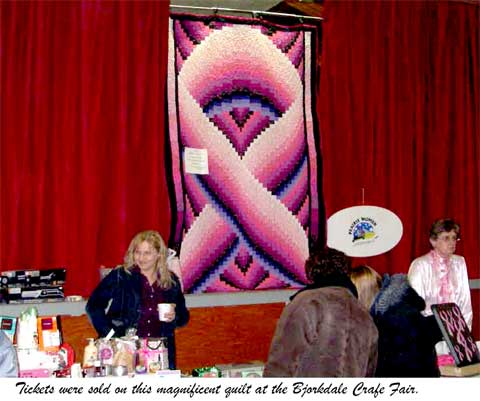 Today was
Bjorkdale's
annual
Craft Fair
, so we went there for lunch, a look-around, and some visiting with people we rarely see any more. I tried out in the turkey shoot – did okay, too, but was beaten out by a kid that barely came up to my waist. He won the previous heat, too, so was obviously no one-shot wonder.
Next Friday is the
Greenwater Community Pot Luck Supper and Social
– always a popular event. Doors are open at 5 PM and supper will be served at 6:30. The usual rules apply – no matter what people bring, there always seems to be a good selection of everything. Everyone welcome!
We got a preview of the history book
Gwyn Hirtle
is having published. Main content is
Township 40 Range 11 West of 2nd Meridian
. She has a map of the township with dots marking the approximate location of homesteads, and photos of many of the homesteads. Some are gone, of course, with no trace remaining, such as one on the south-east corner of the
section (26
) we used to live on (
Gandzalas
homesteaded there.) In that case, when
Father LaCasse
had his quarter cleared to the south, the cat wandered north about a hundred yards and likely took the homestead with it. Included are histories and photos of
Bellshill
and
Greenwater Schools
, and of the
Park
. It looks like a wonderful work. We have spoken for our copy.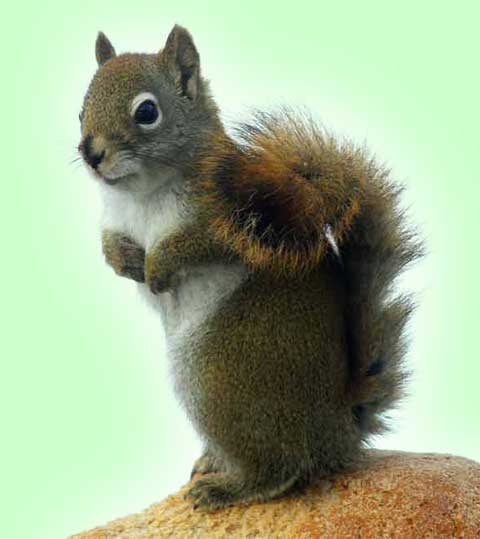 Kelvington's
big weekend is coming up, with
Moonlight Madness
on Friday, the 24th and the
Noel Bazaar
on Saturday, the 25th. They call it
Christmas in the Country Weekend
. Looks like all kinds of bargains and special events, such as a sock hop for the school kids Friday evening, and Santa photos at the elementary school Saturday evening. Look for details in the
North East Connection
or the
Kelvington Radio
.
We have three bird feeders on the go - a cylinder type, a flat table and a box type. We thought the birds vastly preferred the box type, because it would be empty before the other two were touched. Today we noticed a bunch of seeds underneath it on the deck railing. Something is tipping it over and letting the seeds run out. Could a deer reach that high on its hind legs? Or is it that pesky squirrel?!!