November 26th, 2006: Another cool day, cloudy for the most part, but not much wind. It sounds as if the cold weather will be with us for awhile yet. If this were January, we would all be commenting on how balmy it is out!
Friday night was the
Annual Greenwater Pot-Luck Supper
at the hall, and as usual, it was a great success. There were about sixty people there. It was a social evening but also gave the community a chance to say
"Farewell"
to
Brian
and
Donna Chase
, who have sold their cottage and are moving to an acreage west of
Wakaw
.
Merv Miller
did the honours, presenting them with two framed photos of the Park – one of fall, the other of winter.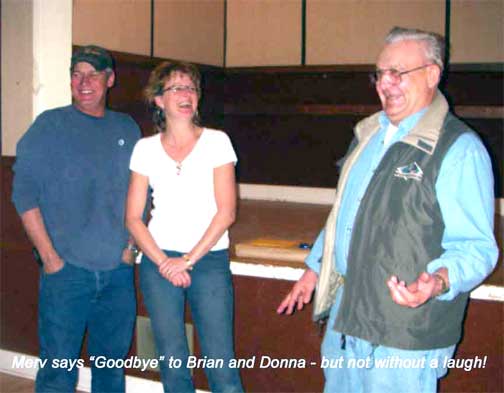 Everyone threatened to drop in on them for coffee on a trip to
Saskatoon
, but
Donna
refuses to say what colour their new house is going to be. We'll find it! They will be sorely missed.
When it was over,
Alex Dunlop
nudged me and said, "See what you're going to miss if you move away?" I must confess it worries me a bit!
Yesterday, we went to
Kelvington's Noel Bazaar
. We had lunch there, and a great visit with
Joy
and
Bob Renshaw
. The highway had a lot of packed snow on it and I heard several people complain about the condition of the grid roads, but there seemed to be a good crowd at the
Bazaar
.
We got quite a thrill on Tuesday – on our way to
Porcupine Plain
we saw three moose standing on the edge of the road. I started slowing down a long way back, and they let us get quite close. All cows, of course. Then the question arose – some bull's harem? Or a cow with a couple of calves? Do moose come in harems, or are the cows solitary until bred? I posed the question at the coffee table next day, and
Alex
said it could quite possibly be a cow, this year's calf, and last year's calf.
We watched them trotting off into the bush and another question arose – what would a moose be like to ride? Its back seems to stay perfectly level as it runs, and looks as smooth as could be. Anybody want to give it a try and report back to me?
We saw another moose on Thursday, a young bull. It posed for us by the road, then trotted off into the ditch. It put its head down low and trotted through some willows surrounding a small slough, then stopped and watched us go past. If anyone had been on its back when it went through the willows….!
When we got home, we had to stop and wait while a muskrat crossed the street in front of us. It went under
Burl's
water wagon and stopped in the shade of the tongue, likely thinking it was invisible. It was crossing from south to north, doubtless heading for the lake, but where did it come from? The nearest slough must be a half mile away, a long way for a muskrat. Did it get kicked out of an over-populated colony? Was its temperament just too miserable to co-exist with other muskrats? Or did it come from one of the damns that have been blown recently? in which case it would have come a lot farther than half a mile! Ah, sweet mystery of life – and nature!
I forgot to mention last week that when we went to
Hudson Bay
the
Red Deer River
was running with a pretty good stream, and
Peepaw Creek
, which crosses the highway by the
Clemenceau
access road, was almost a torrent. I took some pictures of it and sent it with last week's Report but forgot to mention it.
Dale Lanning
and his son,
Clay
, were out hunting for deer south-east of
Porcupine Plain
. They came over a hill overlooking an open area, right at the edge of the
Porcupine Forest
, and a pack of wolves was crossing the field.
Dale
says he didn't count but figures there must have been at least twenty of them. He got a good look at them through binoculars and they were in beautiful condition. They crossed the field and entered the forest, possibly planning to sneak up on some deer that were nearby. Twenty wolves in one pack is unheard of! Could it be two or three families that teamed up to chase down some deer?