October 1st, 2006: Bright and warm this morning, with not a breath of wind. We had a three-hour coffee break at the Cove, and in that time it rained a bit, and the sun came out again. I mowed the lawn anyway – it hasn't been done for a month.

Connie Schmidt tells me she is opening the Beach Café on October 14th, and will be open seven days a week, all winter. Hours are not yet decided. I told her I didn't envy her snow removal problems, and she said, "That's not my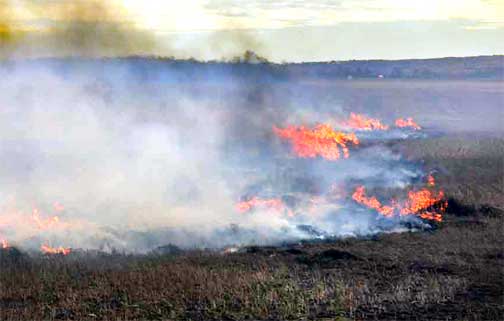 department!" Sounds like Gary had better get his snow shovel tuned up.

Signs of Fall! We went to Porcupine Plain yesterday and noticed a field for flax straw windrowed on the south side of the highway. When we came home again, the straw was burning. A man with a quad had a tiger torch and was lighting the windrows, and someone else with a big tractor was keeping an eye on things. He likely had a cultivator or something such to keep the fire under control. Unfortunately, the wind carried the smoke right across the highway, reducing visibility to almost zero.
.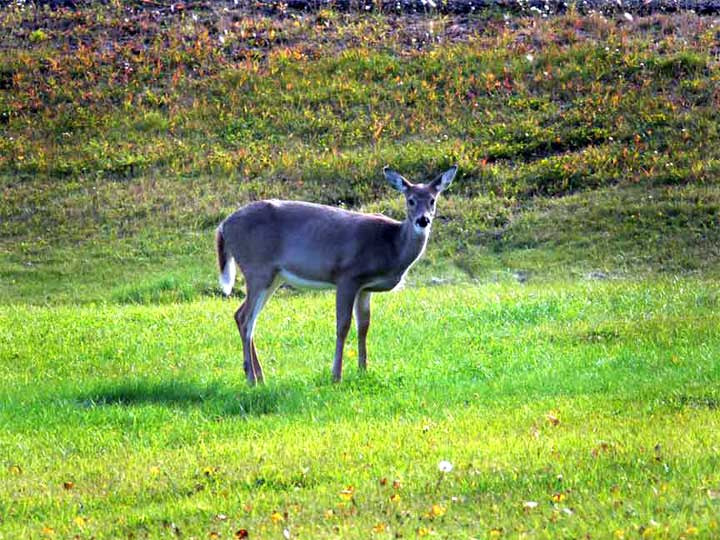 .
When I went for coffee on Friday, there were three deer grazing on the grass right beside the Cove's parking lot. They lifted their heads and looked at me when I hove in sight, but otherwise ignored me.

I forgot to mention that The Cove's new café is going to be called "The Round Table". It will, of course, include the big round coffee table, plus some of the other smaller round tables. Sabrina has some great plans for redecorating The Round Table that includes photos of local dignitaries on the walls, which means I had better get busy.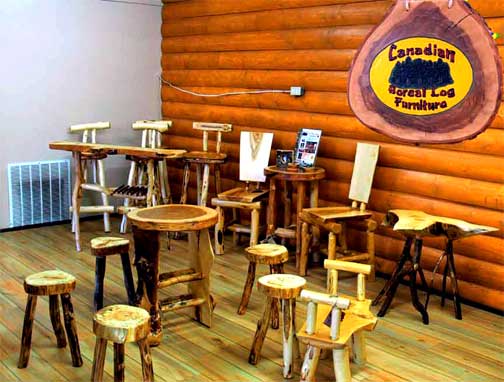 I said that Ryann Gustus's furniture display would have to go, but that is not the case. By the way, check out the new signs he has made! He markets his products under the name "Canadian Boreal Log Furniture" and it is truly unique.

We went to The Cove for coffee yesterday afternoon, something we rarely do, and were treated to a visit with Mr. and Mrs. Owen Eaton and Maurice Marquette. Very pleasant time! They are quite insistent that I keep on writing The Greenwater Report as and when we move to Saskatoon. Tim Shire says I should call it The Crawford Report; Doreen figures "An Old Fart in the City" would be more appropriate.

We decided it was time for a free meal so we went to Mike's and Marg's place at Hudson Bay and bummed supper off them. Marg's homemade soup, buns and cinnamon buns ….. Wow! She is one fantastic cook! Danny was there too, and we had a great visit.

We ran into rain on the way back; fairly heavy just south of Hudson Bay for a little way, then just on and off drizzle the rest of the way. The ditches, of course, were teeming with deer so we had our speed down around 80 clicks. Surprisingly, there was some lightning and thunder with the rain. We're not used to thunder and lightning this time of year.

We were in Saskatoon last weekend – it was quite pleasant, but then turned miserable by the time we got home on Monday.

Talk about geese – millions and millions of them in the fields and on the swaths, mostly the smaller kinds but a few Canadas. We checked out the marina here when we got back and only saw three. Maybe the young one is an afterthought and isn't ready to fly yet.

That sunken boat is still there, sunk worse than ever. It's going to be a job getting it bailed out!

For years and years, coffee row has been needling Maurice about shooting at a coyote, missing, and flattening the tire on his tractor. Now, all of a sudden, he claims there isn't a grain of truth to the tale. Now tell me – if someone tells you he went out to shoot at a coyote and missed, then in the next breath tells you he went to get his tractor and the tire was flat, wouldn't you automatically assume there was a connection between the two events? We're not sure about our Maurice.