October 29th, 2006: Cool and windy all day, with some sun. Maybe we'll get that
First Nations Summer
sometime in November – we sure haven't had it in October.
We just got home from
Perigord's Fall Supper
. As usual, it was fantastic! We like to get there about 5:45 – by then the first rush is over and people are starting to leave. We didn't have to stand in line, had no trouble finding a seat, and had lots of time for visiting. The only problem was that
Doreen
wouldn't let me have a second piece of pie!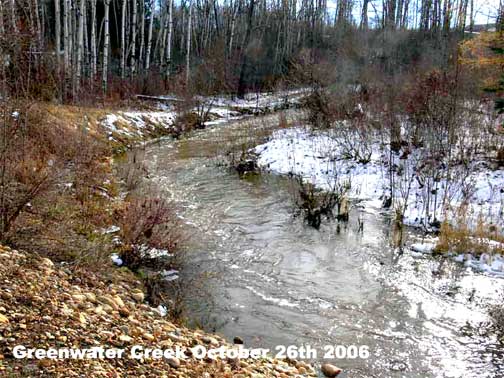 When we got up on Monday morning, the south part of the lake was frozen over, smooth as can be. It has never frozen over completely in October in the years I have been keeping track, so we thought a new record had been set, but by Thursday it was wide open again.
We went to the
Perigord Rummage Sale
for lunch last Monday. Had a nice visit and a great time teasing
Father LaCasse
about his gumboots, which had patches on the patches. I asked why he didn't buy himself a new pair, and he said the new ones are synthetic and can't be patched.
There were literally hundreds of Canada geese on the main beach the other day, right from one end to the other. Great, big guys, likely every goose that was ever born here.
Audrey
and
Stan Hopkins
dropped in for a visit on Wednesday, and the geese did a swim-by past our place.
Stan
couldn't get over it;
"Don't they ever quit?"
They must use the beach for a staging area before heading south.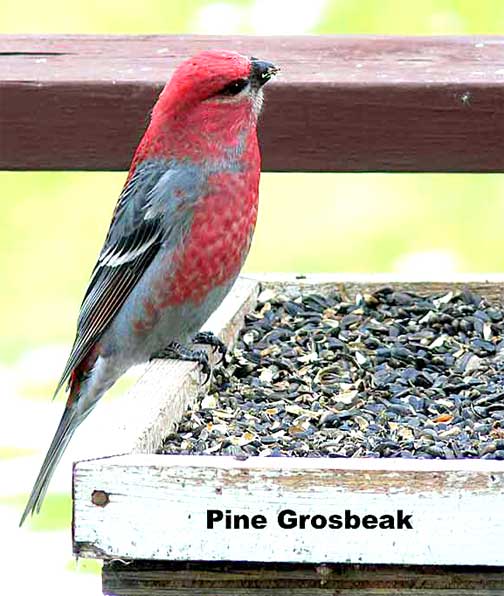 Lots of our birds are back, now that
Doreen
is feeding them again.
Pine
and
Evening Grosbeaks
,
Red-breasted Nuthatches
,
Bluejays
,
Chickadees
, and a bunch of little brown ones we haven't identified yet – likely
Pine Siskins
.
Hairy
and
Downy Woodpeckers
like to jump into the feeder and scatter seeds far and wide. We still have
Robins
, though they don't come to the feeder. Every once in awhile we get
Boreal Chickadees
– lovely little birds, a bit smaller than the regular variety.
One squirrel is a regular visitor. We have a small table with a flat top and a bit of a rim around it.
Doreen
puts a scoop of seeds in it for the birds that don't like the regular feeders. The other day, the squirrel got into it and very industriously pushed the seeds into a pile in the middle. He stood back and looked at it for awhile, then pushed the seeds into two windrows, one on each side of the feeder. Strange! They didn't stay in their nice, neat windrows for long.
We have a big bird feeder that
Laurie
gave us. It is made of eight hayrake tines, so holds eight bird feeders. It's kind of messy on the deck, so we have it down on the lawn. The deer come up to it, tip the feeders so the seeds run out, and eat them. They can empty the whole thing in minutes. Feeding the deer on sunflower seeds gets too expensive!
Speaking of deer, we have eight or ten right here in the core area. Sometimes they are together, but more usually in groups of two or three. On a sunny day, they like to lie along the edge of the bush on the boulevard, sunning themselves. They show very little fear of humans so should be easy game if they wander outside the core area. I think it is deer season in the Park right now, but as long as they stay in the core area they should be pretty safe. I have seen one with little spikes, another with bumps where the antlers will be. The rest seem to be does.