April 1st, 2007: A gray, breezy day, around the freezing mark. Seems cold after the warm temperatures of last weekend but not bad. We got two or three inches of snow last Wednesday night; it didn't last too long. Every time the sun peeks out, the snow goes down a little more, and today there was a lot of water lying around.

We had a great time today. Doreen's sorority has an annual get-together at which the spouses are invited, and today we went bowling in Kelvington and then to Wayne's Restaurant for the Chinese smorg. I think the last time I bowled was about sixty years ago, and that was likely only a couple of games. There were no automatic pin-setters in those days – it was a much sought-after job for kids about my age. Doreen has bowled a couple of times since, but that's all. It showed in our scores, too. Nobody took it too seriously; we just had fun. Kelvington has a very nice six-lane alley, and I could get interested in bowling more often.

A strange phenomenon at the ice-fishing derby last week – we had to plow through almost a foot of water and slush to get out to the fishing area, yet the area itself was high and dry! A couple of dozen vehicles and a hundred or more people clustered in a little area riddled with fishing holes, yet it was higher than the surrounding ice. In fact, we noticed melt water running down into a fishing hole. Makes me think the melt water is sealed off from running under the ice until some holes are drilled, then the ice floats to its natural level, carrying all the trucks and people with it. Seems to me I heard that ice bergs are about one fifth above the surface, and four fifths below.

During that warm spell, the creek ran for awhile, which might have contributed to all the water at the entrance to the marina. Also, the Red Deer River and the Doghide River. When I say they ran, I mean water ran over the ice, not that the rivers had opened up. Pipestone creek was running hard today; there is a lot of flood water in the fields around it.

I'm sorry to say we lost another friend – George Renneberg died last Monday after a long battle with cancer. The funeral was Friday afternoon at the Park Hall, and the place was full. We're going to miss him. Sincere condolences to Helen and family.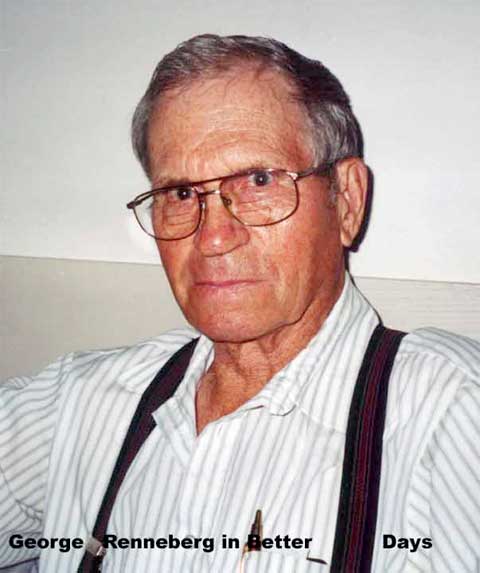 George was a famous fisherman. He could catch fish when nobody else could. As a result, wherever he parked his ice fishing hut, pretty soon he was surrounded. Same when he was fishing from his boat – pretty soon he would be in the middle of a flotilla. Everyone wanted to know what lure he was using, of course, and George didn't mind showing them. It didn't do them any good, for George would still be pulling them in one after another, while they just got more and more frustrated.

George was a botanist of note, too. One time, he and Merv were having a pumpkin growing contest but George won when he picked a very respectable watermelon out of his patch. He gave it to Merv, though – said he didn't like watermelon.

He was a deep thinker, though he couldn't always get others to go along with his plans. He planned to drill a series of holes in the ice and wanted Merv to join them up with his chainsaw. Then he would go trolling from the nice, warm cab of his truck. Merv turned him down, though, and nothing came of the plan. Pity.

Doreen's sister, Lucille, lives in a high rise right beside Kinsmen Park in Saskatoon. Two geese, named Fred and Ethel, hang around the ball diamond all spring, summer, and fall; sometimes they have to chase them away so they can play ball. Residents of King Edward Place know it's spring, because Fred and Ethel are back!

We went to Tisdale yesterday, to check out the Trade Show and to watch the heavy horse pulls. There was a great crowd, with cars parked several blocks from the RECPlex. The horse pulls were the most exciting I have seen with two big teams, 4,400 and 4,600 lbs, deciding the winner by an inch or two, with 8,500 lbs. on the sled. Sorry I can't give you more info than that, but the audio system was very muffled and I missed most of what the announcer said. My hearing ain't so hot at the best of times, either.

I gain more respect for the management of Mr. Ribs in Tisdale every time we go there. They were very busy at lunch time with a constant line-up at the door, yet our order was taken and our excellent meal brought in very good time. Many of the servers have been there for years, which speaks well for their staff relations. It's no wonder they are so busy.