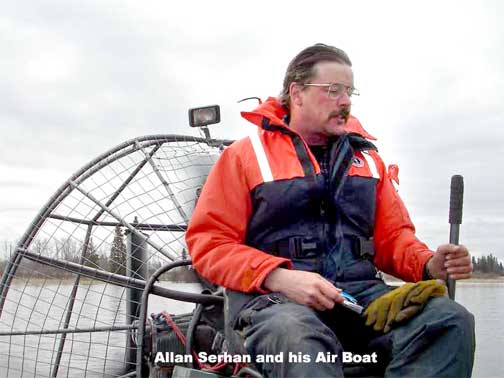 April 22nd, 2006: Today was cool, mostly cloudy, though it did clear up in later afternoon, and drizzly for the early part.

Mike and I, along with Merv Miller and Regan Bernhard, went up north of Porcupine Plain to Allan Serhan's place, and Allan took us for a ride on the Red Deer River on his air boat. It is quite a craft – he had it made to order in the US and it has a powerful aircraft engine. It could handle four besides himself. We cruised about ten miles downriver and back. Allan took it fairly slow so there wasn't too much spray, but still it was bitterly cold, despite our rain gear. We wore ear protectors and lifejackets, supplied by Allan.
.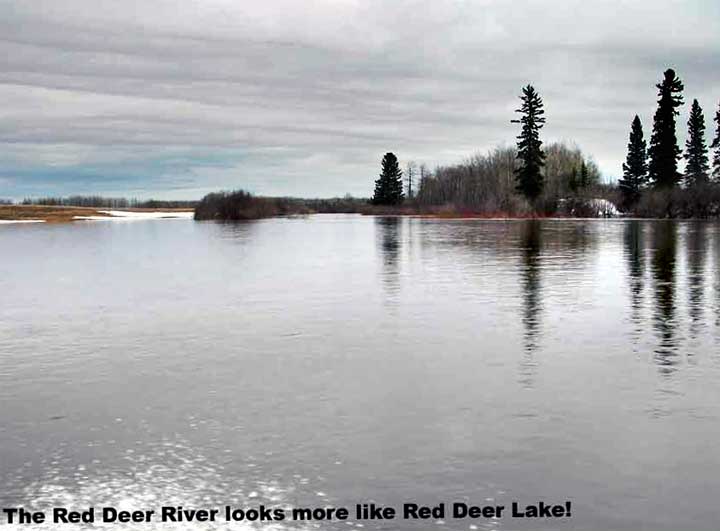 .
The river, of course, was running high and fast, though not quite as high as last year. It is well into the trees on both sides, and in places opens up into a small lake. The airboat draws very little water, and the current didn't seem to have much effect on it, except when we stopped for a warm up. When we got back to the yard, Allan just pointed it at the shore and opened it up, and it took us right up onto dry land. Quite an experience, and what a way to see the river!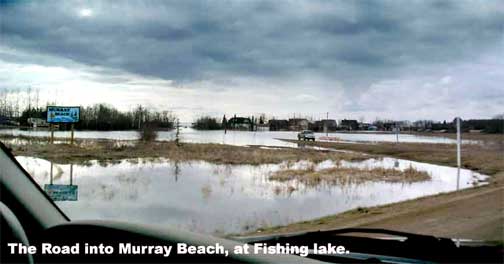 Doreen and Marg went to an auction sale at Ituna today. They report no problem with roads, though lots of soft spots. Flooding was extreme at Fishing Lake so Doreen stopped to take some photos, until an impatient truck driver started blowing his horn.

We went to Saskatoon last Monday afternoon (couldn't leave until after we had lunch at the Perigord Rummage Sale!) and came back on Tuesday. We had to hunt to find any snow in Saskatoon. Fields are pretty well bare, though it's going to be awhile before any field work is done.
.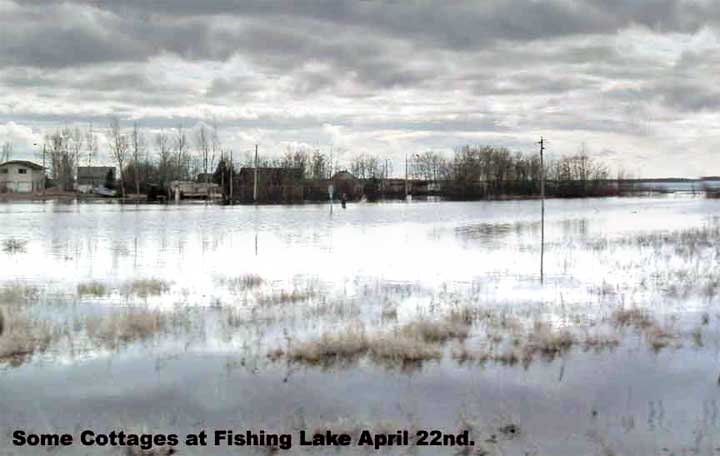 .
Spring was very evident. West of Melfort, there was a flooded field of about eighty acres, and it was virtually covered with geese, mostly whites. We had supper on Tuesday at the Home Quarter in Naicam (Oooh – that apple crisp!) and almost any time we looked out the window we could see thousands of geese in the air.

The Red Deer River by Chelan was running hard; it appeared the ice had broken up and was floating in big chunks. Every little creek is going as hard as can be.

Other signs of spring – the highway was dripping with motorcycles, bottle pickers, and dead skunks.

Highway #349 from Naicam to just south of Greenwater was surprisingly good – a few rough spots west of Dahlton Church but not anywhere near as bad as it was a month or so ago – and even the gravel portion was reasonably good.

Our grandchildren, Scott and Laura, came down from Saskatoon Friday evening; they said Highway #5 was flooded in two or three spots west of Englefeld but traffic was still going through.

We went to Hudson Bay yesterday to take in their trade show and visit with Mike, Marg and Danny. There were three spots on the blacktop portion of Highway #23 that looked as if they had been dug out and filled in. When we got home, I phoned Mytro Boyko and he said the highway had washed out in two places; they had it blocked off on Friday. They have a man on patrol all day and night. In one spot, the water was much higher on the south side of the highway than on the north, and the twin culverts were running as hard as they could. I can see trouble developing there.

Shand Creek was a torrent. The Etomami River was running very high and very hard, harder than we have ever seen it, and on our way home we thought it was even higher. The Red Deer River was very fast, but we have seen it a lot higher. Lots of approach roads were flooded and/or washed out, including the one into Weekes. It was eroding badly from the east side. The Elevator Road was blocked off, so I don't know what other options the people of Weekes had for getting in and out. I would be very nervous about driving through that flooded portion.
.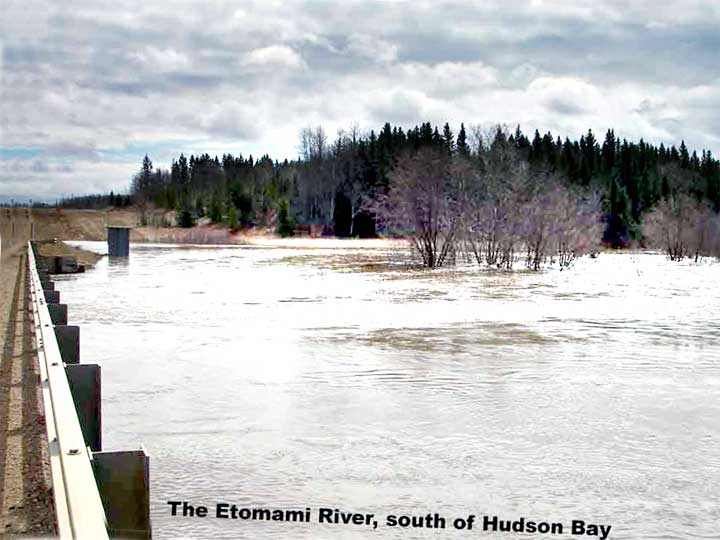 .
Marg works in the Co-op in Hudson Bay; she heard reports of flooding along Highway #3 around Prairie River. She says the locals don't consider this the worst of the flooding – they say there is still an awful lot of water to come down from the Pasquia Hills to the north. Looks like the Red Deer River can handle it but I don't know about the smaller streams, like the Etomami and the Fir. Anyone who likes white water canoeing should travel the Red Deer a couple of miles west of Hudson Bay; they will see lots of white water where the Etomami from the south, and the Fir from the north, flow into the Red Deer at the same spot! It won't take them long to get to the bridge, but it might be difficult trying to get stopped!

Another great-grandchild arrived last night! Braxton Tate Daniel Grimson weighed in at nine pounds five ounces, born to Aimee and Allan Grimson, a brother for Taryn.