December 16th, 2007: It's been a week of pretty moderate weather. Never above freezing, but never radically cold either, nor too windy. Yesterday morning there was a heavy fog – we could see the street lights across the way, but no buildings. The result was a heavy layer of hoar frost on all the trees. Beautiful!

Very pleasant surprise! Last Monday, Geni and Bruce Irwin of Humboldt dropped in. They were our next door neighbours and best friends in Wynyard thirty years ago. Bruce was the sergeant in charge of the RCMP detachment there. Their garden never did grow too well as it was between the two houses and we kept it trampled down. Anyway, we went out for supper then back to the house for a couple more hours of reminiscing. Wonderful time! We are hoping there will be a lot of that sort of thing.

We went to the Market Mall on Wednesday; Doreen shopped while I joined the Foam Lake/Wynyard group at the Coachman for coffee. There were three there that weren't there last week: Al Cochlan, an old friend (they call him "Irish"), Jerry Reynolds, son of Walter and Verna Reynolds who worked for me in the late '50s, and Neil Matheison, who was the RCMP in Foam Lake in the sixties. Grand visit!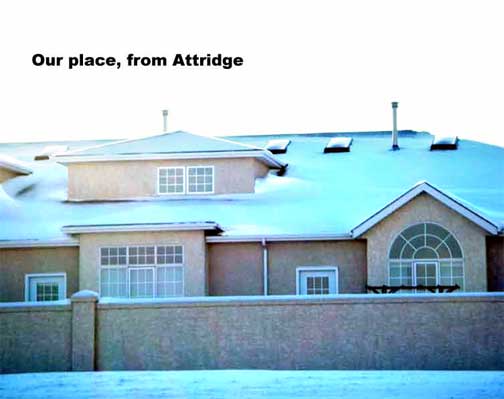 Then when Doreen and I were wandering around the mall after coffee, we ran into Karl and Dolores Haldorson, neighbours of the Grimsons, and we wound up having lunch with them. They just recently moved into the city, and we had a great visit. They live only a couple of blocks from us.

It was almost Doreen's birthday so being the kind and generous husband I am, I took her to the Dakota Dunes, bought her supper, and left her there. Actually I wasn't quite that heartless – we met Lloyd there and he agreed to bring her home. My attention span in a casino is very short. She got home early in the evening, happy as a clam. She brought home more money than she took.

I got a phone call from Joe Rusteika, Kelly's father – he had been out hunting at Greenwater (staying in what used to be our place) and got his elk. He was some excited! He also got to use the roof rake and the snowblower, which started immediately for him. I didn't realize it, but Joe is a brother to Mel Rusteika, long-time town engineer at Wadena.

We met Laurie and Bryan Grimson and their whole family at Earl's Thursday night. Somebody snitched to the servers that Doreen was celebrating her birthday so they brought out a cake complete with sparkler, and sang "Happy Birthday" to her. I think Doreen was a bit embarrassed, but we all enjoyed her cake.

We had supper there, then went to Al's and Amy's house. Dave was home from Connecticut but had to go back before Christmas as he has a hockey game between Christmas and New Year. So, to keep Taryn and Braxton happy, everyone opened one gift and we called it Christmas. Taryn has it all figured out – she gets three Christmases this year.

The city streets are pretty icy, especially after a skiff of snow which we seem to get almost every night. Lots of accidents. The other night, at College and Wiggins, we noticed a light standard which had been sheared off at the base and relocated a couple of feet to the west. It was still standing, and still lit! Whatever hit it had been hauled away, and there was a City Power truck there to make repairs. Next day, there was just the stump of the power pole left. We have good snow and ice tires and don't have a lot of trouble, but we drive as if we had racing slicks.

Today, we picked up Lucille and Louise and drove over to the north-west to visit our granddaughter, Jill and her husband, Mark Ferguson. They moved into a new house the same weekend we moved into ours and it is a real beauty, in a new neighbourhood and close to what will be a park. Well-built, and they tell us the house came in on budget – no nasty surprises. They will be very happy there.

I phoned The Cove at Greenwater and asked about snow conditions – the girl who answered checked with a couple of snowmobilers who were in there, and they said the trails are generally good, some groomed and some not. They warn people not to try to cross sloughs and creeks for fear of going through, and in places the trails are water-covered. Drive with care.

Since a lot of papers don't print over the holidays, this will be the last Report until January 6th. Doreen and I wish you and yours a very Merry Christmas and Happy New Year!