February 18th, 2007: Sort of a mixed bag of weather today – some fog, some snow, some sunshine and lots of wind. It wasn't cold, in fact it was only -13°C when we got up, but that wind convinced me to put on my cold weather parka when I went walking, and I was glad I did.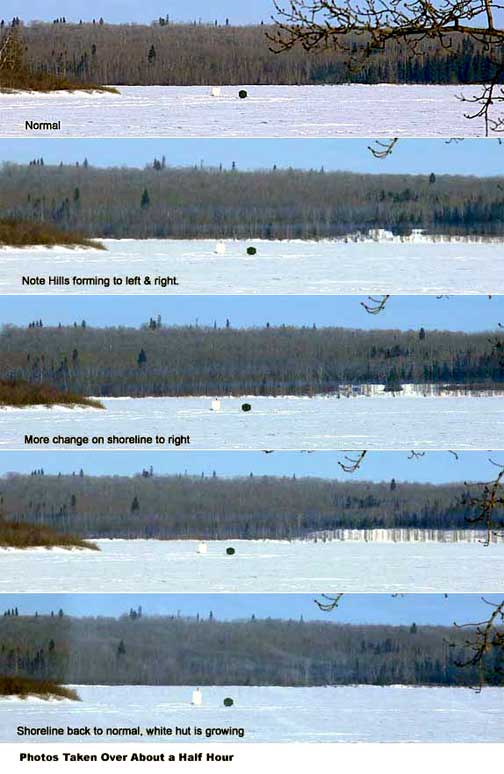 The Ghost Hills of Greenwater: Monday morning was quite brisk, -36°C, sunny, and calm. I walked down to the Beach Café for coffee and sat by the window with Merv Miller and Chelsea. Merv mentioned mirages but I didn't know what he was talking about until he pointed it out – on the north shore we could see a hill right at the treeline, which seemed normal enough until it moved, flattened out and disappeared. Then a trail opened up in the trees, moving across our field of vision. What looked like a ski run appeared running down to the lake; then another opened up beside it and finally they merged and faded out.

There were two fishing huts by the point, a white one and a black one. The white one appeared to grow until it looked about twelve feet tall; a black spot appeared at the base of it and the hut seemed to move farther and farther away to the north until it disappeared. In the meantime, the black one grew taller and moved closer to us, but when it was as tall as the white one, it shrunk again until it was just a little black bump in the snow. Then they both went back to normal.

Merv says the mirages only appear when the weather is very cold and only last about an hour. We haven't noticed them from our place, but we haven't been watching, either. Of course, everyone gave Connie and Gary a rough time about putting special ingredients in the coffee.

Jim Bell came in for breakfast and wondered what we were so interested in. Merv tried to tell him, but by then the effects were finished, and I think Jim felt we were pulling his leg.

Alex had a birthday, so Connie gave him a cake, which we all helped him eat. Merv was the only one to bring him a present – a big bottle of prune juice!

The deer must be getting hungry – they are doing more pruning on the shrubs around our house, and reaching farther for sunflower seeds. One young one tried to climb onto the deck under the lower railing; it couldn't make it of course, but it could get its head in far enough to vacuum up some seeds Doreen had spilled. One older one was working on our Amur Maple, picking off the seeds it could reach and some of the little twigs. Not bad if it just bites off the twigs, but sometimes they grab a branch and jerk it down, ripping it off at the trunk and stripping some of the bark too.

I took Doreen and Jenny to the Beach Café for a Valentine's Day supper. I didn't get either of them cards or chocolates so thought I should do something. We had a great meal; another time I might pass on the entrée and go straight from the salad bar to the dessert table! Connie said they were quite busy – more so than she had expected.

Shirley Miller told me a strange story the other day. A redpoll had hit their front window and knocked itself out. Its mate came along and pecked at it, trying to pull it up, but eventually the injured one died. The mate then picked it up and flew away with it! Has anyone else witnessed a similar event?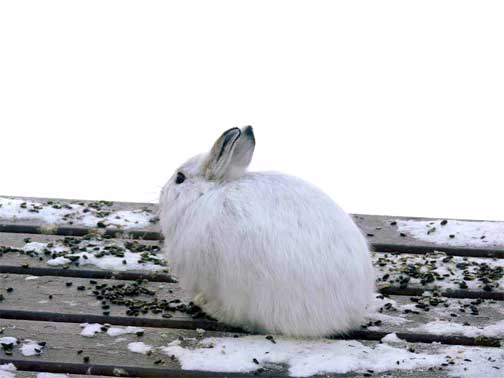 The schools are on their mid-winter break and there have been a fair number of snowmobiles around, even during the extreme cold weather. By the weekend the weather had moderated and it looked as if the Park's cabins were full. Next week, other schools have their break so it should be busy too.

The Park doesn't groom a snowmobile trail down our boulevard any more; it always seemed pointless as most machines just went down the road anyway. They can go a lot faster on the road. Some of the drivers look awfully small to be going so fast. I just hope we don't wind up with a serious accident.

Several people have asked for details of our recent bus tour – it was with McConaghy Tours out of Beatty. Our hosts were Carol and Bill Spencer of Tisdale, and our driver was Randy Vellacott from Prince Albert. It was our second tour with McConaghy – a couple of years ago we went with them to Branson and it was hosted by Marven and Arlene Shields of Melfort (and also of Greenwater). Both tours were outstanding. We were happy with the buses, too, provided by Prince Albert Bus Lines in both cases. McConaghy specialises in the longer tours – two weeks and longer – and they go all over the world. Highly recommended.

This is the week of the animals. A rabbit invited itself onto our deck to help eat the spilled sunflower seeds. It may have to fight the deer. Yesterday, on our way home from Porcupine Plain, we saw a porcupine dining in a birch tree. I went back with my camera and took some pictures – it obliged by looking at me.