December 31st, 2006: The end of another year! I don't know if the papers are going to publish or not, but figured I had better get my thoughts on paper in case I get lazy later on.
What a Christmas holiday season! Gentle temperatures, gentle winds, and lots of snow. It wasn't as busy as we expected before Christmas, but made up for it between Christmas and today. The Park was crawling with snowmobiles, and the skating rink in the tennis court got a good workout.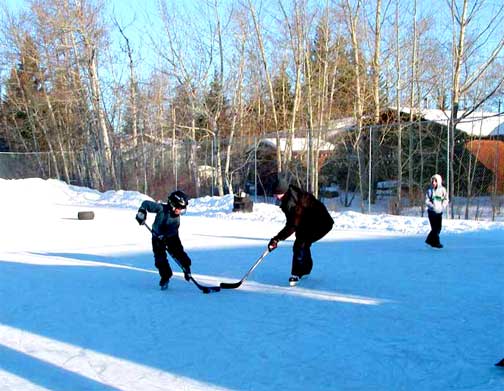 Trails were a problem. I think I mentioned that the Park groomer had broken through the ice on the snowmobile trail; it took two days to get it out, and a few more days to dry it out and change all the oil. After that they were very cautious and most of the trails didn't get groomed. I remember riding around on the groomer with
Laurence Kawa
. As well as driving the groomer, he checked the warm-up shelters, picked up the garbage, and generally policed them. If you think things aren't quite up to snuff, it's because they just haven't been able to get around.
Problems are not just here in the Park, either – I hear the
Kelvington
groomer went down in about eight feet of water on a beaver flood. They had to blow the dam and walk a
Cat
in, before they got the groomer out. Same thing happened with
Hudson Bay's
groomer, as well as
Duck Mountain's
, and likely lots of others.
The warm weather combined with the heavy blanket of snow had the ice thawing from underneath, making it very treacherous.
Jack Woulfe
came across the two lakes on his snowmobile, but said on top of about a foot of ice is layers of water and slush. One didn't dare stop a snowmobile, or it would be stuck.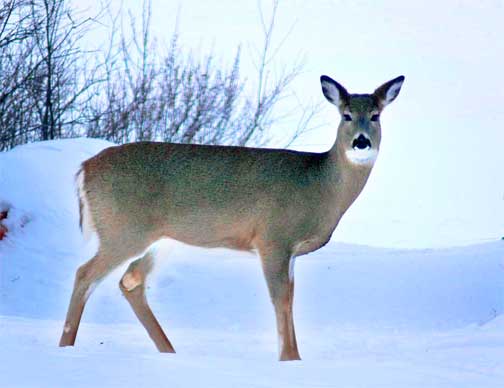 Lots of machines have been racing across the ice in front of our place, but
Regan Bernhard
was fishing out there, and said the tracks were full of slush. Not likely too much danger of going through on the lake, but very easy to get stuck if one doesn't keep going.
Hopefully all the snowmobile traffic will pack the snow down; then a spell of cold weather should firm up the trails nicely.
Ice fishing has been spotty, but a few jacks and perch are being taken. Pickerels are there, so the underwater camera operators tell me, but they totally ignore a hook. I haven't heard anything about
Round Lake
or
Steiestol Lake
.
Christmas was very quiet for us.
Jenny
came out and spent the day with us and we didn't do a thing all day – didn't even go out for a walk!
Boxing Day
was different. We went to
Laurie
and
Bryan Grimson's
. I spent the afternoon and evening sitting around an outdoor fire visiting with all and sundry.
Doreen
and
Jenny
spent quite awhile playing
Texas Hold'em
inside, though
Jenny
did go for a snowmobile ride. The rest, and there were lots of them between
Laurie
and
Bryan's
family and friends and neighbours, played bocce, snowmobiled and visited. We had a wonderful time, and still got home well before midnight.
I wish I could tell you something about
The Cove
, but I just don't know what their plans are. Neither do the people that work there. I tried to phone
Jerry Morrie
, one of the owners, but he didn't return my call. They have been open from nine to five, and longer on weekends, but have only posted hours to January 2nd. If you plan on coming out, I suggest you phone the
Cove
at
278-2992
to see if they are open.