January 28th, 2007: The news we get from home indicates you are getting anywhere from +3 to -30 temperatures, from one day to the next. We are basking in balmy, sunny weather in the lower sixties and with little wind. Just what we came down here for!

We spent Monday touring Las Vegas, with a guide who had been born and raised in Las Vegas. In fact, she lived in the present location of one of the big casinos, so you know she wasn't born yesterday. She had lots of historical stuff at her fingertips and was interesting to listen to.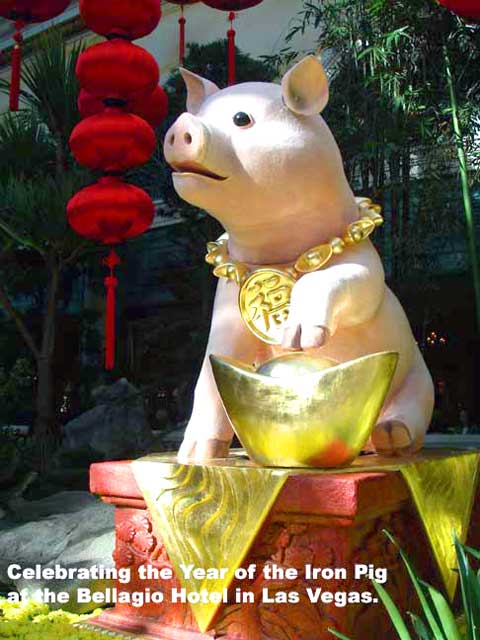 Construction everywhere! There could be several big cranes working in a small area – you'd wonder how they keep them from getting tangled up. The life expectancy of one of the big casinos is fairly short. They like to knock them down to make room for bigger, better ones. The Sands is doomed; there was a crew working at removing the big windows when we went by. I guess they don't want all that glass flying around when they knock it down. I don't know if they will implode it; it seems pretty close to some other expensive buildings.
It may be my imagination, but it seems the newer casinos are more resorts, and less emphasis on gambling. Lots of good eating places and retail shops, and usually with some kind of an attraction, like Treasure Island's naval battles and Bellagio's water shows.

Speaking of Bellagio, they had quite a display to celebrate Chinese New Year – apparently we are on the verge of entering the year of the iron pig. Good for a few photos.

From Las Vegas we went to Laughlin, which is a small strip of casinos and hotels along the Colorado River, just across the bridge from Arizona. This was Doreen's last chance to gamble on this trip so she made the best of it.

This is the eatingest tour we have ever been on. All breakfasts are included, and instead of the usual cereal, toast and coffee, we are getting bacon and eggs, and in some cases, a full breakfast buffet. I hope we don't have to buy a whole new wardrobe to get home in!

We made a side trip on Tuesday to Oatman, a former mining town on Route 66 and now just a tourist destination. Donkeys and burros wander the streets looking for handouts, and every once in awhile there is a shootout on the main street. Funny how bystanders never get hurt! The scenery is awesome – some of the ruggedest country I have ever seen.

We had a boat trip on the Colorado too, up river to the Davis Dam, then downriver to the end of the hotel developments, and back. Made for a good visiting time. Then we checked out an antique auto museum and walked our legs off. Should cancel out some of those calories we have been imbibing!

Nice weather, finally, although a stiff breeze made it a bit chilly on the upper deck of the boat.
.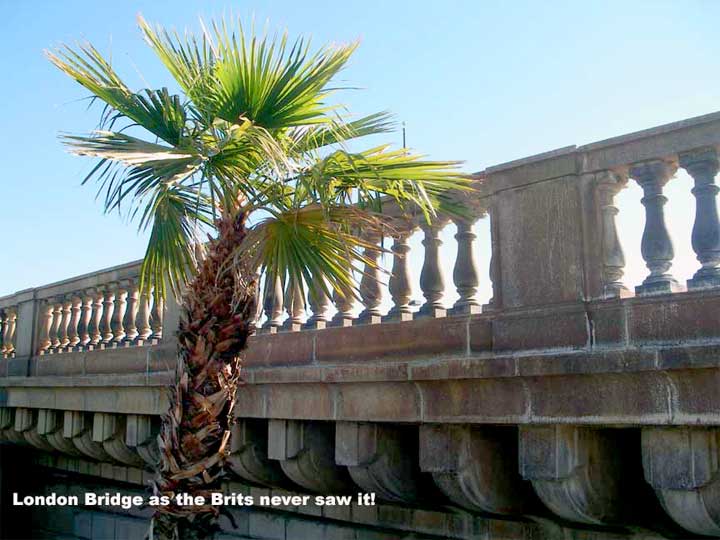 .
After Laughlin, we made a short stop at Lake Havasu, home of the famous London Bridge. There used to be a little English Village on the east side of the river where one could get some killer fish and chips, but last time we visited, it was closed. Now more and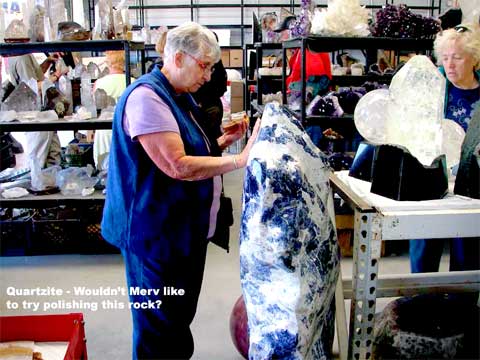 more businesses there have closed, some say because of high taxes and/or rent. A girl in a coffee shop said she heard the businesses were being replaced by condo developments.
We noticed the big Saguaro cacti growing on the desert east of Lake Havasu, and most of the way to Phoenix.

From Lake Havasu to Quartzite, where we spent another couple of hours. The desert for miles around was scattered with motor homes and trailers, as there was a sale and swap meet on. The trading area must have covered at least a quarter section, with tents selling everything (lots of rocks, which would drive Merv crazy!) The ground was carpeted with indoor/outdoor carpet so one didn't have to walk on sand. People by the million. We saw only a tiny fraction of it.

It must have taken us two hours to cross Phoenix to our motel in Mesa, most of it in rush hour traffic. Thank heavens I wasn't driving!
.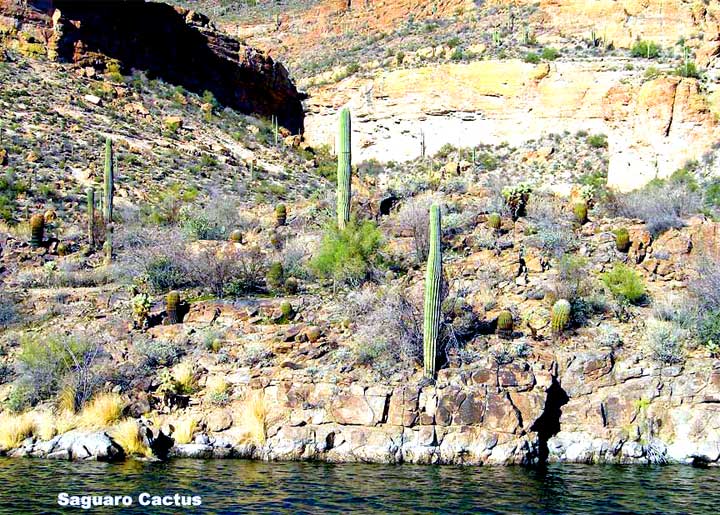 .
We did a guided bus tour of Mesa, Tempe and Scottsdale on Thursday, with some window shopping in Old Scottsdale, and took some photos of Indian dancers. On Friday,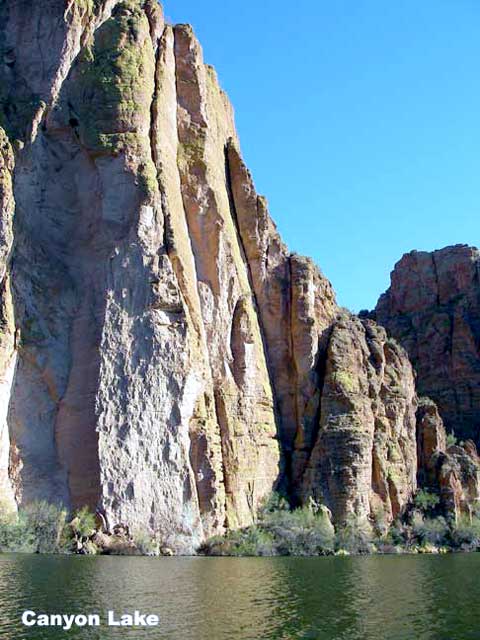 we saw the eighth wonder of the world – Canyon Lake, on the Salt River in the Superstition Mountains, formed by a dam. Incredible! And the road going in was as great as the lake cruise we took. The road is so windy our bus driver had to be careful not to bump into his own rear bumper. The cliffs rear straight up hundreds of feet; in fact at one point we were actually under the peaks. Nervous-making, because sometimes the cliffs do slough off into the lake. The rock was covered with yellow-green lichen, except where the rock had sloughed off recently.

We were fascinated by the big saguaro cactus – they grew at the top of the cliffs, and they grew at the bottom, just a few feet from the lake. In some cases they grew on tiny little shelves on the sides of the cliffs. There were also barrel cactus, cholla, ocotillo, prickly pear and lots of others we couldn't identify. Definitely a high point on our trip!
.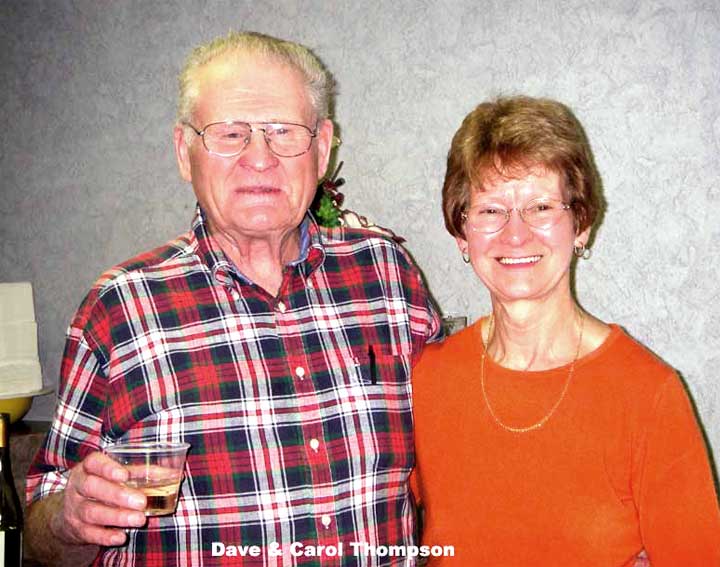 .
In the evening, we went to a 75th birthday party for Dave Thompson, an old friend from Kelliher, traveling on the other bus. Nice get-together!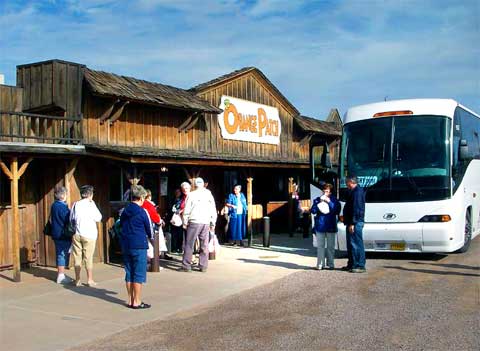 On Saturday, we toured a small, private orange grove, one of very few left. The suitable land for growing oranges has all been taken up by developers! The grower survives by marketing direct to the consumer through a little store. His problems sound very much like those faced by Saskatchewan farmers, having to work on construction during the summer to keep his operation going, but he could likely sell out for a very good dollar any time he wants.

In the evening, we went to a Dutton Family concert at an Apache Junction high school. I suspect most of you are familiar with the Duttons, especially if you have been to Branson. A large family, seven kids and seven kids-in-law, plus eighteen grandkids and all multi-talented. The volume was turned up a little too high causing a lot of harshness in the high notes, but not bad enough to put in my ear plugs. A great evening!

Do you get the impression we are having a great time on this trip?!