July 15th, 2007: The predicted heat wave never arrived. Yesterday got up to 26° and today about the same. We had a quarter inch of rain sometime during the night; there was likely a thunderstorm with it, but it didn't wake us up. It was cloudy for most of today.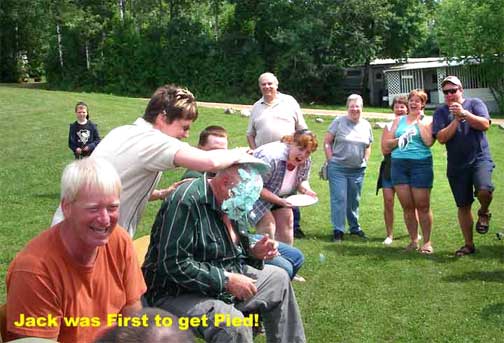 We had a great time this morning. The Marean Lake Valley Resorts put on its third annual Pancake Breakfast, Silent Auction and Garage Sale at the golf club house, and they had a terrific turnout – about four hundred meals! They also had a silent auction where people could bid for the privilege of throwing pie in the faces of Jack, John and Derek Woulfe, and Glen Quale (of the Marean Lake Resort, a strong supporter of the event). There was some frenzied bidding at the end, and of course everyone wanted a piece of Jack! His daughter, Carrie, won, and plastered him good. Then Derek caught Glen Quale by surprise, Lana got Derek, and Laurie (another of Jack's daughters) smeared John. What a mess! And what fun!

All the proceeds of the events go to Cystic Fibrosis research, about four thousand dollars. What a wonderful undertaking!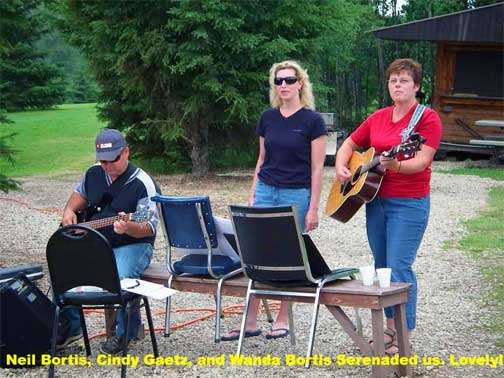 There was an excellent musical group serenading us, consisting of Wanda and Neil Bortis, and Cindy Gaetz. Sweet, sweet music! Mona Rae told me they are the current incarnation of the Gaetz Band, functioning since Mona's grandfather came to Canada in 1905. Her father, Larry Gaetz, carried on the tradition.

We visited with Mr. and Mrs. Andy Fettis, and Mrs. Fettis told me an interesting story. She remembers coming to Greenwater with her family in the thirties. She had a baby brother who, of course, had to have his milk, so they trailed a cow behind their buggy! Can you picture Lakeshore Campground with a cow tethered in each campsite?

The things that amuse us at coffee row! A somewhat plump grandpa and two boys, about eleven or twelve, were playing at the volleyball net with an inflated ball. The wind was from the north, and a high ball often got caught and blew south towards us. For some reason the grandpa usually wound up chasing it, trying to hold his pants up at the same time. He walked back more slowly every time, and finally just sat on a bench and let the boys worry about it. They were smart enough to abandon the net and play with the ball where it couldn't blow away. We figured Grandpa just didn't have very good control over the situation!

When we went for coffee on Thursday, I was surprised to see Jenny hanging around the kitchen door. The reason became clear a little later when they brought out a cake with three groups of three candles on it, presumably each group representing a quarter of a century. That's right, it was my birthday! I got to cut the cake, too, so there was one big piece for me and a whole bunch of little ones that were passed around to everyone in the café. The whole place celebrated my birthday!

That afternoon, we went to Cec Ewen's funeral at the Legion Hall in Kelvington. I think they scraped up every extra chair they could find and the place was packed, with people standing at the back. It was a very nice service, a suitable farewell to a great guy. The Ewen families are having a reunion at Kelvington this weekend and a lot of the attendees were here early enough to go to the funeral.

Saskatchewan Express played on the beach Thursday evening. There weren't as many in the audience as last year, but Carolyn estimates over sixteen hundred people. The ice cream window at the Beach Café did a booming business.

Wild excitement! A pretty little float plane circled the lake and touched down Friday morning, then taxied to the Marina and tied up at the dock. Rumour said that the plane was from Candle Lake, and that a man had flown in to have a look at the Cove, presumably with a view to buying it. We didn't learn a thing from the man himself. He and the pilot piled back into the plane a couple of hours later, waved, and took off.

It's like the old days at the park! Cars lined up solidly by the beach, the café and store doing good business, and vehicles at almost every cottage. We took a drive around last night, through Uskatik and the Greenwater Sub, and cottages that weren't obviously occupied looked as if someone had been around to at least cut the grass. It's good to see!