June 3rd, 2007: It was a weekend from Heaven! Warm, sunny, and calm. The lake was like glass in the mornings, and before noon there were people on the beach, in the water, and going past in canoes. Then, this afternoon, clouds rolled in, the temperature dropped and a strong north wind came up. At least, Doreen said, the mosquitoes didn't bother her while she worked on her flower beds.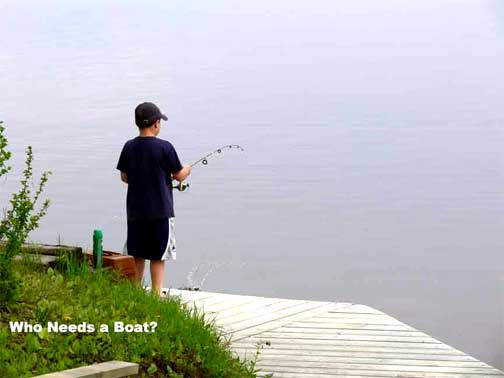 I got a phone call from Bernard Dease with an interesting story. Bernard was out on his bike checking cattle in his semi-flooded pasture, and when he got home realised his cell phone was missing. He searched and searched, retracing his steps, but was unable to find it. He decided to take his bike and go back to the pasture in case he had dropped it there. He was about ready to give up when he saw a beaver sitting on a high spot and munching away on a twig. Nothing odd about that, with all the water around, but then the beaver began to ring! Bernard went home again, got his .22 and shot the beaver – his cell phone was hooked on the beaver's tail! He had missed his call, of course, but wiped the phone off and it worked fine. Plus, he expects to collect a $20 bounty for the beaver! I think Bernard would be a prime candidate for coffee row, don't you? He blinked, though – under intense interrogation, he finally admitted that the phone had fallen onto the step of his bike.

Gary Lisoway then got on the phone and said he had a better story. Several years ago, his father died and Gary got his old wristwatch. It was a wind-up type so he didn't use it often, but one time when he had it on, he lost it. That was last summer, I think he said. He was devastated as he really valued that old watch. This spring, he took a block of minerals out for his cattle and right where the previous block had been he saw something shiny – turned out it was his father's old watch, and it was still running! The cattle, while licking at the block, inadvertently licked the watch too, keeping it wound up!

Fathers' Day is on June 17th this year, and Connie tells me there will be a smorg at the Beach Café from 11 AM to 7 PM, same as on Mothers' Day. I doubt if she will be handing out flowers to all the Dads, though. The greenhouse season will be all dried up by then. By then Gary should have his deck finished, so you may be able to eat your meal outdoors.

We were in Hudson Bay yesterday, visiting Marg and Danny, when Marg got a phone call from Elaine Ernst, from Zoerb's Bakery in Tisdale. She said the roof had collapsed on our old building (across the street from Zoerb's); one wall was leaning up against Martin's building, and the front wall was leaning over the street. Of course, we jumped into the car and took off for Tisdale, all four of us. By the time we got there, the Town had brought a track hoe in to push the front wall back and down, and the sidewalk was barricaded off. What a mess!
.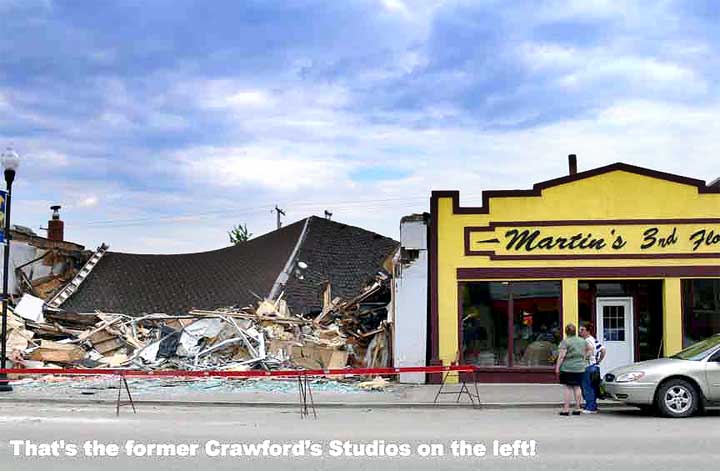 .
That building was built in 1927 by Chris Groat's grandfather. Then he built the one next door, currently occupied by Martin's Furniture, and moved into it. The old building was many things over the years, including a Marshall Wells hardware, Co-op hardware, poolroom and arcade. It was a gym when we bought it in 1985. We sold it to Mike in 1993, and he sold it to Malcolm Salmond of Foto Finish in 2000. We considered it a very sound building, possibly the best on the block aside from the banks. When we went in to repossess our equipment in 2004, the roof had been leaking badly all along the southern wall; untended I guess it rotted away the rafters until they collapsed. A pity, because it was a very good building, though ugly.

When we were in Porcupine Plain yesterday, there was hardly a vehicle on the main street. Same thing in Hudson Bay, and no traffic at all on the highway. We thought everyone must be off putting in a crop, but hardly saw a sign of equipment working. Finally, on our way back to Hudson Bay from Tisdale, we saw a harrow at work, then a cultivator. In the evening, coming home from Hudson Bay, we saw a tractor pulling a press drill, and later some lights in a field showing that someone was at work. Where was everyone?

We are off on some motor home trips, June being our favourite month to travel. We will try to keep you posted, but if we are away from home on a Sunday, and can't find Internet service, we may have to miss a week or two.