June 24th, 2007: Deadwood, South Dakota; sunny skies, temperatures in the high nineties!

We covered the South Loop at Yellowstone on Monday. It took us all day and played us out, because there was a lot of walking. Old Faithful was a disappointment, mostly because I was fighting with my camera when I should have been watching, but there was a lot to see anyway. We thought there would be less traffic on Monday, but that wasn't the case. Everywhere there was an animal of any kind, traffic would pile up, people blocking traffic on the roads until a ranger came along to get things moving. Deer, elk, bears, wolves, tons of bison. At one time we got held up in a two-mile string of vehicles because a herd of bison were on the highway.

Again, we were impressed by the helpfulness and friendliness of Park employees. They make tourists feel welcome!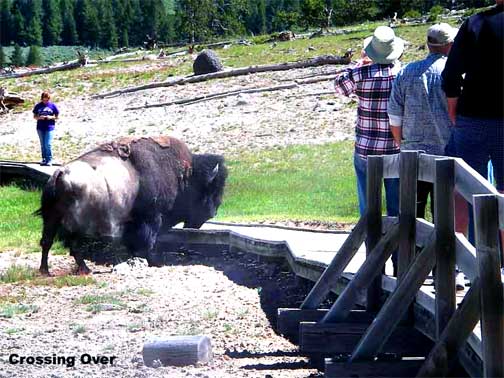 On Tuesday, we decided to have a look at a couple of attractions we had missed on Monday, so we went to Sulphur Caldron and Mud Volcano. We all thought it was better than all we had seen the prior day but that may be because it was sunny and warm, instead of windy and cold as it was the day before. We went on a long walk; I forgot my hat and got a good burn on my head. At one point on the board walk, a bison was laying downwind from a caldron, just relaxing, about fifteen feet from the board walk. After I passed, and about thirty people had lined the walk to take pictures of it, it very leisurely got to its feet, walked over to the board walk (people made room for it!), crossed over, and ambled off. A close encounter their friends won't believe!

We carried on to Cody, Wyoming, and had a look through the Buffalo Bill Cody Museum, which is a huge series of connected buildings enclosing five different museums. Too bad we are kind of jaded with history and museums, or it would have been a great visit. As it was, they had a good display of Remington's sculptures and paintings, as well as C. M. Russell.

While there, we were able to access our e-mail, and got an e-mail from Shirley Miller saying John Woulfe won the position of Maintenance Supervisor at Greenwater Park. Congratulations, John! We know you'll be a good one!

We were getting a bit tired so stayed at Cody for another night to rest up. The girls felt they could have stayed there quite cheerfully for a few more nights, and I think I could have, too. It's a great town, with lots to see. I think it's important to take an extra day here and there just to rest up; otherwise, one gets jaded and can't enjoy the sights fully.

We didn't want to travel Interstate, so took Alternate US14 over the Granite Pass. 9,000 feet at the summit, with patches of snow despite high temperatures. A very winding road, all switchbacks; we traveled in second gear most of the way up and down. Stopped to see Shell Falls along the way – a feast for the eyes! We were glad to stop at Gillette in the late afternoon – that was very tiring driving.

Saturday morning, we said goodbye to Cathy and Freckles. They were heading south to take in Crazy Horse and Mount Rushmore, while we were headed for Deadwood, and then home. The scenery along Interstate 90 was not so spectacular, but very interesting and attractive. Up to now, the rivers and creeks were all very lively; suddenly they were dry. The countryside was still lush, though; almost all ranch and hayland.

It was very hot, and just before we got to Spearfish our air conditioning quit! Being Saturday, nobody could help us and by the time I stopped and restarted the belt burnt off. Luckily that belt didn't drive anything but the air conditioner, so we reverted to 4-60 ventilation (that's sixty miles an hour with all the windows open) and didn't suffer unduly. We found a nice site in Deadwood and turned on the roof air.

I got my fill of gambling in about fifteen minutes and five dollars. I did get a free beer, though. Doreen is the gambler in this outfit. Luckily she only plays the penny machines, so can't get into too much trouble.