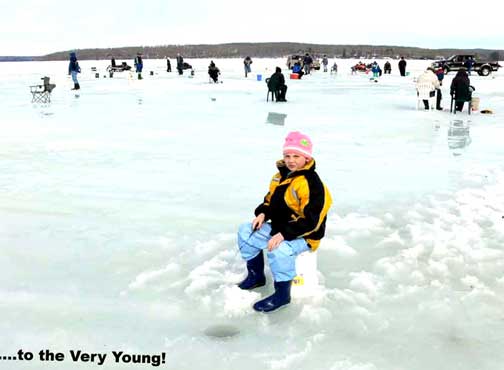 March 25th, 2007: Warm, sunny for the most part, and windy – just great for cutting the snow as it disappears! Our roof is just about clear of snow; the driveway is soft and slushy but so far no problem getting stuck. Very little ice or snow left on the road past our place. I met a bunch of people carrying cross-country skis; they had been on the trails but had to take the skis off in the core area.
Lots of snowmobiles today, mostly dashing around on th.e ice, and picking their way very carefully over the bare roads in the core area.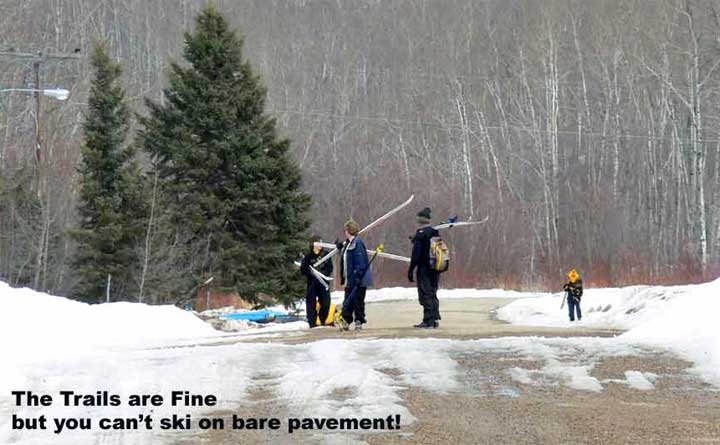 .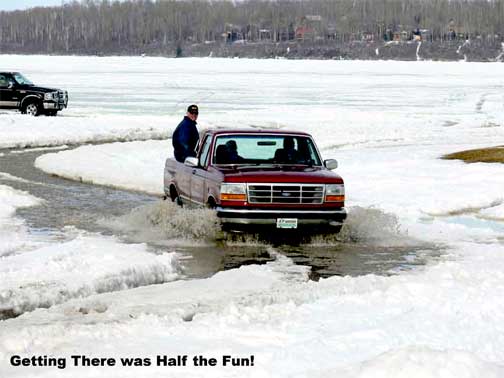 Today was Kelvington Legion's annual Ice Fishing Derby. At coffee this morning, from the safety of the café, we watched a bunch go out onto the ice with snowmobiles and half tons (yes, I said half tons! The first highway vehicles we have seen on the ice this year!) and start drilling holes. Garth Elliott told me they sold over two hundred holes, which makes it a pretty successful event.

Where they were fishing, just off the entrance to the marina, the ice was clear of slush and snow, but we had to wade or drive through about a foot of it getting over to the fishing area. I noticed all the half tons were four-wheel drive.

Conditions were pretty nice – the wind wasn't strong enough to be uncomfortable.

First prize was won by Russ Hrynkiw from Kelvington, with his 4.3 lb. jack; second by Stan Revoy of Archerwill with a 4.2 lb. jack, and third by Taylor Ronvel from Englefeld, with a 2.3 lb. jack. Taylor is Archie Nordick's grandson – he'll never get him off the ice now!
.



.
Lots of moose are being sighted, and they don't seem to have fared too well this winter. Some problems with ticks, which leave them weak and hairless, but apparently some that went to the vet college were just plain starved. They aren't as tough as we thought. Ty Andreychuk saw three by a road; he fired some screamers over their heads to try to scare them away from the road, but they just took a few steps and stopped. One got into some deeper snow and didn't have the strength to get out. Could it be that they have to balance their diet with some low-growing shrubs, now covered with snow?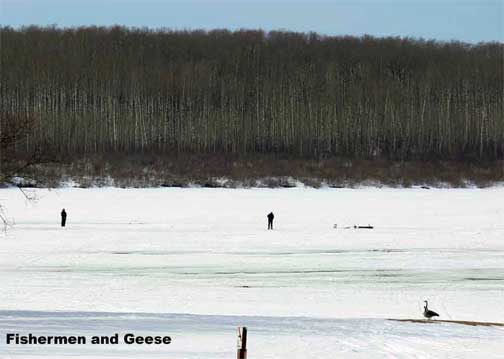 The deer, which entered the winter in such good shape, are showing the effects of a long, hard winter. Ribs and hip-bones are showing and they pick their way around listlessly, as if they are seriously weak. Coyotes and wolves, on the other hand, are reported to be in excellent shape.

Speaking of deer, we scared up half a dozen or so on the road coming home from Foam Lake Thursday night. Not at all surprising, but one, which crossed the road right in front of us, had a full set of antlers. Isn't this awfully late for them to still have their antlers?

Fishing has been generally good with all species being caught, and some quite big ones. It's getting close to the end of the season though – fishermen are going to hate to quit when fishing is good. Some ice fishing huts have already been removed from the lake; the rest have to be off by the end of the month.

Suddenly, the crows are back. We woke up Thursday morning to a crow serenade, and since then have seen dozens of them. How does the old saying go – we get seven snows after the first crow? I hope not – I'm sick of snow.
.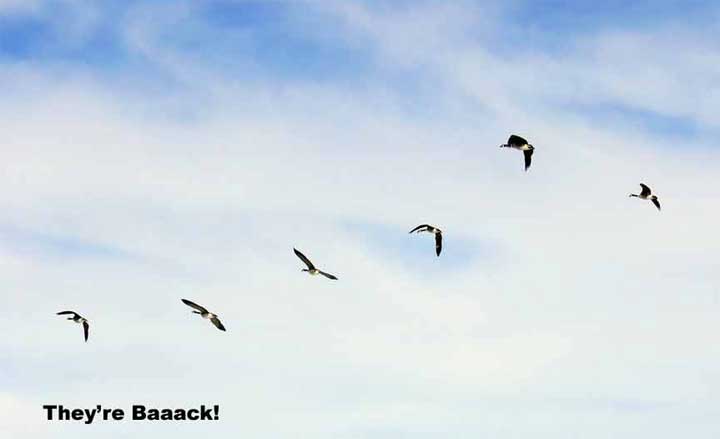 .
There have been reports of the odd goose flying around, but yesterday morning there were fifteen of them on the peninsula, likely the ones that were here last year. Lots of wet spots showing on the snow on the lake ice, but think it will be awhile before the geese can go swimming. Many of them were acting aggressive towards other geese. Would the two-year-olds be choosing their mates, and warning any others away? Or did they mate up on their way north? I hope the Park doesn't let them spend the summer on the beach and peninsula, as they did last year.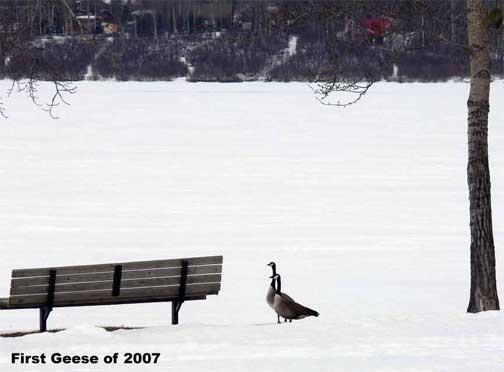 Albert and Lorraine Beaumont told me the bluebirds are back. Albert says they are among the first of the migratory birds to return. Cec and Rosalie Ewen were out; they also saw bluebirds.

Connie and Gary Schmidt have a sign up at the Beach Café – closing March 27th, re-opening May 3rd. First smorg is Sunday, May 6th at three PM.

We spent Thursday at Foam Lake, helping Jenny get her store ready to open. Laurie and Bryan were there, too, and we worked until almost midnight. Then we went back on Friday for her first day. Jenny was very happy with the reception she got both Friday and Saturday. She has a nice building, right next door to Golden Ocean Giftware, which must be one of the busiest stores in town. It looks promising.